Notebook: Despite injury, Jakeenan Gant sorts through recruitment
Jakeenan Gant will visit Alabama; Abdul Malik Abu hears from Kentucky; Ben Bentil wants to see Georgetown and UCLA; Tadric Jackson has plenty of interest.
• 3 min read
Jakeenan Gant was headed toward a big-time spring performance, and his stock was steadily rising on the EYBL circuit. Through two sessions in April with Southern Stampede, Gant averaged 15.3 points and 6.3 rebounds, shooting better than 57 percent from the field.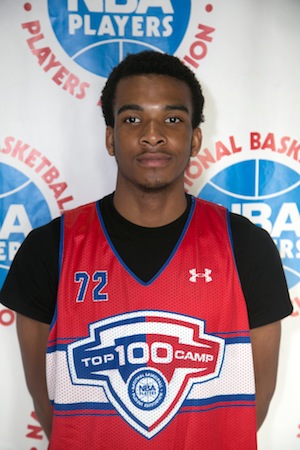 Gant has been out with an ankle injury. (Davide De Pas)
Then he played in a small tournament after the second EYBL session -- and sprained his ankle, sidelining him for most of the spring.
"I really couldn't prove anything," Gant said. "I was very disappointed."
That hasn't slowed his recruitment very much, as Georgia Bulldogs , Alabama Crimson Tide , Florida State Seminoles , North <team idref= , Miami (Fla.) Hurricanes , Florida Gators and Georgia Tech Yellow Jackets are all in hot pursuit, with South Carolina Gamecocks , Syracuse Orange , Maryland Terrapins and Memphis Tigers also showing interest.
Gant, a 6-foot-8 power forward from Effingham County, Ga., is ranked No. 33 in the 247 Sports Composite. He visited Georgia Tech last week.
"I like the new gym," he said. "The coaches, everything they had. The dorms, everything."
Gant will visit Alabama on June 29.
Abdul Malik Abu hears from Kentucky Wildcats
Four-star power forward Abdul Malik Abu has seen his recruitment rise over the past year, but it was taken to a new level when Kentucky reached out to the Kimball Union Academy (N.H.) product.
The Wildcats didn't offer but said they would track him during the summer.
"It would be an honor," Abu said. "Those are definitely the better kids in the country, the ones that hold a Kentucky offer. I think I'm capable of getting an offer soon from them. As long as I stick to my game and stay confident, anything is possible."
Kansas Jayhawks , Florida, North Carolina State and Tennessee Volunteers have all become more involved recently, while Miami and Iowa State Cyclones are also making strong pushes.
"It's always good to talk to head coaches," Abu said. "You deal a lot with assistant coaches early in your career, but as of now, most -- if not all -- of my offers were officially said by the head coach. So that's always a good feeling."
Abu isn't planning on making a decision until he takes all five official visits. He has seen games so far at Boston College Eagles , Providence Friars and Connecticut Huskies .
"I'm looking for a group of guys that just want to win as badly as I do," Abu said. "A good tradition, and a hard-working group of guys. That's all I need. A good fit."
Bentil still developing on the hardwood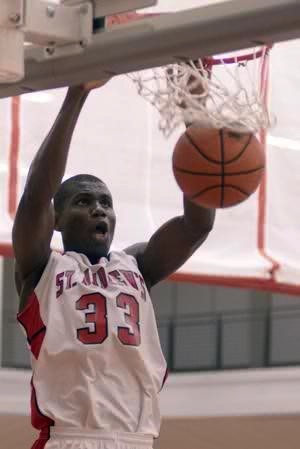 Bentil is still learning the game. (247 Sports)
Four years ago, top-60 power forward Ben Bentil wasn't even playing basketball. The 6-foot-8, 230-pound physical specimen was dominating on another court: volleyball.
Now, Bentil has emerged as a four-star prospect out of St. Andrew's (Del.) and is only getting better.
"It's a new sport to me," Bentil said. "I just wanted experience. Learn. Get more new moves, get to play with the best players in the country."
He said he doesn't pay too much attention to his recruitment, choosing to focus instead on his education. With that said, Bentil did say he wants to take trips to UCLA Bruins and Georgetown Hoyas .
He has his main decision criteria mapped out already.
"First of all, my education," Bentil said. "Somewhere that's going to let me play. Somewhere I won't get restricted, kind of like enclosed in a cave. I just want to be free, play, and I like to win."
Tadric Jackson out to regain his status
After last year's NBPA Top 100 camp, Tadric Jackson saw his stock rise a bit. As a physical point guard, Jackson was able to overpower defenders, and his crafty style of play was impressive.
This spring, though, Jackson is playing on a talented -- and extremely balanced -- Georgia Stars AAU team, and he has noticed the perception of him is changing a bit.
"The rankings -- I really think they underrate me," Jackson said. "I've been trying to get myself back in. Playing hard, competing with the other guys, the other guards. Just come and play hard. Make sure I'm not trying to do too much."
Alabama, Georgia Tech, Ole Miss Rebels , La Salle Explorers , Tennessee, Memphis, South Carolina, Oklahoma Sooners , Arkansas Razorbacks and Miami are all showing interest in Jackson.
He'll take his visits after the AAU season in August and September.
"My style, the way I want to play," Jackson said when asked what he's looking for in a school. "Handling the ball, coming off the ball screen. I really don't want to go a school that's going to change the way I play."
Show Comments
Hide Comments
The 2017 NBA Draft had more freshmen, and fewer seniors, taken in the first round than ever...

A scandal at New Mexico leads to a rarity for the NCAA Tournament selection committee

These two Hall of Fame coaches have been in the crosshairs of NCAA justice in recent years
Will Kentucky have more than two players taken in the first round of the NBA Draft?

Continues to lobby for a college hoops commissioner; hopes the NBA, NCAA can come together

This development means every Division I job is now filled