Notebook: Jabari Bird has five standing out
No. 10-ranked Jabari Bird wants to stay out West for college -- and he has five schools standing out to him at the moment. Big man Kennedy Meeks is looking to trim his list soon, too.
• 2 min read
HAMPTON, Va. – Jabari Bird is giving a notice to any college coaches trying to get involved in his recruitment: he's likely not leaving the West coast.
"I don't want to go too far," Bird said. "My family can see me play, and I'm comfortable there."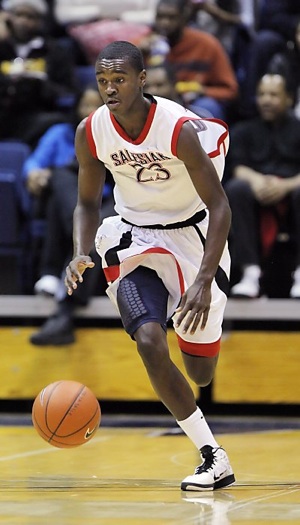 Five-star 2013 wing Jabari Bird would prefer to stay out West for his college destination. (SF Gate)
Bird, a 6-foot-5 shooting guard from Salesian (Calif.), is ranked No. 10 by CBSSports.com and is one of the best scorers in the country. Many schools are interested in him, but he has a top five: California, Arizona, Washington, Oregon and Colorado.
He is open to new suitors, though.
"I can't count a school out because of location," Bird said. "It depends."
Bird wants to go to a school that plays an up-tempo system that suits his open-court talents and ability to finish in transition. Last week in Virginia, he wasn't able to get his running game going, struggling throughout the event.
His Oakland Soldiers were missing top-five recruit Aaron Gordon, who is out with an injured foot. Bird became the center of attention for opposing defenses, and it was an adjustment for him. He averaged fewer than 10 points per game, and shot just over 38 percent.
"I haven't been playing that well," Bird said. "I need to do more for my team, need to step up without Aaron. I need to play hard, go and try to get after it."
Kennedy Meeks looking to trim list
There aren't many top-50 prospects in the class of 2013 that one would expect to do water aerobics on a regular basis. Moreover, at 6-foot-8 and 265 pounds, Kennedy Meeks wouldn't be at the top of that list.
On the contrary, though, that's how Meeks is staying in shape.
"I'm just working on my conditioning," he said.
It's clearly working so far. Meeks has offers from Louisville, Virginia Tech, North Carolina State, Stanford, UCLA, Georgetown, Notre Dame, Pittsburgh and several other ACC schools. North Carolina, Duke and Syracuse are showing interest in the No. 3-ranked center.
Meeks has taken trips to Georgetown, North Carolina, Virginia Tech and North Carolina State, and he also wants to see Louisville.
"Rick Pitino is one of the best coaches," Meeks said. "He keeps it 100 percent real."
In a couple of weeks, Meeks said he plans to cut his list down to five schools.
"I'm looking for a good team that focuses on defense and a good coaching staff that is family first," he said.
Right now, Meeks said he has no favorites.
News and Notes: Shortly after requesting a release from Virginia Tech, Marshall Wood met with new head coach James Johnson and decided to stick with the Hokies . . . Expect Sheldon Jeter to decide Thursday between Vanderbilt, Penn State, South Carolina and Wisconsin . . . Huntington Prep (W.Va.) guard Manroop Clair will reclassify to 2012 and attend Hawaii . . . Former Duquesne signee Donovan Jack is going to Penn State . . . Junior college guard Xavier Munford committed to Rhode Island and Dan Hurley, who Munford played for at St. Benedict's (N.J.) . . . Antoine Myers popped for Troy . . . Latvian forward Aleksej Rostovs committed to Western Kentucky.
Buddy Boeheim was so impressive at Peach Jam that Gonzaga offered; others showing interest

The truths and myths about the push for 2018's No. 1 recruit to play college hoops a year...

Here are the under-the-radar players who will have breakout seasons in 2017-18
Duke coach says sometimes troubled guard played hurt last season, adding, 'I'm really proud...

Michigan, Marquette, California, LSU and VCU are also in the 34th annual field

The expected rise of Missouri figures to be a storyline once they start playing for real