Notebook: Process continues to weigh on No. 1 Andrew Wiggins
Andrew Wiggins is the most-watched player in the country -- but he doesn't like the attention. How will that affect his decision?
• 4 min read
SPRINGFIELD, Mass. -- Andrew Wiggins is the most-watched high school basketball player in the country. His games routinely sell out the arena, and Sunday evening was no exception.
The bleachers of Blake Arena were filled in anticipation for his showdown with fellow top-10 prospect Noah Vonleh, and Wiggins didn't let them down, going for 19 points and 10 rebounds as Huntington Prep (W.Va.) pulled out a 55-47 win over New Hampton Prep (NH).
Vonleh struggled from the get-go with foul trouble, playing just 16 minutes and finishing with nine points and five rebounds.
"He was looking forward to the matchup," Huntington Prep coach Rob Fulford said. "He likes going against elite players. Sometimes, when there's not a five-star guy across from him, he coasts a bit."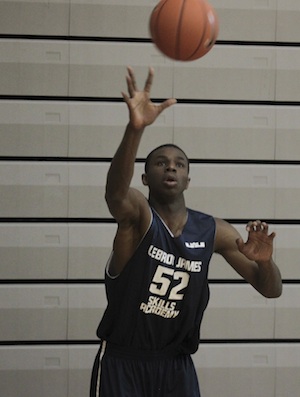 Top-ranked prospect Andrew Wiggins still isn't close to making a college decision. (Nike)
Wiggins certainly showed no signs of relinquishing his status as the No. 1 player in the country, but he also showed no signs of making a college decision anytime soon.
He spoke briefly to the media waiting outside the locker room but gave no hints as to where he was headed for the 2013-14 season.
"He doesn't like talking about it," Fulford said. "The recruiting is weighing on him a little bit."
Kentucky Wildcats and Florida State Seminoles have long been considered the favorites, with North Carolina Tar Heels and Kansas Jayhawks also in the mix. He took an official visit to Florida State in early December and could take one to Kansas soon.
Florida State has been involved for a long time, as Wiggins' parents attended college there. His father was an NBA player, while his mother was an Olympic track star. Fulford said Wiggins' parents would have an input in his choice.
"It's his decision, but his parents have to sign off on where he's going to go," Fulford said. "They're fine with everyone involved."
Kentucky has made a strong impression on Wiggins as well, and playing multiple high school games in the state have given him a taste of what he could expect if he decides to go to Lexington. Fulford said they've played six games in Kentucky, which brought a total of 35,000 people to the games.
Is that a good thing, though?
"It's overwhelming," Fulford said. "He doesn't like the attention. He doesn't like it."
Don't expect Wiggins to make a decision for a few months -- and when he does, don't expect a big announcement.
"I think he's going to send a text message and that's going to be it," Fulford said. "And he might not even do that himself."
Is Terance Mann the next Tilton star?
Over the past few years, Tilton (NH) has put out high school stud after high school stud. Jamal Coombs-McDaniel and Alex Oriakhi both played there, as did Nerlens Noel . Georges Niang was another recent product. In the class of 2013, it's Kansas-bound Wayne Selden.
But who's next? It could be 6-foot-5 sophomore guard Terance Mann, who had 11 points, six rebounds and four assists in a 71-67 win over Vermont Academy (Vt.).
"I have the potential to do that," Mann said of becoming the next go-to-guy at Tilton. "When [Selden] leaves, it's going to be tough, but I think I can take on that role."
Mann has good size for his position, and he's got a good feel for the game. He does a little bit of everything, and is adept at finishing at the rim through contact.
"When I'm rolling, I'm really good at getting to the basket," Mann said. "I need to work on my jump shot."
Boston College Eagles has already offered, while Iowa Hawkeyes , West Virginia Mountaineers , Georgia Southern Eagles and Maryland Terrapins are showing varying levels of interest. There's also a Georgetown Hoyas connection: his mother played for the Hoyas, and is now the head coach of Northeastern Huskies .
Kevin Zabo adapts to position competition
A couple of years ago, Kevin Zabo was considered one of the premier players in his class. At St. Mark's (Mass.), Zabo had already broken through into the lineup alongside older players – gaining a rep throughout the region.
Midway through his junior year, though, the 6-foot-2 Zabo is now coming off the bench at Brewster Academy (NH), behind senior Martez Harrison.
"I've done a good job of adjusting," Zabo said. "I was recovering from an ankle injury, and Martez is a point guard, and he does a great job with that. I can play with him too."
On his third high school in the last year and a half -- he also spent time at Montrose Christian (Md.) -- Zabo is looking to build back up his stock.
The Canada native holds offers from Illinois Fighting Illini , George Washington Colonials , West Virginia Mountaineers and Iowa State Cyclones , with interest coming from Marquette Golden Eagles and Ohio State Buckeyes .
"I'm going to plan visits after the year," Zabo said. "I want a good school with a great coach that can make me better."
For more college basketball news, rumors and analysis, follow @EyeOnCBB on Twitter, subscribe to our RSS Feed and subscribe to our College Basketball Newsletter. You can follow Jeff Borzello on Twitter here: @jeffborzello.
The deal is part of long-awaited $2.64 billion contract; CBS' hoops-only commitment runs through...

If Wichita State guard Landry Shamet has a breakout season, he could leave early for the N...

Athletic big man finished 3-day trip to Durham, N.C., with trips to USC, Arizona coming up
Calipari's latest viral social media bit comes just three weeks after the Wildcats head coach...

Buddy Boeheim was so impressive at Peach Jam that Gonzaga offered; others showing interest

The truths and myths about the push for 2018's No. 1 recruit to play college hoops a year...