Notre Dame star Jerian Grant no longer enrolled in school
Jerian Grant will not be enrolled at Notre Dame for the rest of the season due to an academic issue.
• 1 min read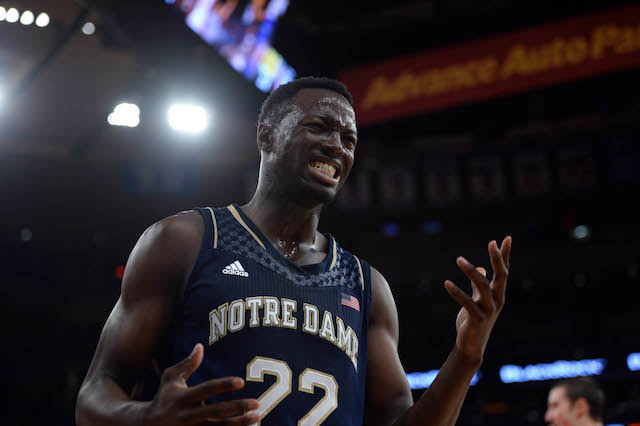 Notre Dame star guard Jerian Grant will not be enrolled for the rest of the season due to an academic issue, he announced on Sunday.
"I am no longer part of the basketball program and will not be on the court competing with my teammates for the remainder of the 2013-14 season," Grant said in a statement.
"I take full responsibility for my lack of good judgment and the poor decision that I made. I have no one to blame but myself for the situation. I know and understand the expectations that go with being a student at Notre Dame and I did not live up to those standards."
He said he plans to return to Notre Dame following the spring semester, and hopes to play his final season of college basketball in South Bend.
"I understand that there is a process that I must go through in order to come back to school and I will be patient with that process," Grant said.
Grant, a 6-foot-5 redshirt junior, is averaging 19.0 points and 6.2 assists. On Saturday, he went for 18 points and four assists in the Fighting Irish's demoralizing loss to Ohio State. He has been one of the more underrated guards during his three seasons at Notre Dame since redshirting his freshman season. 
Without Grant, Mike Brey will still have to rely on his perimeter, but freshman Demetrius Jackson will likely have to shoulder more of a scoring role. He has started seven games this season, but he will need to pick up some of the scoring slack and help Eric Atkins and Pat Connaughton in the backcourt. Moreover, Brey might have to go with a bigger lineup at times, possibly meaning more minutes for Zach Auguste and Tom Knight. 
The Fighting Irish are 8-4, with the next game coming against Canisius on Dec. 29. 
Show Comments
Hide Comments
It's time for random observers to stop being outraged by players' decisions

Plenty of decisions are still hanging in the air, calls that will help shape the 2017-18 s...

Once again coaches are participating in Oakland coach Greg Kampe's charity event
The Tar Heels point guard was the Most Outstanding Player of the 2017 Final Four

A list of every player who is testing the waters for the 2017 NBA Draft, a record 182 guys

The MVC is looking for a school to replace Wichita State, which left for the American Athl...