Observations: Getting Jamal Murray another boon for Coach Cal
Despite some claims to the contrary, John Calipari continues to recruit like a master for Kentucky. Nabbing Jamal Murray is a big step for another great season in Lexington
1. Jamal Murray is exactly what Kentucky needed
The Wildcats have been searching for an impact perimeter player who could play next to both Tyler Ulis and Isaiah Briscoe next season and Murray fits the bill. The 6-foot-5 guard reclassified from the Class of 2016 to 2015 this past week and gives John Calipari another player who can get his own shot and create for others. There was a strong buzz this spring that Kentucky had "missed" on several prospects in the late recruiting period, but the addition of Murray combined with the top point guard (Briscoe) and top center (Skal Labissiere) in the senior class gives the Wildcats more than enough to again be a top-five team and be right in the mix for a national title. If it's a bad recruiting year when you land the top floor general and big man in high school basketball along with a potential one-and-done guard who reclassifies, you know things are going well. That's the current state of Kentucky basketball under Calipari.
2. John Calipari could bring back the dribble-drive motion offense next season
He used it in spurts last year, but Kentucky's surplus of big men --- Karl-Anthony Towns, Dakari Johnson, and Willie Cauley-Stein --- didn't allow it to be as effective as it could have been. With Ulis, Briscoe, and now Murray in tow, Calipari has three point guards who have the ability to get into the teeth of the defense while getting downhill in a hurry. Part of Calipari's reinvention of himself when he was at Memphis was this offense. It allows ball dominant players more freedom and it also creates more lob opportunities for big men to finish at the rim. That also translates with the Wildcats' roster next season thanks to players like Labissiere, Alex Poythress, and Marcus Lee. The dribble-drive motion offense was Calipari's favorite catch phrase before both "One and Done" and "Succeed and Proceed." Don't be surprised if it returns next season.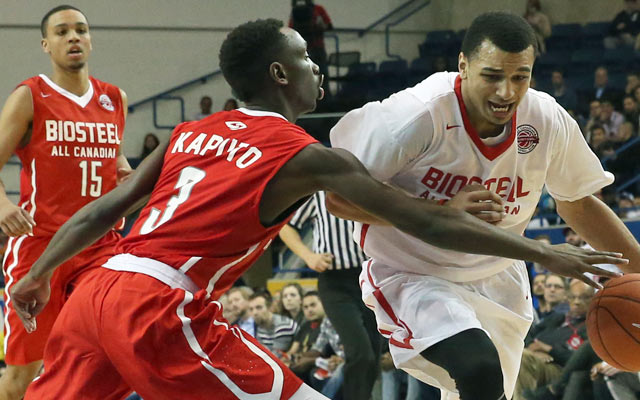 3. Trevor Lacey should have attempted to be next season's Jerian Grant
The 6-3 guard wasn't selected in Thursday night's NBA Draft at the Barclays Center and bypassed the opportunity to return to NC State for his final season of eligibility. Had Lacey come back to school as he should have, he would have been a legitimate candidate for ACC Player of the Year and a potential All-American. All players want to get to the next level as soon as possible, but Lacey (15.7 points, 4.6 rebounds, 3.5 assists last season) should have returned to Raleigh in an effort to have the same type of impact for the Wolfpack next season that Grant had for Notre Dame this past year. The Alabama native had all the chops be one of the better players in college basketball as a fifth-year senior, but instead now both he and the Wolfpack wind up as losers: Lacey didn't get drafted and NC State has a major void on the wing heading into next season. It's hard not to think of what could have been in Raleigh with Lacey in the fold.
4. Columbia is the team to watch in the Ivy League next season
Harvard and Yale will be the teams that people identify from the periphery, but the Lions have a legitimate chance to shake things up and reach the NCAA Tournament. Siyani Chambers (Harvard) and Justin Sears (Yale) are the two most well known players in the Ivy League from a national perspective, but Columbia guard Maodo Lo may be the one player in the conference who has a chance to play at the next level. The 6-3 guard averaged 18.4 points, 4.4 rebounds, and 2.3 assists last season while shooting an impressive 43.1 percent from 3-point range. The presence of Lo along with off-guard Kyle Castlin (10.3 points in 14-15 as a freshman) and the return of 6-7 forward Alex Rosenberg (16.0 points in 13-14) --- who did not play last season due to injury --- should give Lions' coach Kyle Smith a chance to make a run at the field of 68. A former assistant at Saint Mary's, Smith led Columbia to an impressive 17-point win at Villanova in 2012 and also took Michigan State to the wire in East Lansing a year later. There's only one thing left for him to do with the Lions: win the Ivy League.
5. Zone offense needs to be a priority for all coaches
A few weeks ago I wrote about how the change to a 30-second shot clock will benefit teams that play zone defense and that means zone offense has to be more of a priority for coaches everywhere. Several coaches have told CBSSports.com that more teams plan to use token pressure next season, which will likely mean that the team with the ball will get the ball over half court with only 22-24 seconds remaining on the shot clock. If that happens and the team on defense is playing zone, your offense has to be tight, effective, and well executed. It's not a secret that it takes longer to probe a zone than it does to navigate a man-to-man alignment and that's why we're likely to see more low percentage shots and shot clock violations next season. There seems to some thought out there that shortening the shot clock will increase scoring, but that's far from a guarantee. Zone offense has to be a focal point for all coaches as they prepare for next season.
This and That
• Providence transfer Paschal Chukwu will visit Syracuse this weekend, sources told CBSSports.com. The 7-1 big man has already visited Virginia, Iona, Kansas and Nebraska. Chukwu has three years of eligibility remaining and averaged 2.6 points and 2.4 rebounds this past season.
• NC State transfer Kyle Washington visited Providence this week, sources told CBSSports.com. He's already visited both Cincinnati and Marquette. The 6-9 lefty averaged 6.8 points and 4.1 rebounds last season and will have two years of eligibility remaining.
• St. John's roster was depleted before Rysheed Jordan and Chris Obekpa left the Red Storm program and now without both of them it's decimated. Chris Mullin's first year as head coach of his alma mater will feature a team that only has 4.0 points returning from the previous season. Things are literally starting from scratch in Jamaica.
• Michigan State's Bryn Forbes has gained 15 pounds since the end of the season, a school official told CBSSports.com. The 6-3 guard averaged 8.5 points last year as a junior and had 14 in the Spartans' Elite Eight win over Louisville. Look for Forbes to give Michigan State a lethal third wing behind West Virginia transfer Eron Harris and Denzel Valentine.
• Louisiana Tech's Xavian Stapleton is the latest Division I player to deal with severe restrictions as a transfer. Stapleton received his release following last season but isn't allowed to transfer to 55 schools --- all programs in Conference-USA, all schools in Arkansas, Mississippi, and Texas, the University of Florida, and any other schools that will face Louisiana Tech next season in the non-conference portion of their schedule. Stapleton asked for his release following Mike White's decision to leave the Bulldogs' program for Florida. He averaged 6.7 points last season and will have three years of eligibility remaining.
The 6-foot-10 incoming freshman is already impressing his coaches at Missouri

IUPUI is leaving the Summit League to begin play in the Horizon this season

The former Cardinal's injuries are not considered life-threatening
Archie Miller's debut season at Indiana will be a top-10 storyline in college basketball

Gary Parrish and Matt Norlander discuss last week's NBA Draft and look to next year's

Mizzou's basketball arena has around $1000,00 in damage