Observations: How is Howland still jobless? Who gets Cal job?
Ben Howland took UCLA to three Final Fours, yet Marquette went with young Duke assistant Steve Wojciechowski. How long before Howland gets back in the game?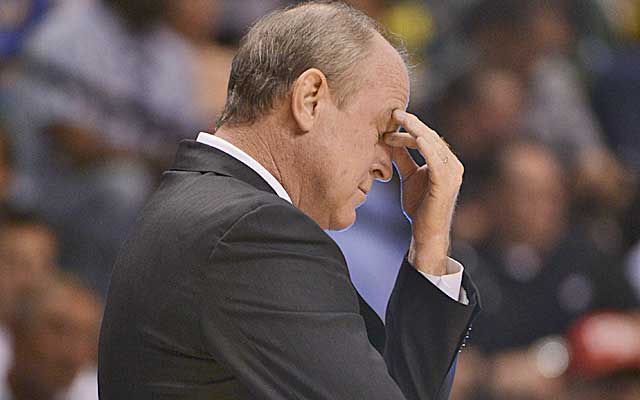 More NCAA hoops: Tournament bracket | Complete coverage of NCAAs | Latest news
1. Ben Howland led UCLA to a Pac-12 title last year and took the Bruins to three consecutive Final Fours, but he is still unemployed.
It's hard for me to believe as well. Howland was a candidate at Marquette Golden Eagles before the Golden Eagles hired Steve Wojciechowski on Tuesday and now it's yet to be determined if the former UCLA Bruins coach will be able to get back into coaching after spending last season away from the sidelines.
This has nothing to do with Wojciechowski, who has all the requisites to be a terrific head coach, but I'm incredibly surprised that more programs haven't made serious pitches for Howland's services. If the goal for athletic programs across the country is to win basketball games, what coach in the sport is better served and more readily available right now than Howland?
The guy was chastised for playing a slow style throughout his career and last season at UCLA he switched things up, accelerated the pace, and wound up leading the Bruins to a Pac-12 title.
Another thing that people forget about Howland's last year in Westwood? UCLA was primed for a deep NCAA run, but lost Jordan Adams to a broken foot in the semifinals of the Pac-12 tournament against Arizona Wildcats . The Bruins were never the same team after that and it was beyond obvious.
Fast forward a year later and with UCLA -- a healthy Adams in tow -- beat the Wildcats in the Pac-12 tournament title game thanks to late 3-pointer by Adams. The Bruins then wound up making it all the way to the Sweet 16 and finished Steve Alford's first season on a high note.
Timing is everything in life and the fact of the matter is Howland had bad timing last year with the injury to Adams. But let's not make it out to sound like there's a slew of people more capable of turning around a program better than Howland is. After 10 years in Westwood, he obviously wants a job where he has a chance to win whatever league he's in. It will be real interesting to see if he gets that type of opportunity before next season.
2. Mike Montgomery made no secret about who he wants his successor to be at Cal.
And that's Bears' Associate Head Coach Travis DeCuire. Several times during Montgomery's retirement press conference on Monday, Montgomery lobbied for DeCuire to replace him as Cal's head coach but Bears' athletic director Sandy Barbour reiterated repeatedly that the school will do a national search.
Multiple sources told CBSSports.com that the Bears will go after big names like Harvard Crimson 's Tommy Amaker and VCU's Shaka Smart, but they're more than likely to be rebuffed --- and that's where things will get interesting. According to several sources, two other potential candidates for this opening could be Utah Utes 's Larry Krystkowiak and UC Irvine's Russell Turner.
The common element between those two coaches and DeCuire? They're all under Montgomery's coaching umbrella. 
Krystkowiak played for Montgomery at Montana Grizzlies and Turner worked for him at Stanford Cardinal , but DeCuire is the guy that's most closely connected with the situation at Cal. DeCuire has been instrumental in the on-court development of three Pac-12 players of the year in Allen Crabbe, Jerome Randle, and Jorge Gutierrez as well as the recruitment of current players like Jabari Bird, Tyrone Wallace, and Jordan Mathews. 
DeCuire was also the point man on Cal's top recruit for next season in point guard Ahmaad Rorie. It will be interesting to see how this all unfolds in Berkeley.
3. The ACC has done serious damage to the Big East in the past few years.
First the league took Pitt, Syracuse Orange ,  Notre Dame Fighting Irish , and Louisville Cardinals and just last week it was announced that the ACC will be heading to New York for championship week when the conference tournament will be played at the Barclays Center in a few years. Then on Tuesday it was announced that Duke Blue Devils assistant Steve Wojciechowski was named the head coach at Marquette, one of the premier programs in the Big East. When was the last time a Big East school hired an ACC assistant as its head coach? Nothing comes to mind immediately and that should tell all of us what we need to know. In less than two years, the ACC has decimated the Big East.
4. BYU's Matt Carlino will be a highly sought after player in "free agency."
Productive fifth-year transfers have become a major commodity in college basketball and Carlino is one of the best on the board in 2014. The 6-foot-2 guard had three highly productive years with the Cougars after transferring from UCLA and will be a major target for several Pac-12 schools since he'll be immediately eligible next season. The lefty averaged 13.7 points, 4.3 assists, and 3.4 rebounds this past year for BYU and will be a major impact guy wherever he lands. A Scottsdale native, Carlino could very well wind up at Arizona State Sun Devils , who desperately needs a replacement for Jahii Carson at point guard. 
5. Nigel Hayes will be a critical piece for Wisconsin against Kentucky.
The Kentucky Wildcats played ping-pong on the back boards against Michigan Wolverines and if the Wisconsin Badgers are going to have a chance to advance to the national title game, they're going to need good mileage on the glass out of Hayes. The rugged freshman has the interior skills to go around and through Kentucky's vast array of post defenders and his ability to get to the foul line and produce will be a major key for Wisconsin. The 6-7 Hayes is averaging 6.5 points and 3.5 rebounds during the NCAA Tournament and has only scored in double figures once thus far in the field of 68. That has to change on Saturday against the Wildcats.
Show Comments
Hide Comments
Motley, who averaged 17.3 points and 9.9 boards, is projected as a borderline first-rounde...

Sharpshooter's return figures to send the program to a place it has been only once before
Gary Parrish and Matt Norlander also discuss UNLV's recruiting class

The five-star big man is part of a surprise late-period recruiting coup by Marvin Menzies

It's time for random observers to stop being outraged by players' decisions