Observations: Jahlil Okafor best college big man since Tim Duncan?
There are few true centers in the NBA, but Jahlil Okafor could be the next. But first, he'll step on campus at Duke and might just dominate.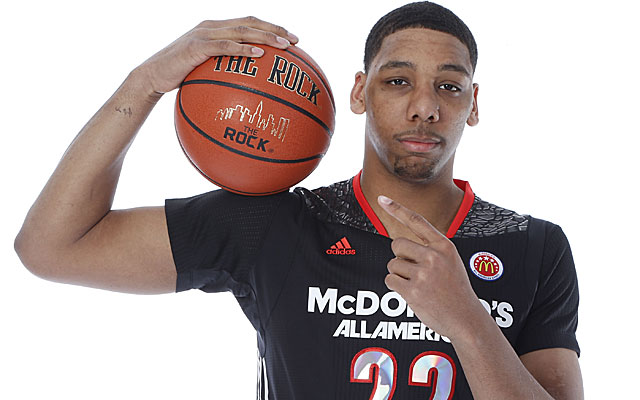 Latest in hoops: NBA Early Entries | Latest News | Coaching Changes
1. Duke Blue Devils 's Jahlil Okafor is going to remind people of Tim Duncan.
I'm not saying Okafor is going to be Tim Duncan because that wouldn't be fair. Duncan is one of the best big men to ever play basketball at any level, but Okafor is going to be the best pure center that the college game has seen in quite some time.
The 6-foot-10 Okafor is a throwback. In a time where fewer true five-men are playing the game and the position is filled with shot blockers or power forwards masquerading as centers, Okafor is like a mid-1990s NBA big man with post moves, craftiness and incredibly long arms. The Chicago native is the type of jaw-dropping talent that comes along once every couple of a decades.
Okafor had 29 points and nine rebounds in last week's Jordan Brand Classic at the Barclays Center and looked like the clear favorite to be the top overall pick in the 2015 NBA Draft. It may sound crazy to make that type of prognostication before Okafor ever plays a college game at Duke, but watch him play once and you'll get the point.
Duncan stayed four years at Wake Forest Demon Deacons and was dominant by his junior season after being somewhat raw as a freshman and sophomore. That won't happen with Okafor. This kid is primed to make a major impact from the first day he steps foot in Durham.
2. Chris Obekpa's return to St. John's Red Storm makes the Red Storm a legitimate contender in the Big East.
The 6-9 Obekpa took a step back as a sophomore (2.9 blocks) after averaging 4.0 blocks as a freshman and now Obekpa's decision to return to Steve Lavin's program for his junior season makes St. John's -- at least on paper -- the biggest challenger to Villanova in the Big East next season.
The Red Storm will return a veteran perimeter of Rysheed Jordan, Phil Greene and D'Angelo Harrison plus a savvy fourth guard in veteran Jamal Branch. St. John's also has the premier shot blocker in college basketball manning the pivot in Obekpa and Dom Pointer could be primed for a breakout season up front at power forward.
The Red Storm have been a different team over the past two years when the 6-5 Pointer (5.9 points, 3.2 rebounds last season) has played expanded minutes at power forward and he should now have that type of opportunity next season with the departure of JaKarr Sampson, who left St. John's early for the NBA. The Red Storm narrowly missed the NCAA Tournament last year but should be in position to challenge for a bid in 2015 thanks to a returning core that features multiple years of collegiate experience.
Another thing to keep in mind: Other than Villanova, there isn't a true proven commodity heading into the Big East next season. Xavier and Providence Friars are both in transition mode after losing Semaj Christon and Bryce Cotton respectively, while Georgetown Hoyas is also trying to retool after a 17-14 season that ended in the NIT.
3. Indiana Hoosiers 's guard play should be very good next season.
The addition of freshman James Blackmon will spark the Hoosiers' ascent next season. The 6-2 guard won't play like he's in his first year of college basketball and should be an immediate contributor in Bloomington. Cool, calm, and always under control, Blackmon probes defenses well and reads situations like he's an option quarterback trying to follow his lead blocker.
The combination of Blackmon, Yogi Ferrell, and sophomores Stanford Robinson and Troy Williams should give the Hoosiers a perimeter capable of matching up with just about anyone in the Big Ten, but the key for Indiana's season next year will still be the evolution of its front court. With Noah Vonleh (11.3 points, 9.0 rebounds) off to the NBA, Tom Crean needs big-time jumps out of both Devin Davis and Hanner Mosquera-Perea.
The 6-7 Davis had moments last season as an "energy guy" but will need to give the Hoosiers productive minutes with regularity. The same can be said of the 6-9 Perea, who had eight points, five rebounds, and three blocks in a late-season win over Ohio State. Don't be surprised if Crean uses the 6-7 Williams for long stretches at power forward thanks to his athleticism in an effort to get Indiana's best players on the floor. A freak athlete, Williams averaged 7.3 points and 4.4 rebounds last season as a freshman.
4. The SEC will be a mystery next season after Kentucky Wildcats and Florida Gators .
The Wildcats and Gators will start the season as Top 10 teams, but after that the SEC is wide open.
Tennessee Volunteers will be rebuilding under first-year coach Donnie Tyndall and even though the Vols reached the Sweet 16 last year under Cuonzo Martin, they lost their three best players in Jarnell Stokes, Jeronne Maymon and Jordan McRae.
LSU Tigers lost Johnny O'Bryant, but Johnny Jones returns a strong nucleus up front with Jordan Mickey and Jarell Martin that should pair nicely with 6-11 freshman Elbert Robinson. The Tigers also return a quality veteran guard in Anthony Hickey and add a key JUCO transfer in former Texas Tech floor general Josh Gray.
Texas A&M is another team to keep an eye on. The Aggies won 18 games last year under Billy Kennedy and add three key pieces in freshman point guard Alex Robinson, 6-11 big man Tony Trocha and SMU transfer Jalen Jones (14.0 points, 7.7 rebounds in 12-13).
Two other teams that could challenge for a place at the top of the SEC standings behind Kentucky and Florida? Vanderbilt Commodores and Arkansas Razorbacks . The Commodores will return point guard Kedren Johnson, who missed all of last season due to suspension while the Razorbacks will try and get over the hump and reach the NCAA Tournament for the first time under Mike Anderson. Arkansas was 21-9 heading into its final regular season game last year and had two wins over Kentucky on its resume, but then lost back-to-back Alabama and South Carolina and wound up in the NIT instead of the field of 68.
5. This weekend's recruiting period is significantly more critical than it has been in past years.
The upcoming recruiting period will be the only time this spring that coaches will be able to be on the road and evaluate prospects. In past years, coaches had multiple opportunities to scout prospective recruits, but with the new rules set in place by the NCAA, the next few days will represent the only chance for programs to get a feel for prospective talent until they hit the road again in July.
The direction different programs take in terms of who they will recruit for the entire class of 2015 will be based upon what happens at different events all over the country this weekend.
This and that
• If you're a Duke fan and live in the New York area, you're going to have plenty of access to the Blue Devils next season. Mike Krzyzewski's squad will play two games in the Coaches vs. Cancer Classic at the Barclays Center in November as part of a four-team tournament with UNLV Rebels , Temple and Stanford. Duke will also face Connecticut at the Izod Center in New Jersey in December and come back for a game against St. John's at Madison Square Garden in late January. That's four big time non-conference opportunities for the Blue Devils in the nation's top media market.
• Nevada Wolf Pack transfer Cole Huff said he will visit Creighton on Sunday and has also set visits at Iowa for May 2 and Dayton on May 9. Huff mentioned Michigan and potentially USC as two other possible places that he would visit before making a decision depending on what happens with the initial restrictions Nevada put in Huff's release when he opted to transfer.
Huff initially wasn't allowed to transfer to any Pac-12 or West Coast schools when he opted to leave Nevada and unless that position is reserved, USC wouldn't be an option for his services moving forward. The 6-8 power forward averaged 12.8 points and 5.4 rebounds this past season and made 56 three-point shots while shooting 40.3 percent from long range. Huff will have two years of eligibility remaining.
• Arizona Wildcats incoming freshman Stanley Johnson is going to remind people of Ron Artest. The 6-6 wing is already a terrific two-way player and is a much more consistent outside shooter than people realize. Johnson was efficient from tip to finish in last week's Jordan Brand Classic at the Barclays Center and should immediately be a starter for the Wildcats next season. The presence of Johnson next to Rondae Hollis-Jefferson (6-7), Brandon Ashley (6-9) and Kaleb Tarczewski (7-0) will likely give coach Sean Miller the longest starting five in all of college basketball.
• Fresh off the ACC regular-season and tournament titles as well as a Sweet 16 appearance, Virginia Cavaliers is putting together a quality non-conference schedule for 2014-15. The Cavaliers will host George Washington and Harvard and also play at VCU. Tony Bennett's squad will also take part in the ACC/Big Ten Challenge and be a part of the Barclays Center Classic in November with Rutgers, La Salle and Vanderbilt.
• Georgia State's Ron Hunter is quietly building a program that is a landing spot for high-level transfers. The Panthers got a dominant season last year out of Ryan Harrow (17.8 points, 4.2 assists) one year removed from Kentucky, and since the end of this past season Hunter has received commitments from two players --- Kevin Ware (Louisville) and Jeremy Hollowell (Indiana) --- who will be immediate all-league caliber players in the Sun Belt.
Part of having perennial success at the mid-major level is carving out a niche and Hunter is doing that at Georgia State Panthers . The Panthers program is in a good location in downtown Atlanta and has quickly become a landing spot for kids who aren't as successful at the BCS level as they hoped to be coming out of high school.
Show Comments
Hide Comments
The 2017 NBA Draft had more freshmen, and fewer seniors, taken in the first round than ever...

A scandal at New Mexico leads to a rarity for the NCAA Tournament selection committee

These two Hall of Fame coaches have been in the crosshairs of NCAA justice in recent years
Will Kentucky have more than two players taken in the first round of the NBA Draft?

Continues to lobby for a college hoops commissioner; hopes the NBA, NCAA can come together

This development means every Division I job is now filled