Observations: Kentucky has no shortage of talent on its frontline
Karl Towns might be Kentucky's best NBA prospect. The newcomer's only problem? Finding playing time in Kentucky's deep, talented front court.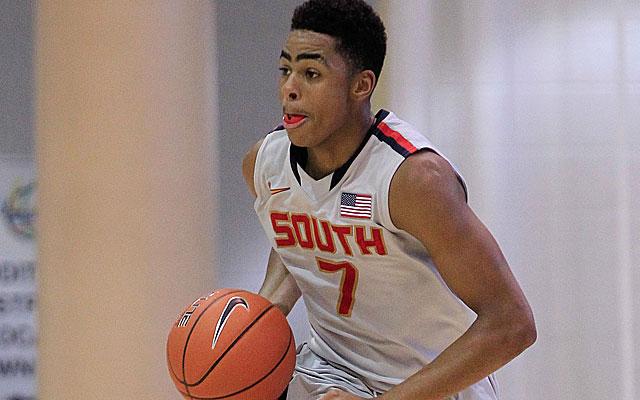 MORE: Latest News | Recruiting Updates | 247Sports Coverage
1. Karl Towns may be Kentucky Wildcats 's best NBA prospect.
But that doesn't mean he's going to immediately play major minutes for the Wildcats. Towns, a 7-foot freshman, has all the tools to be a terrific player and brings a different dynamic than some of the other big men John Calipari has had since he has been coach at Kentucky because of his ability to shoot the ball and extend the defense.
Towns has a "Channing Frye" type feel to his game and his presence will add spacing and isolate whoever is playing the other front-court spot in the low post. Nevertheless, Towns' biggest hurdle next season may simply be just getting on the floor. The Wildcats return four players up front -- Willie Cauley-Stein , Dakari Johnson , Marcus Lee and Alex Poythress -- who were a part of last March's run to the national title game and add arguably the top freshman power forward in the 2014 class in Trey Lyles.
Neither Lyles nor Cauley-Stein will play during this team's upcoming trip to the Bahamas due to injuries and that could open the door for Towns to get his feet under him early. Armed with a lethal pick-and-pop game as well as the ability to dive and finish at the rim, the New Jersey native has all the tools needed to be a dynamite player for a long time. It will be interesting to see how Calipari manages his front court with six players in the mix for three positions.
Look for Lyles and Poythress likely to see time on the wing at small forward early in the season in an effort to get everyone their fair share of minutes.
2. D'Angelo Russell will play both back-court spots for Ohio State Buckeyes next season.
Anyone who has watched Russell play knew he was going to immediately provide the Buckeyes with some much-needed offense, but the other thing he's going to bring to Columbus is the ability to play some point guard. Calm, poised, and mature beyond his years, the 6-4 lefty is also capable of facilitating and running an offense in addition to being a double-figure offensive threat on a nightly basis. An excellent passer that can see over most defenses, look for Russell to be Ohio State's primary ball-handler when Shannon Scott isn't on the floor.
3. Xavier Musketeers 's Jalen Reynolds is primed for a breakout year.
The 6-9 power forward has gained at least 10 pounds since the end of last season and is now over 230. Built like an Adonis, Reynolds showed flashes of his capabilities a year ago as a freshman but looks ready to take a major step forward as a sophomore.
A 17-point, 16-rebound outing against St. John's Red Storm put Reynolds on the national radar but that was his only double-double during all of last season. Now a year older and more physically ready to dominate, Reynolds and Matt Stainbrook should give the Musketeers arguably the best power forward/center combination in the Big East. If you're putting together a list of breakout players for next season, Reynolds better be on it.
4. Lack of size will be an issue early on for Marquette Golden Eagles .
Newly minted Golden Eagles coach Steve Wojciechowski has his work cut out for him in November and December. Marquette has one player on that stands over 6-7 -- Indiana Hoosiers transfer Luke Fischer , and he won't be eligible until Dec. 16 when the Golden Eagles host Arizona State.
What does that mean for the Golden Eagles until then? Power forward Steve Taylor Jr. (6-7) will likely be the starter in the pivot with veteran Juan Anderson (6-6) and sophomore Deonte Burton (6-4) occupying the other minutes at power forward. Marquette will host Wisconsin Badgers , visit Ohio State, and play in the Old Spice Classic in Orlando before Fischer is eligible in December.
5. Chad Frazier 's departure from UAB Blazers hurts Conference USA.
The Blazers had a chance to be a factor nationally in November and December with games against North Carolina Tar Heels and LSU Tigers in addition to a trip to the Battle 4 Atlantis in the Bahamas and that will be harder to accomplish without a lead guard like Frazier.
The 6-4 guard was granted his release this past week after a recent domestic violence issue and his departure drastically alters the outlook for the Blazers. A high-major talent, Frazier averaged 17.7 points, 4.3 rebounds and 3.3 assists last season while making 61 three-point shots and shooting 33.9 percent from long distance.
Without Frazier, coach Jerod Haase will look at Virginia Tech transfer Robert Brown , sophomore Denzel Watts, and freshman Nick Norton as possibilities to be UAB's starting point guard next season.
This and that
• Villanova Wildcats 's Kris Jenkins is now down to under 12 percent body fat, according to Wildcats associate head coach Baker Dunleavy. The 6-6 forward had 20 percent body fat when he arrived on campus a year ago and averaged 4.1 points and 1.8 rebounds in 11.7 minutes as a freshman. Villanova needs mileage out of Jenkins next year as a stretch power forward off the bench to give them the necessary spacing they need to execute offensively.
• Memphis Tigers coach Josh Pastner said three different players -- Markel Crawford , Rashawn "Pookie" Powell and Dominic Magee -- are getting reps at point guard as the Tigers get ready for a trip to Montreal. Crawford and Powell redshirted last season; the 6-3 Magee is a true freshman. The Tigers have arguably the top power forward/center combo in the American Eagles with Austin Nichols and Shaq Goodwin but don't have a floor general who has played a minute of collegiate experience.
• Williams (Division III) transfer Duncan Robinson will visit Davidson Wildcats this weekend and Michigan Wolverines on Monday. The 6-8 forward averaged 17.1 points and 6.1 rebounds last season at Williams.
• Louisiana Tech Bulldogs will have plenty of chances to make a splash during the nonconference portion of its schedule. The Bulldogs will visit Temple Owls and NC State in November and also play Syracuse Orange in the Carrier Dome in December. Coach Mike White's squad is the consensus favorite in Conference USA and returns one of the nation's most underrated back courts with Alex Hamilton (14.5 points in 2013-14), Raheem Appleby (11.2 points) and Kenneth "Speedy" Smith (7.7 assists).
• Howard Garfinkel's annual clinic is Sept. 27 at The College of St. Rose in Albany. Clinicians include Syracuse's Jim Boeheim, Kentucky's John Calipari, Florida Gators 's Billy Donovan , former NBA coach Mike Fratello and former Virginia Tech Hokies coach Seth Greenberg. For more information call 518-877-5170.
Show Comments
Hide Comments
Sharpshooter's return figures to send the program to a place it has been only once before

Gary Parrish and Matt Norlander also discuss UNLV's recruiting class
The five-star big man is part of a surprise late-period recruiting coup by Marvin Menzies

It's time for random observers to stop being outraged by players' decisions

Plenty of decisions are still hanging in the air, calls that will help shape the 2017-18 s...