Observations: Stanford's Randle is Pac-12's top player, hands down
If Chasson Randle is not the Pac-12 preseason player of the year, something's amiss. Conference departures and Randle's performance make it obvious.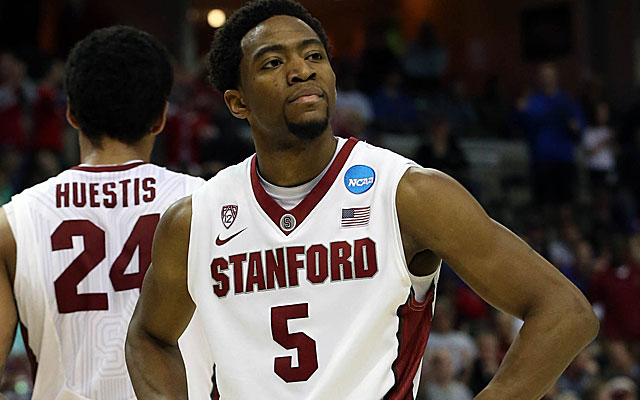 Latest in hoops: NBA Early Entries | Latest News | Coaching Changes
1. Stanford Cardinal 's Chasson Randle should be Pac-12 Preseason Player of the Year: This shouldn't be up for debate. The Pac-12 lost several standout players from last season ( Nick Johnson , Spencer Dinwiddie , Kyle Anderson , Jordan Adams ) and Randle returns as the anchor of a Sweet 16 team.
The 6-foot-2 guard had a terrific junior season, averaging 18.8 points and 3.6 rebounds while shooting 47.4 percent from the field and 38.9 percent from 3-point range. Forced to play point guard after veteran Aaron Bright was sidelined because of an injury, Randle led the Cardinal to their first trip to the NCAA Tournament under Johnny Dawkins.
Another thing to watch in regards to Randle next season? Dawkins may be able to slide him off the ball more regularly thanks to the addition of freshman point guard Robert Cartwright. The 6-2 Cartwright is a heady floor general who makes the right pass and creates opportunities for teammates. His presence likely will allow Randle more time on the wing in 2014-15 and that could allow him to be even more aggressive offensively.
2. Adding Justin Martin enhances SMU potential: Hall-of-game coach? Check. Potential 2015 lottery pick? Check. Depth to rival any college team in America? Check. SMU was primed for a memorable run next season before Larry Brown & Co. added Xavier's Justin Martin this week as an immediately eligible transfer.
The 6-6 Martin averaged 11.7 points and 5.2 rebounds last season for the Musketeers while shooting 37.3 percent from three-point range. Martin's addition adds spacing for blue-chip freshman Emmanuel Mudiay to operate. The 6-5 point guard will be the best first-year perimeter player in America next season and shooters like Martin and Nic Moore force opposing defenses because teams are going to be forced to pick their poison. The 5-9 Moore was SMU's primary point guard last season and he's likely to spend more time off the ball next year with Mudiay's arrival. A terrific shooter, Moore made 72 three-pointer last season and that was while he was running the Mustangs' offense. With Mudiay and Martin, Moore's open looks from deep should increase next season.
I never thought I'd be writing this, but that triumvirate along with Glue Guy Sterling Brown (4.4 points, 3.8 rebounds last season) and former McDonald's All-American Keith Frazier (41 made three-point shots last season) gives SMU a perimeter that can match up with any team in America. The Mustangs were a top-10 team before they added Martin earlier this week. With him, they're capable of trading blows with any team in college basketball.
3. San Diego State's the MWC favorite, but PG is a mystery: Steve Fisher has done an unbelievable rebuilding job and has a roster with more than 10 players who can impact a game. San Diego State Aztecs is long, athletic and will be able to switch every ball screen defensively, but who plays point guard for the Aztecs next season? That's the million dollar question.
San Diego State won 31 games last season, thanks to an All-America-type season from floor general Xavier Thames (17.6 points, 3.2 assists), who was regularly featured in ball screen situations on offense. Thames' departure leaves a major hole at the most important position, and there are a number of different ways Fisher can go next season.
Two potential options are veterans Winston Shepard , who can handle the ball and guard multiple positions on defense. Shepard and O'Brien are 6-7 or taller, and playing either at point guard would align with Fisher's long time theory of not "putting positions on players." Sophomore D'Erryl Williams played sparingly last season as a freshman and is another candidate, along with 6-2 newcomer Kevin Zabo. A native of Canada, Zabo arrived this past week and is a traditional pass-first floor general. There's no doubt that the Aztecs are the team to beat next year in the Mountain West, but it's still yet to be determined who will orchestrate the offense. Stay tuned.
4. Texas A&M's Alex Robinson will be among the most important freshman: He's going to get the keys to the car in College Station from the the first day of practice, and that alone makes him more than important. The speedy Robinson is the type of player Billy Kennedy has needed since taking over the Aggies in 2011, and Robinson could make A&M sneaky good in the SEC. Armed with a great feel at 6-1, Robinson excels in transition and will stabilize the backcourt. Kennedy can then shift Alex Caruso (9.0 points, 3.6 rebounds, 5.0 assists) to shooting guard full-time. The Aggies lost leading scorer Jamal Jones from last season's team that won 18 games, but the addition of Robinson, 6-10 big man Tony Trocha, and SMU transfer Jalen Jones (14.0 points, 7.7 rebounds in 2012-13) should give this team better decision making, size and firepower.
The wild card for Texas A&M could be the status of Danuel House , who committed to the Aggies last Sunday after deciding to transfer from Houston. A&M is expected to file a waiver with the NCAA so House can play next season. He averaged 13.6 points last season.
5. Rhode Island Rams 's Hassan Martin is underrated nationally: Think about this for a second. Last season, there were two freshman frontcourt players in all of America who averaged nine points, eight rebounds and three blocks in conference play. Martin and Kansas big man Joel Embiid . A native of Staten Island, Martin averaged 6.3 points and 5.7 rebounds overall, while leading the Atlantic 10 in blocked shots at 2.5 per game. Armed with a high skill level at 6-7, Martin can extend the defense with his face-up game and also finish with authority at the rim. This sophomore to be has a legitimate chance to be a three-time all-conference player.
This and that
• Georgetown and Indiana will play at Madison Square Garden on Dec. 27.
• Niagara transfer Antoine Mason will visit Auburn this weekend followed up by a visit to Providence on Sunday and Monday, sources said. Boston College is also in the mix. The 6-3 guard averaged 25.6 points last year and will be eligible next season.
• Samford transfer Tim Williams will visit New Mexico on June 16-17 and Vanderbilt on June 18-20, sources said. Dayton and Marquette also are in the mix. The 6-8 forward averaged 17.6 points and 7.3 rebounds last season and will have two years of eligibility remaining.
• Oklahoma State transfer Kamari Murphy will visit Miami on Sunday, sources said. South Florida is also in the mix. The 6-8 forward averaged 6.1 points and 6.3 rebounds last season and will have two years of eligibility remaining.
• Providence will play Miami and Manhattan will face Fordham as part of a doubleheader at the Barclays Center on Dec. 22. Tip off times are expected to be 7 p.m. and 9 p.m. ET.
Show Comments
Hide Comments
Eight of the top nine scorers from this season's team are not returning, but UK will be fi...

A likely All-American, a big-time NBA prospect and an important X-factor to test draft wat...

Kentucky is losing 95 percent of its offense with all of its NBA talent and outgoing senio...
The former five-star recruit has not yet hired an agent

Shareef picked Arizona over UCLA, USC, LSU and others

Stephen Curry, Damian Lillard, C.J. McCollum and Ian Clark didn't come from college powerhouses,...