Observations: Syracuse needs scoring; SMU Brown's team to beat in AAC
Syracuse rarely lacks for scoring but Jim Boeheim's team, because of so many departures, is looking for someone to step up on offense. Also, Larry Brown's SMU Mustangs, who should have made the NCAA tourney last season, look like the team to beat in the AAC.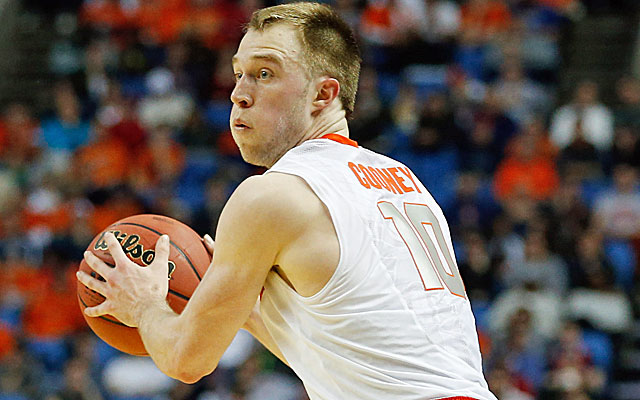 1. Scoring is a major question for Syracuse
Kinda weird to hear that, right? The Orange have always had a bevy of scoring options under Jim Boeheim and regularly boasted several sixth men over the past few years -- Kris Joseph, Dion Waiters, and James Southerland -- who would have been all-league caliber players if they played at another program. But with the departures of Tyler Ennis, Jerami Grant, and C.J. Fair following last season, who puts the ball in the basket for Syracuse in 14-15 is a major, major question. Trevor Cooney is this team's top returning scorer (12.1 points) and after that the next top returning scorer is 6-9 big man Rakeem Christmas (5.8 points in 13-14). The Orange still have plenty of talent but the fact remains that other than Cooney, there's not many players on Syracuse's roster that have proven that they can score the ball consistently at the collegiate level. The two keys for this team next season? Michael Gbinije and Tyler Roberson. Word is Gbinije has been terrific in off season workouts and could be in line for a major jump next year while Roberson is a talented 6-8 player who would have played anywhere else in the country last season as a freshman if he wasn't on a team that boasted Grant and Fair. Still, both Gbinije and Roberson combined to average just 5.6 points last season and it will be a bit of a process early for this team at the offensive end of the floor. The Orange are officially entering somewhat of a new era and it will be interesting to see who steps forward on a team that is full of unknown commodities.
2. Notre Dame needs a breakout season from Zach Auguste
The Irish are a bit of a forgotten team heading into next year's ACC after last season's 15-17 campaign and if Mike Brey's squad hopes to return to the NCAA tournament in 2015, they're going to need a big jump out of Auguste. The departures of both Garrick Sherman and Tom Knight leaves a major void in Notre Dame's front court and the 6-10 Auguste (6.7 points, 4.3 rebounds in 13-14) is the player most likely to fill it. The Massachusetts native only tallied one double-double last season and Brey will need both Auguste and 6-9 junior Austin Burgett to compile close to that if the Irish are to work their way into the top half of the ACC Standings. Notre Dame will be a guard heavy team next season that regularly uses 6-5 veteran Pat Connaughton (13.8 points, 7.1 rebounds in 13-14) at power forward in an effort to extend the defense and maximize spacing on offense.
3. Even without Emmanuel Mudiay, SMU is still the team to beat in the AAC
The Mustangs would have been a potential top 10 team with Mudiay and contrary to the belief of many, they're still capable of being a Top 25 team without him. SMU belonged in the NCAA tournament last season and returns the majority of a squad that won 27 games and lost in the finals of the Postseason NIT to Minnesota. That core of players owned double-figure victories last season over both Cincinnati and Memphis in addition to a regular-season sweep of eventual national champion UConn. Larry Brown's team returns eight different players who averaged 12.9 minutes or more last season and also adds a potential starter in Xavier transfer Justin Martin (11.7 points, 5.2 rebounds), who will be eligible to play immediately. The Mustangs have one of the more underrated guards in the country in Nic Moore and are also waiting on word regarding a waiver from the NCAA in regards to Texas Tech transfer Jordan Tolbert. The 6-7 power forward averaged 10.7 points and 5.8 rebounds last season and would add another capable body in SMU's front court along with Ben Moore, Cannen Cunningham, Yanick Moreira, and Markus Kennedy. Another thing to keep in mind regarding the AAC? UConn lost Shabazz Napier, Cincinnati lost Sean Kilpatrick, and Memphis lost four senior guards. The Mustangs don't have the same sizzle that they would have had with Mudiay, but that doesn't mean that they're not going to be an excellent basketball team.
4. The AAC has a lot of work to do if it wants to again have four teams in the NCAA tournament
The conference lost Louisville to the ACC and will take a bit of a hit with SMU not having Emmanuel Mudiay. Nevertheless, the AAC still has brand name programs like UConn, Cincinnati, and Memphis, but all three of those schools are currently in transitional phases and that could affect how many bids this league gets into the 2015 tourney. Much like the Big East and the Atlantic 10, the AAC needs its programs to do well nationally in the non-conference portion of their schedule to elevate the league from a national perspective. If teams from this league can do well in November and December, it will enhance the conference's overall RPI and give the AAC a greater chance of securing more bids in the field of 68. Two wild cards to watch for the AAC? Temple and Tulsa. The Owls seem primed for a bounce back year after last season's 9-22 campaign and Frank Haith inherits a Golden Hurricanes' team that went to the NCAA Tournament last year out of Conference-USA. If each of those two programs can enjoy solid seasons, it will only enhance the AAC's brand as a whole.
5. All coaches love their teams in July
And that's the great thing about college hoops during the summer months. The optimism is at an all-time high.  When teams are 0-0 and months away from starting practice and putting in their offensive and defensive game plans, all coaches believe a special season is ahead. No one thinks about close losses, potential chemistry issues, or a player being unhappy and potentially transferring. One of the best parts of this job is hitting the road and visiting with different people from different programs. It's a way to build relationships, learn personnel, and have a better understanding of strategy. But the more you do this, you learn to realize that everyone likes their team during the summer. No one is down on a player or an area of the squad that they're going to take to battle 30-35 times during the upcoming season. It's all part of an unbelievable tradition that makes July what is. Summer optimism -- nothing like it.
This and That
• Pitt's Jamel Artis is down 30 pounds since the end of last season. The 6-7 forward averaged 4.9 points and 2.9 rebounds last year as a freshman and could see more time at small forward as a sophomore.
• Kansas coach Bill Self said he's going to use power guard Wayne Selden in different roles next season. The 6-5 sophomore is physically strong enough to guard power forwards and also has the perimeter skills to play multiple positions in the back court. Selden averaged 9.7 points, 2.6 rebounds, and 2.5 assists last season as a freshman.
• People are sleeping on Oregon freshman JaQuan Lyle. The 6-5 guard would be a household name if he was going to UCLA or Arizona but instead has fallen under the radar because he's heading to Eugene. With the Ducks' recent defections in the back court, expect Lyle to have a major role in his first year of college basketball. This kid is capable of averaging in double figures as a freshman -- he's that talented.
• A glue guy to put on your radar for next season? Texas' Demarcus Holland. The 6-2 guard is a relentless worker who regularly guards the opponent's top perimeter scorer and also has the ability to affect the box score in a number of different ways. Holland averaged 7.1 points, 4.7 rebounds, 2.4 assists, and 1.2 steals last season.
• How's this for a difference maker: Penn State went from 12th to first in the Big Ten last season in defensive field-goal percentage once Jordan Dickerson became eligible in late December. The 7-footer played 22 games last season for the Nittany Lions and averaged 1.3 blocks. He has two years of eligibility remaining.
Calipari's latest viral social media bit comes just three weeks after the Wildcats head coach...

Buddy Boeheim was so impressive at Peach Jam that Gonzaga offered; others showing interest

The truths and myths about the push for 2018's No. 1 recruit to play college hoops a year...
Here are the under-the-radar players who will have breakout seasons in 2017-18

Duke coach says sometimes troubled guard played hurt last season, adding, 'I'm really proud...

Michigan, Marquette, California, LSU and VCU are also in the 34th annual field