Observations: Wisconsin's Kaminsky NBA quality; Poythress key for Cats
Frank Kaminsky is the best player on the floor in the West Regional final vs. Arizona. His abilities translate to the next level, too.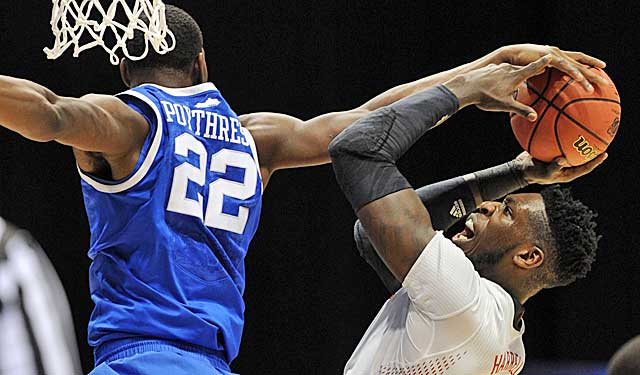 More NCAA hoops: Tournament bracket | Complete coverage of NCAAs | Latest news
1. Frank Kaminsky is an NBA caliber 5-man: After averaging only 4.2 points last year as a sophomore, the 7-footer was the best player on the floor in Wisconsin's 64-63 overtime win over Arizona on Saturday night. Kaminsky beat the Wildcats both inside and out, finishing with 28 points and 11 rebounds including three made 3-pointers. Skilled, savvy and unbelievably adept at getting his shot off in different areas on the floor, Kaminsky has a game that's similar to former NBA big man Brad Miller when he was with the Sacramento Kings and the Indiana Pacers. A great passer with deep range, Kaminsky is the primary reason why Wisconsin is headed to the Final Four for the first time in Bo Ryan's tenure in Madison.
2. Alex Poythress is a huge key defensive key for Kentucky vs. Michigan: The Wolverines present major matchup issues because of Glenn Robinson III's ability to stretch the floor from the power forward position. The Wildcats' best bet to defend that spot will be Poythress. The talented sophomore has embraced his role as a utility guy, and will have to be a factor if John Calipari is to take Kentucky to its third Final Four in four years. Don't be surprised if the Wildcats use Poythress for long spurts at power forward with Julius Randle at center in an effort to be more versatile defensively against Michigan's array of shooters.
3. Florida's Kasey Hill having a quietly productive tourney: The freshman point guard is an absolute nuisance on the ball defensively and has allowed Scottie Wilbekin to move to the wing to be more of a scorer at times. In the Gators' four NCAA wins, Hill has provided stellar play off the bench and dished out 15 assists to only four turnovers. Billy Donovan has made no secret that he wants to pick up the pace to manufacture easy baskets. Hill's ability to guard the opponent's point guard augments that strategy. The 6-1 Hill should have a breakout year next season after Wilbekin graduates.
4. Dayton will be an A-10 favorite, and a top 30 team next season: Archie Miller's squad fell just short of reaching the Final Four, but the Flyers' magical run to the Elite Eight gave people a glimpse of what Dayton basketball in the future. The Flyers lose Devin Oliver, Matt Kavanaugh and Vee Sanford, but Miller returns a strong nucleus, headlined by Jordan Sibert, next season. Dayton also will return four quality juniors in Khari Price, Jalen Robinson, Devon Scott and Dyshawn Pierre along with three sophomores -- Scoochie Smith, Kyle Davis, and Kendall Pollard -- who will be all be better than they were as freshmen. Keep an eye Detroit native Darryl Davis, a first-year combo guard that could have an immediate impact. This will be the main challenger to VCU next season in the Atlantic 10.
5. Michigan State's Appling and Payne are playing for piece of history: Michigan State's senior duo of Keith Appling and Adreian Payne have their joint legacy on the line in Sunday's East Regional Final against UConn. Appling and Payne have had terrific careers in East Lansing, but if they don't find a way to win at Madison Square Garden they'll be the only two players during Tom Izzo's Michigan State tenure to not play in a Final Four. If that's not added motivation, I don't know what is. These two have been terrific for Michigan State the past four years, but if they come up short, something will be missing from their careers.
Show Comments
Hide Comments
Once again coaches are participating in Oakland coach Greg Kampe's charity event

The Tar Heels point guard was the Most Outstanding Player of the 2017 Final Four

A list of every player who is testing the waters for the 2017 NBA Draft, a record 182 guys
The MVC is looking for a school to replace Wichita State, which left for the American Athl...

Self's one of the very best, but he's changing his attack strategy to help his chances nat...

Collins is set up to be Northwestern's coach for a very long time -- if no one bigger lures...