Oklahoma falls to Kansas as Jayhawks hound Hield into rare bad game
Buddy Hield was off. Kansas took advantage. The Jayhawks won 76-72 at OU on Saturday afternoon, and now they're one game ahead of Oklahoma in the Big 12 standings.
Buddy Hield was so good in the first meeting, in that Monday night thriller last month, that he made 13 shots and helped create three overtimes that produced one of college basketball's all-time great regular-season games.
This time he missed a free throw in the final minute that could've created another OT.
It was his low point in a game full of them.
And -- you're not going to believe this, but -- Kansas is suddenly in a great position to take yet another Big 12 title. The Jayhawks are now 21-4 overall, 9-3 in the league and tied with West Virginia atop the Big 12 standings thanks to Saturday's 76-72 win at Oklahoma.
KU, of course, has won at least a share of 11 consecutive Big 12 championships.
So that's the good news for Kansas.
But, once again, the story was Buddy Hield.
In the first meeting, in that Monday night thriller last month, Hield finished with 46 points and became the frontrunner in the National Player of the Year race. In this second meeting, he missed the first six shots he took, finished just 5-of-15 from the field, and misfired on a free throw with 25.3 seconds remaining that would've tied the score, 73-73.
Hield was 9-of-9 from the line before he missed his 10th attempt.
"Buddy Hield's not going to miss this free throw because he's a 90 percent free-throw shooter," ESPN's Jay Bilas said with Hield at the line, and it was a reasonable thing to say.
But then Hield did indeed miss.
And now OU has dropped two of its past three games.
"I just tried to contest every shot," said Kansas guard Devonte' Graham, who spent most of the game guarding and hounding Hield. "Just tried to make things tough on him."
This victory over Oklahoma represents the Jayhawks' fifth top-25 RPI win.
Nobody has more.
Kansas has beaten Oklahoma twice -- and West Virginia, Kentucky and Texas once. When you combine that with victories over Baylor, Oregon State, Texas Tech and San Diego State, what you realize is that Kansas has nine top-50 RPI wins, which makes the Jayhawks the only team in college basketball with nine top-50 wins and just one sub-25 loss.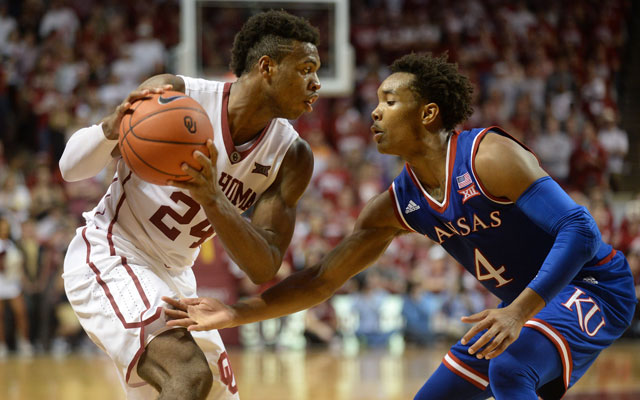 Show Comments
Hide Comments
Our Latest Stories
Villanova slips a spot and Syracuse cracks the CBS Sports rankings

George Washington assistant Maurice Joseph replaces Mike Lonergan, who was fired

Who are the guys that should take a big-time leap this season? We've got your answers
Multiple programs expressed concern over Puerto Rico's Zika instability

Wooden is primarily associated with UCLA, but he had big-time impact at Purdue

The project is part of a big renovation taking place at the Breslin Center