Pac-12 schools pursuing versatile Stanley Johnson
Stanley Johnson was not in his ideal setting at the Pangos All-American Camp, but he was still able to be productive. The four-star forward is versatile, making him attractive to many schools.
• 1 min read
LONG BEACH, Calif. – Unlike most players his age, Stanley Johnson is not a huge fan of isolation and up-and-down styles.
As a result, he was the first to admit he wasn't in his ideal setting at the Pangos All-American Camp.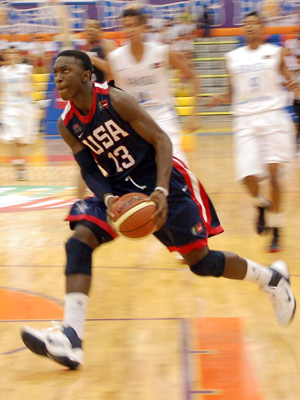 Stanley Johnson's versatile has made him attractive to multiple high-major suitors. (USA Basketball)
"I played pretty good, but camps aren't the best thing for me," Johnson said. "I do better in anything that's a team."
His numbers on the AAU circuit with the Oakland Soldiers back up that assertion. Through the four EYBL sessions this spring, Johnson averaged 16.0 points and 7.3 rebounds in 20 games. Moreover, it came without top-five 2013 prospect Aaron Gordon next to him on the inside.
The 6-foot-6 Johnson can create matchup problems with his unique skillset and scoring ability. Moreover, he's strong enough to finish consistently around the rim. No matter the opponent, Johnson always seems to be productive.
"I wanted to show I can still play the one, two or three," Johnson said. "I still need to work on my perimeter shot and my ball-handling."
Several schools are making the Mater Dei (Calif.) product a priority in the class of 2014. Schools from the Pac-12, SEC, ACC and more are all pursuing Johnson.
He has taken trips to UCLA and USC, and he has visits planned to Arizona and Oregon.
"I'm looking for a winning program with great coaching," Johnson said. "A place that feels like home."
Johnson, ranked No. 25 in CBSSports.com's 2014 rankings, wouldn't mind staying close to home but isn't opposed to going away from the West coast.
"It would be good, but I'll do whatever is best for me," Johnson said.
Buddy Boeheim was so impressive at Peach Jam that Gonzaga offered; others showing interest

The truths and myths about the push for 2018's No. 1 recruit to play college hoops a year...

Here are the under-the-radar players who will have breakout seasons in 2017-18
Duke coach says sometimes troubled guard played hurt last season, adding, 'I'm really proud...

Michigan, Marquette, California, LSU and VCU are also in the 34th annual field

The expected rise of Missouri figures to be a storyline once they start playing for real