Pastner knows Memphis' move to AAC means a step up in class
Jon Rothstein spends some time with Memphis coach Josh Pastner, who acknowledges the Tigers' move from Conference USA to the American Athletic Conference will be a challenging one.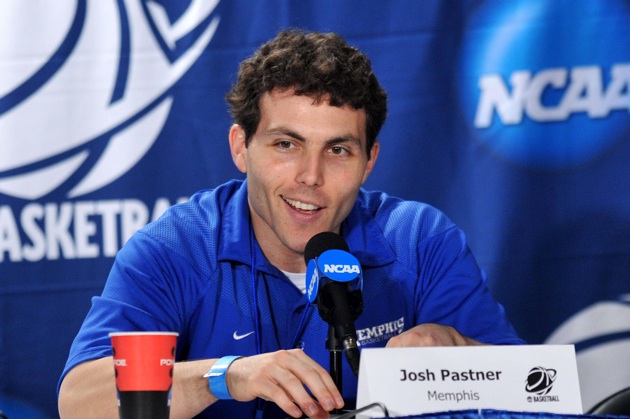 NEW YORK -- Josh Pastner knows what lies ahead.
He hears it every day.
From fans. From boosters. Even from the secretaries in his office.
Memphis will join the American Athletic Conference during the upcoming season and will no longer be playing in Conference USA. For the Tigers, it's a major jump in regular season relevance after spending several years more or less off the radar from January til March.
"I think the American is as good a basketball league as any in the country," Pastner said Tuesday night in New York. "That may be an unconventional answer but I think it's the truth. I think five to six teams will play in the NCAA Tournament."
The jump will make Memphis more relevant during regular season play. It will also provide the Tigers with an opportunity to play their way into the NCAA Tournament through their conference slate, and not have to rely on early-season wins over the league's postseason. Several times during the past few years Memphis had to win the Conference USA Tournament to reach the field of 68 -- that won't be the case anymore.
"We literally had to try to win every game we had to play," Pastner said. "If we lost one game in Conference USA, it's devastating. People would start hammering us and saying we had to win 13 games in a row to get back on the board. Then if we didn't do that, we'd have to win the league tournament. That won't be the case anymore. Our mentality won't be any different, but now if we take a loss people won't be able to look at things the same way they did before."
On paper, the Tigers have the second-most talented roster in the AAC behind Louisville. Memphis will likely start a four-guard lineup with Joe Jackson, Missouri transfer Michael Dixon, Chris Crawford, and Geron Johnson along with sophomore big man Shaq Goodwin in the pivot.
Pastner is also extremely high on George Washington transfer David Pellom, a nasty 6-7 forward who didn't play last season but graduated in the spring and will be eligible to play immediately.
"We needed someone with our guards that comes in and be a dirty work guy and that's David," Pastner said of Pellom, who averaged 10.4 points and 6.1 rebounds per game two years ago for the Colonials. "He plays hard. He's very cerebral. He's older. He's 23 years old. He's a mature guy."
Pastner also adds the nation's second-ranked recruiting class which features several top prospects highlighted by talented forward Austin Nichols along with wings Nick King and Kuran Iverson. The 6-8 Iverson is a big-time offensive talent who could be a name to watch if Memphis accelerates the pace the way Pastner hopes to.
"We need to use our speed and our athleticism," Pastner said. "We are not a smash-mouth team. I'm sure teams are going to try to slow us down and keep the games in the 50's. I want the games in the 90's."
The facts are the facts. Memphis has an incredibly talented roster but it's yet to be determined how the Tigers will adjust to an augmented league schedule.
Road games in conference play are no longer trips to UAB, Tulsa, and Southern Miss. Memphis will now be traveling on a regular basis to face name brand programs Cincinnati, UConn, and Temple along with potential upstarts like SMU and South Florida.
But Pastner, as usual, looks at the positives.
"We're not going from Conference USA to the Western Conference and playing the Lakers and the Spurs," Pastner said. "We're still in college basketball. I believe the parity among teams is so spread out. I think our preparation will be the same, but I just think the perception changes everything. The perception of the American now, at least for this season is that it's a monster league and five to six teams have a chance to play in the NCAA Tournament."
Show Comments
Hide Comments
The information on who harassed John Higgins will now be turned over to the FBI

Some of these future NBA picks might work out, but others won't sniff being drafted

This is a good development for Louisville, which may avoid having its coaches forced to testify...
The athletic guard withdrew from the NBA Draft late Wednesday night

Next step in the case, which began in 2011, is for UNC to face the NCAA's Committee on Inf...

We look at 40-plus teams affected by this year's NBA Draft