Poppin' Bubbles: Gonzaga is in, BYU now waits
Only one team was going to feel confident about its at-large hopes after Tuesday night's games -- but where does BYU stand?
• 2 min read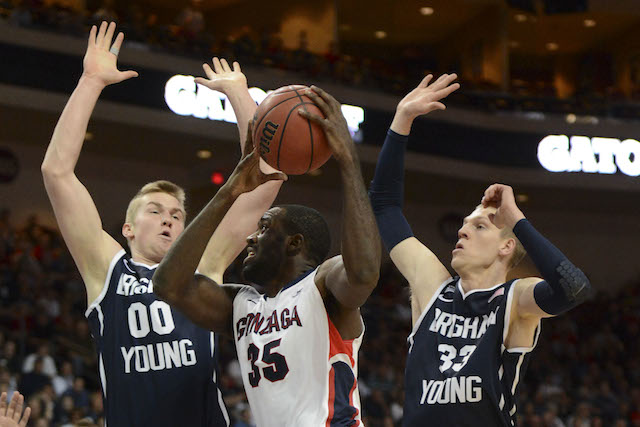 Latest in hoops: Top 25 (and one) | Bracketology | Bubble Watch
Heading into the WCC tournament, neither Gonzaga nor BYU were totally comfortable with their at-large hopes. Both teams likely needed to make the championship game -- and only the winner was going to be confident on Selection Sunday.
And that ended up being Gonzaga, which jumped out to a big first-half lead and then held off a late BYU run to win 75-64. Sam Dower dominated down low, finishing with 20 points and 13 rebounds while Gary Bell Jr. went for 14 points. 
With the automatic bid, Gonzaga will now just wait the five days until Selection Sunday to find out its seeding. Given their resume, I'm not sure the Bulldogs will be wearing home jerseys in the round of 64, although Gonzaga's top-25 RPI, 10-4 top 100 record, and pair of WCC championships could convince the committee into giving them an 8-seed. 
In the NCAA Tournament, Kevin Pangos needs to break out of his slump if Gonzaga is going to win a game. He's scored in single-digits in four of his last six games, shooting 17 of 42 from the field and 5 of 15 from 3-point range. David Stockton and Gary Bell have picked up the slack in the backcourt in the WCC tournament, but the Zags need to be hitting on all cylinders in the Big Dance.
The bigger problems lie with BYU.
The Cougars will have a long wait until Selection Sunday, as they don't have the resume of an NCAA Tournament lock. Making it to the title game was huge, as any loss besides Gonzaga would have been severely frowned upon. The positives are three top-50 wins, including victories over the Zags, Texas and Stanford, in addition to a 5-0 record against Saint Mary's and San Francisco. They have an RPI and overall SOS in the 30s, as well as a top-10 non-conference SOS. BYU also won nine games away from home. But there is one main negative: four sub-100 losses. 
Compared to other bubble teams, BYU has more top-50 wins and better computer numbers -- but the high number of bad losses is going to make the rest of the week an extremely stressful time for the Cougars. 
My verdict at the moment is that BYU gets in -- but there is still a lot of basketball left to be played around the country. Bids could be stolen and the bubble could shrink, neither of which is good for the Cougars. 
Show Comments
Hide Comments
The 2017 NBA Draft had more freshmen, and fewer seniors, taken in the first round than ever...

A scandal at New Mexico leads to a rarity for the NCAA Tournament selection committee

These two Hall of Fame coaches have been in the crosshairs of NCAA justice in recent years
Will Kentucky have more than two players taken in the first round of the NBA Draft?

Continues to lobby for a college hoops commissioner; hopes the NBA, NCAA can come together

This development means every Division I job is now filled