Poppin' Bubbles: Maryland, UMass both miss chance for big win
Saturday featured final attempts from a handful of bubble teams to make statements.
• 4 min read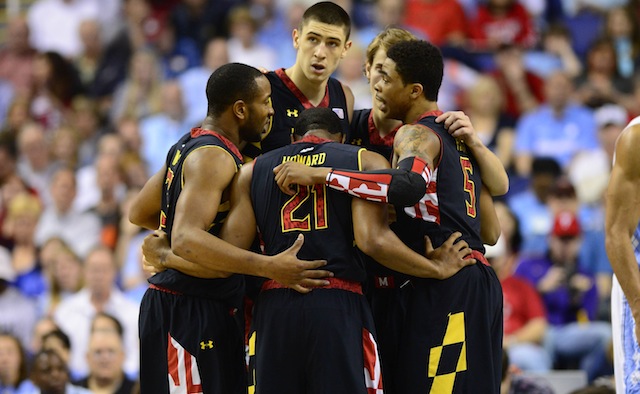 The countdown to Selection Sunday has officially begun, as we're within hours of the field being unveiled. Before it's announced, though, there is still plenty of business to take care of -- starting with a handful of bubble games on Saturday. Friday saw plenty of them fall, meaning that the ones still playing had the edge.
Winners
Ole Miss: The Rebels kept their hopes alive with a last-second win over Missouri on Friday, when Derrick Millinghaus hit a bucket with 1.1 seconds remaining. A loss to Vandy on Saturday might have undone that key win -- but Ole Miss went on a big run in the second half and knocked off the Commodores. So where do the Rebels stand in the at-large pecking order? They were essentially left for dead after losing six of 10 games -- including defeats at the hands of Mississippi State and South Carolina -- but they have now won four in a row and are winning games at the right time. The only top-50 wins are a couple of victories over Missouri, but they are also 8-6 against the top 100. The two sub-200 losses look terrible, but nine wins away from home is also solid. Of course, a win over Florida in Sunday's SEC title game would seal the deal, but they might get in with a loss, too. 
Oregon: The Ducks were comfortably in the field, but now they are the champions of the Pac-12 tournament as well. Given the way that things are unfolding, they will likely end up wearing home jerseys in the round of 64. Dominic Artis is still not back to being at full-strength, but the Ducks continue to win, anyway. They now have two wins over UCLA and victories against Arizona and UNLV. 
Akron: The Zips lost all their at-large hopes when they lost two of three to end the regular season and also lost their starting point guard. However, they recovered in the Mid-American tournament, beating Ohio in the championship game to get the automatic bid to the NCAA tournament. In an additional twist, Akron clearly has one of the two or three best auto-bid resumes -- meaning the Zips could conceivably end up on the 12-seed line. 
Losers
Maryland: By beating Duke for a second time this season on Friday, the Terrapins put themselves squarely in the mix for an at-large bid. However, they also needed to beat North Carolina in Saturday's ACC semifinals to boost the resume. A last-second 3-pointer fell short against the Tar Heels, though, and now Maryland's run to the NCAA tournament will likely fall short, too. There's just not enough on the resume, despite the two victories over Duke and another win over North Carolina State. They are just 4-10 against the top 100 with poor computer numbers and two sub-100 losses. It's tough to see them getting an at-large bid. 
Massachusetts: The Minutemen were another team that could have played itself into the NCAA tournament with potentially one more win. They were coming off a win over Temple on Friday night and had a chance to knock off VCU on Saturday. However, they couldn't pull out the victory and were bounced from the conference tournament. It's going to be a stressful 24 hours for Derek Kellogg and Massachusetts. They are just 2-7 against the top 50 with the wins coming over fellow bubble teams Temple and La Salle. They also have three sub-100 losses. On the plus side, they are 6-2 against teams ranked 50-100 and are 12-7 away from home. It might be too little, too late, though. 
Alabama: The Crimson Tide played themselves into the discussion by beating Tennessee on Friday, but they likely needed a win over Florida on Saturday and an appearance in the SEC title game to truly have a chance. They don't have a single top-50 victory on the ledger, striking out in all five chances. However, they do have wins over Villanova, Kentucky and two victories over Tennessee -- with an 8-3 record against teams 50-100. Four sub-100 losses is another major negative, though, when combined with mediocre computer numbers. Given their lack of key wins, it might be a rough Selection Sunday for the Tide. 
Southern Miss: A win over Memphis in the Conference USA title game would have been the Golden Eagles' best win of the season -- but it would also have given them the automatic bid to the NCAA tournament. After losing to the Tigers in double overtime, though, it's highly unlikely Southern Miss gets into the dance. They have a top-30 RPI and 13 wins away from home, but the 0-5 record against the top 50 is noticeable -- as is the 3-7 record against the top 100. It has been a good season for Southern Miss, but it likely ends in the NIT.
---
For more college basketball news, rumors and analysis, follow @EyeOnCBB on Twitter, subscribe to our RSS Feed and subscribe to our College Basketball Newsletter. You can follow Jeff Borzello on Twitter here: @jeffborzello
Show Comments
Hide Comments
Motley, who averaged 17.3 points and 9.9 boards, is projected as a borderline first-rounde...

Sharpshooter's return figures to send the program to a place it has been only once before
Gary Parrish and Matt Norlander also discuss UNLV's recruiting class

The five-star big man is part of a surprise late-period recruiting coup by Marvin Menzies

It's time for random observers to stop being outraged by players' decisions