Poppin' Bubbles: Ole Miss, Maryland lead bubblers still playing
Friday is another make-or-break day for bubble teams.
• 8 min read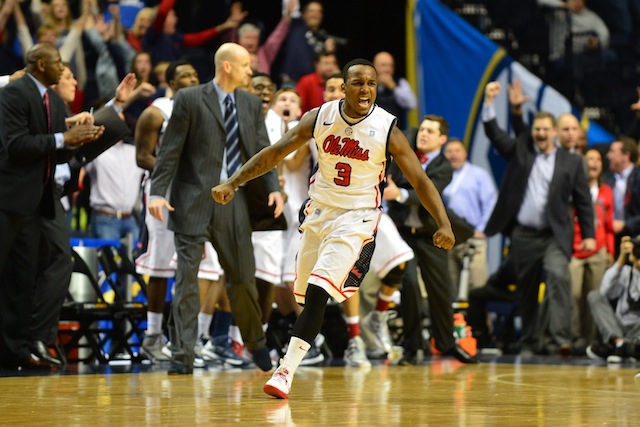 Friday was a wild day on the bubble.
Winners
Ole Miss: The Rebels looked set for an NIT bid on Friday, as Missouri held a lead for most of the contest. However, a shot in the final seconds from Derrick Millinghaus gave Ole Miss a two-point win -- and left the Rebels squarely in the hunt for a bid. It was a must-win for the Rebels, but their work isn't done yet. They face Vanderbilt in the semifinals on Saturday, and a win there could move them even closer to a bid. However, falling to the Commodores would be looked at as a bad loss, and would make things dicey on Selection Sunday. Their only two top-50 wins are over Missouri, but they are 8-6 against the top 100. Two sub-200 losses are awful, but Ole Miss could be playing itself into a bid.
Alabama: The Crimson Tide are not in the field yet, but beating Tennessee puts them closer to an at-large bid. For now, they remain on the wrong side of the cutline, but it's far better than it would have been with a loss. Alabama has OK computer numbers, and a victory over Kentucky back in January is the only top-50 victory. However, they are 7-3 against teams 50-100, bringing that top-100 record to a more impresisve 8-7. Four sub-100 losses are also concerning, though. They need to beat Florida on Saturday to have a better shot. 
Maryland: Heading into the week, I wasn't convinced that a second win over Duke would bring the Terrapins into the conversation. After several bubble teams were knocked out of their conference tournament, though, Maryland might have worked itself into the mix. They have two wins over the Blue Devils, and a victory over NC State -- but that's about it. The Terps are 4-9 against the top 100, and the computer numbers are subpar. With that said, another win -- which would be the winner of Florida State vs. North Carolina -- could be enough to really put them in the discussion. More importantly, Maryland is winning games at the right time. 
Massachusetts: The Minutemen were on the verge of getting bounced in the second round of the Atlantic-10 tournament by George Washington on Thursday, but now they are headed to the semifinals after knocking off Temple on Friday. Now UMass is really starting to become an interesting player in the at-large discussion. It's their second top-50 win of the year, and while a 2-6 record against the top 50 isn't overly impressive, they are 8-8 against the top 100. Moreover, the Minutemen are 12-6 away from home and have decent RPI numbers. Two sub-100 losses are on the negative side. Win another one against VCU on Saturday, and we'll take another look.
Oregon: The Ducks made sure there is no bid thief in the Pac-12, taking care of business against Utah in the semifinal and moving on to the title game. Oregon would have been in the NCAA tournament either way, but it's nice to see them playing well with Dominic Artis back from injury. He's struggled since coming back, and the Ducks haven't looked great. However, continuing to win with him in the fold is a big plus.
Southern Miss: The Golden Eagles dispatched of UTEP in the C-USA semifinals -- bringing them one step closer to the NCAA tournament. However, they might need to take that next step in order to get a bid. The RPI is great, but they simply don't have the wins to truly get a bid -- 2-6 against the top 100 with two sub-100 losses doesn't bode well. Beating Memphis would do the trick -- but it would also get them into the NCAA tournament as the automatic bid.
Akron: The Zips don't have much at-large hopes, but they will be in the Mid-American championship game after knocking off Kent State in the semifinals on Friday. They need the automatic bid, though. 
Losers
Kentucky: This was the last thing the Wildcats needed on Friday night. Given the state of the bubble, one win over Vanderbilt might have been enough to feel decent on Selection Sunday. Instead, they were handled relatively easily by the Commodores -- and now will be in serious trouble for the next couple of days. They have wins over Florida and Missouri, but are 2-4 agianst the top 50 and 7-9 against the top 100, along with two sub-100 losses. Additionally, Kentucky is just 5-9 away from home. This team will be judged on its performance without Nerlens Noel -- and they went 4-4 in his absence, with all the wins coming at home.
Virginia: The Cavaliers have a nice collection of wins, but losing to NC State puts them in a very troublesome spot. The computer numbers are poor, and the non-conference SOS is in the 300s. And the biggest negative, of course, is the seven sub-100 losses -- including one to Old Dominion. Going 8-4 against the top 100 is impressive, especially victories over Duke and at Wisconsin. However, Tony Bennett's crew will have a long, long wait until Selection Sunday. With three losses in four games, they're in a lot of trouble.
La Salle: The Explorers seemed pretty comfortable a couple of weeks ago, but they have missed three big chances to boost their résumé and are now going to sit and wait. The latest whiff came against Butler in the A-10 tourney, dropping La Salle to 2-5 against the top 50. The injury to center Steve Zack has been a factor in back-to-back losses, but is the résumé good enough? Wins over Butler, VCU and Villanova are solid, but there is also a bad loss to Central Connecticut on the ledger. The RPI is decent, but the SOS isn't. This team will be one of the final teams debated -- is it in or out?
Tennessee: One win in the SEC tournament might have put the Volunteers in the field, but they lost to Alabama in the quarterfinals -- which could put them in trouble come Selection Sunday. They had won nine of their last 10 leading up to Friday, but the overall resume leaves something to be desired. They are 4-4 against the top 50, with nine wins against the top 100 -- including wins over Florida, Missouri and Wichita State. On the flipside, the Vols are 7-9 away from home and have two sub-100 losses, both to Georgia. The computer numbers are not great. It's going to be a long couple of days. 
Iowa: The Hawkeyes were very close to throwing themselves firmly in the at-large conversation, but a late loss to Michigan State means it's NIT time for Fran McCaffery and Iowa. The computer numbers are not good, and the non-conference SOS is up in the 300s. They have some decent wins against Minnesota, Illinois, Wisconsin and Iowa State -- but they are 4-9 against the top 50 and 6-10 against the top 100. A run to the title game would have made things interesting, but it didn't happen. 
Iowa State: The Cyclones put themselves in pretty good position after beating Oklahoma in the quarterfinals on Thursday, but beating Kansas would have left them without a bead of sweat on Selection Sunday. Despite the loss to the Jayhawks, though, it's hard to imagine Iowa State not making the tournament. They have four top-40 wins, including solid wins over Kansas State and Oklahoma State, and are 8-9 against the top 100. Two sub-100 losses and a 6-10 record away from home could make things dicey, but Iowa State should get in. 
Temple: The Owls were in the field heading into Friday, and I'm not sure a loss to Massachusetts changes much. They would have been more comfortable with a win, but the resume still looks good to go in terms of an at-large bid. The RPI is in the 30s and they are 4-3 against the top 50 -- including a non-conference win over Syracuse. Throw in a 9-6 record away from home and a 10-6 record against the top 100, and Temple should be fine. There might be a little bit of sweating in the next two days, but not too much.
Illinois: The Fighting Illini were comfortably in the field going into the day, especially after beating Minnesota on Thursday, but they could have shot up the seed list with a win over Indiana. They fell short, but it won't affect their at-large status. Compared to other bubble teams, Illinois' résumé looks dominant. They have six top-35 wins and nine top-100 scalps -- with very good computer numbers and SOS. They could be bound for the 8-9 game. 
San Diego State: The Aztecs were good to go either way, but a win over New Mexico would have boosted the seed line on Selection Sunday. A loss doesn't send them packing, by any means. They did their job by beating Boise State in the quarterfinals of the conference tournament, and have five top-50 wins. Very strong computer numbers only enhance their profile.
Charlotte: The 49ers were still a couple of wins away from being truly under consideration, but their dreams ended with a loss to Saint Louis on Friday afternoon. Back in mid-February, Charlotte was squarely in the mix -- but it lost four in a row, which ended a 3-8 stretch to essentially put them out of contention. A couple of wins to end the season gave them hope, but a 2-6 top-50 record and three sub-100 losses means they likely won't be dancing.
For more college basketball news, rumors and analysis, follow @EyeOnCBB on Twitter, subscribe to our RSS Feed and subscribe to our College Basketball Newsletter. You can follow Jeff Borzello on Twitter here: @jeffborzello
Show Comments
Hide Comments
Our Latest Stories
Lonzo Ball agreed to a dunk competition with a UCLA student, and it ends exactly as you might...

Arizona's Lauri Markkanen is Freshman of the Week and Lonzo Ball leads the Freshman of Year...

Every year a team gets hot late. Could it be the Hoosiers or Hoyas this year?
The Cavaliers lost their fourth consecutive game and have the last spot in our daily ranki...

When looking at the Zags, we can't help but see how other great teams did not finish job

The West Virginia coach returned to the sideline on his own power and never left the game