Poppin' Bubbles: Providence and Richmond miss big chances
Plenty of bubble teams in action on Tuesday; check out the winners and losers.
• 5 min read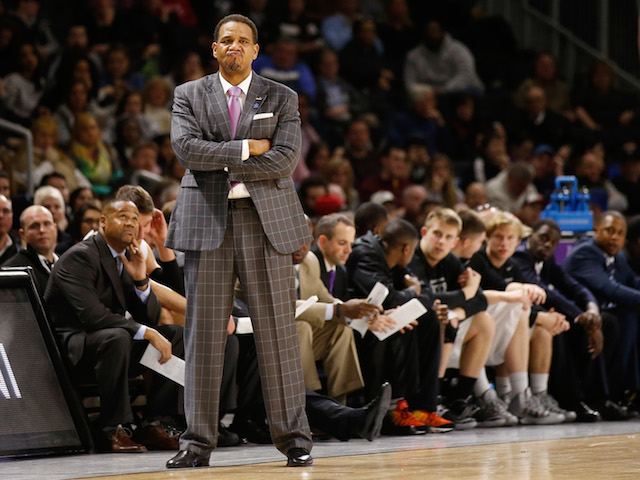 Tuesday didn't have too many marquee matchups, but it did feature several quality bubble games. Some teams were looking for resume-boosting wins, while others were just looking to avoid bad losses.
Winners
George Washington: The Colonials were in nearly every projected bracket heading into the week, but they were in the 9-10 seed range, which means a couple of losses would have dropped them to the cutline. However, they went into Richmond and came away with a key road win, snapping a two-game losing streak and really solidifying their at-large resume. They now head to Saint Louis this weekend -- a win there would likely lock up a bid. If Richmond remains in the top 50 of the RPI, GW would be 3-3 against the top 50 and 9-6 against the top 100.
Tennessee: The Volunteers struck out in their two big chances last week, with losses to Florida and Missouri -- but they bounced back against a hot Georgia team to get back above .500 in the SEC. They now go on the road for two winnable games against Texas A&M and Mississippi State before returning home to face Vanderbilt and tripping to Auburn. The Volunteers need to win all four of those games to stay in the field. If they are 11-6 in conference play heading into the season finale against Missouri, they will likely be in decent shape. The biggest question with Tennessee revolves around its lack of quality wins. There is a victory over Virginia, but not much else. The computer numbers are good, though.
St. John's: The Red Storm are one of the hottest teams in the Big East, winning six in a row and nine of its last 10. They struggled in the first half with Butler, but blew them out in the second half, avoiding the dreaded bad loss. The next two games are huge for Steve Lavin's crew: at Villanova and home against Xavier. Unfortunately, they will be without Chris Obekpa for those two matchups. The Red Storm need more good wins. They have one over Creighton, and while victories over Georgetown and Providence are solid, they don't jump off the page at you. St. John's could really use the next two.
Clemson: The Tigers are still barely in the mix, but beating NC State at home on Tuesday night kept them in the extended conversation. They ended a three-game losing streak, and now go on the road for a couple of must-wins against Georgia Tech and Wake Forest. Clemson needs to do a lot more damage down the stretch because it doesn't have much on the computer profile right now. The non-conference SOS is terrible and the RPI is in the 70s. There is a win over Duke, which is nice and catches the eye, but NC State is their second-best win. That could be an issue. 
Boise State: The Broncos' three-game losing streak at the beginning of the month likely doomed them to the NIT, but beating New Mexico last week revived their at-large hopes -- and a road victory against Colorado State on Tuesday night kept them alive. Boise State probably can't afford any more losses, and even that might not be enough. The Broncos are just 2-8 against the top 100.
Losers
Providence: This one was a heartbreaker for the Friars. They matched Villanova shot-for-shot, making big plays at the end of regulation and the first overtime -- but a Ryan Arcidiacono layup-and-one gave Villanova a three-point win. It's a really difficult loss for Providence, which has now lost four of five and five of its last seven. Moreover, three of the Friars' final four games are on the road. They might need to go 3-1 to have a chance. They do own wins over fellow Big East bubblers Xavier, Georgetown and St. John's, but they're just 2-5 against the top-50 and the non-conference SOS isn't good.
Richmond: The Spiders are going to be an interesting case, as they have a borderline NCAA tournament resume -- but leading scorer Cedrick Lindsay is out for the season. Beating George Washington on Tuesday would have helped prove Richmond can still beat good teams even without Lindsay, but the Spiders fell late. They were actually 3-0 without Lindsay heading into the week, but none of the wins were over NCAA tournament-level competition. Richmond needs to hold serve against La Salle, George Mason and Rhode Island; it would leave them in the mix heading into a season-ending two-game stretch against VCU and Dayton.
Ole Miss: The Rebels had a big opportunity this week, with Kentucky and Florida coming to town. And Ole Miss needed the resume boosters, considering it had lost to Alabama and Georgia in back-to-back games last week. Well, the Rebels clearly didn't get up for the Wildcats. They were run off the floor in the first half and their big second-half run came too late. That's now three straight losses, and five defeats in their past seven games. The NCAA tournament is looking further and further away, especially given the poor computer numbers and relative lack of quality wins. A win over Florida this weekend would reignite the bubble talk, but that doesn't seem likely at this point.
North Carolina State: The Wolfpack could have really helped their cause over the weekend, but they couldn't hold on to beat Syracuse on the road. As a result, bouncing back against Clemson was imperative -- but they couldn't do it, losing their grip on the game early in the second half. The defeat puts NC State back below .500 in the ACC, and floating further from the bubble. The Wolfpack are 0-7 against the top 50, and their best wins are over Tennessee and Florida State. 
Georgia: I don't think the Bulldogs were ever truly on the bubble, but because they were third in the SEC standings, there was some question. Tuesday's loss to Tennessee gives them five conference losses on the season, and although they are still in third, the Bulldogs are unlikely they finish there. Georgia probably needs to run the table because the profile is pretty poor overall.
Show Comments
Hide Comments
Our Latest Stories
George Washington assistant Maurice Joseph replaces Mike Lonergan, who was fired

Who are the guys that should take a big-time leap this season? We've got your answers

Multiple programs expressed concern over Puerto Rico's Zika instability
Wooden is primarily associated with UCLA, but he had big-time impact at Purdue

The project is part of a big renovation taking place at the Breslin Center

Get ready, Washington fans. The freshman guard could be a special one for the Huskies this...