Preseason Q & A: Harvard coach Tommy Amaker
CBS Sports Network and CBSSports.com's Jon Rothstein sat down with the Harvard coach, who has ushered the prestigious academic institution into an era of men's basketball relevance.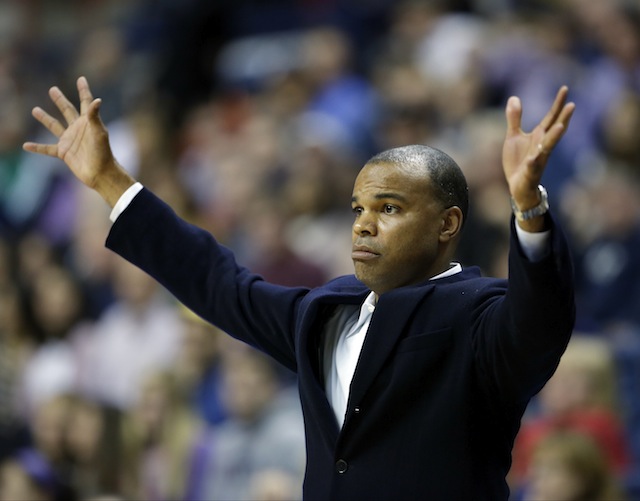 After leading Harvard to four straight 20-win seasons and back-to-back NCAA appearances, there should be little doubt that as of 2013-14, the coaching face of the Ivy League is Crimson coach Tommy Amaker. A former Seton Hall and Michigan coach as well as a standout point guard for Duke in the 80's, the 48-year-old Amaker has found a home on the venerable Cambridge, Massachusetts campus and has enjoyed the most consistent run of success during his 16 years as a college head coach. CBS Sports Network and CBSSports.com's Jon Rothstein sat down with Amaker to discuss the state of the Harvard program, of Amaker's career and a forecast for the upcoming season.
Jon Rothstein, CBSSports.com: Is the buzz surrounding your program right now greater than you ever thought it could be when you first took the job here?
Tommy Amaker: Having come here a few years ago, the thought has always been to stay completely and truly focused on a few things. We started with the thought of becoming an upstart and then from there moving on and becoming a contender. And then from there becoming a winner. And then from there becoming a champion. And then if we were fortunate enough to move along those lines, we wanted to see if would could create or develop a dynasty here. I like to think that we've been on par with all those marks that we've been trying to hit. Coming here I never gave it the thought of having a buzz or excitement for one particular year. You recognize that you represent a brand that's as recognizable or as powerful or as respected as any in all of higher education across the globe. Having said that, you really think the possibilities are endless. That's what we've kind of embraced here. We've embraced the notion of why not us? This is Harvard and we can do magical things. It's been done before in every other aspect of the school and we were very hopeful that one day and one time we could make our basketball program relevant and to be part of the landscape of the special things that occurred here in the past.
CBSSports.com: You had a bit of a breakthrough last year and beat New Mexico in the NCAA Tournament. Probably the ironic thing about that is your two best players entering last season -- Brandyn Curry and Kyle Casey -- weren't on the floor during that run due to an investigation into academic dishonesty that implicated more than 125 students, including many non-athletes. Take us through what it was like a year ago when you found out those two guys wouldn't be available. What was that like?
Amaker: Obviously it was a concern for those kids. It was a situation that obviously engulfed our entire campus community. It touched a lot of different pockets and layers of this university. It was very difficult. It was devastating in a lot of ways. I think looking at it from a big picture standpoint, you see feelings involved from all over with this investigation we were dealing with. There were over 125 kids in a class of 270 or so that were somewhat touched or affected by this. When I found out about our particular guys, there's a concern and a disappointment for them. Then you move on, as Coach K would always say, and focus on the next play. Then we try and figure out what's the next play for us and what does that mean? First of all, we were trying to make sure those guys were handled in the right way. We wanted to make sure whatever their options would be and whatever advice they needed would be given. They got great advice here on our campus by our administrators to withdraw [protecting their final year of eligibility]. Then we moved on to our team. We had to decide how we were going to play moving forward as a program. Once we got through those early initial stages, we focused on the kids that were still here. The phrase we used and we wrapped around it the whole year, and I thought the kids embraced it incredibly well was "we may not have what we had, but we have enough." We really tried to make our guys, the ones that were here to recognize that we took a blow but we're not down. We're still up. We're still Harvard. We still have our system and our style. We still have other pieces in this program. I just thought it was an amazing opportunity. We also said that great books, great stories, great movies, at least the ones that I've read or watched usually have some interesting twists and turns. That's why they become really special. That's why people are intrigued or excited about it. Not the ones that just have a straight line or smooth sailing and you can pretty much figure out how it's going to go. There's nothing too attached to stuff like that. We talked about that. We said these are the moments that make for some very interesting times and special moments. I thought we really embraced that and ran with it. And you know what, you have to be a little bit lucky and I thought we were.
CBSSports.com: One thing I think people forget about last season is that you lost at both Princeton and Penn late in the year and lost control of your own destiny in the Ivy League. What was that next four or five days like when you came back to campus?
Amaker: Our league doesn't get enough credit for how challenging and difficult and tough it is. I think the format and structure of our league is known somewhat. Playing back-to-back games on Fridays and Saturdays. Stuff like that makes it very hard, but we have some very good teams in our league. I think we play a terrific brand of basketball in this conference. It doesn't get enough credit from top to bottom. I think there's a couple of teams that have made incredible runs from this league and sometimes you can have a feeling that that's all this league is about. One or two teams playing well and that's it. We've become one of those teams as of late but our league is very, very tough and hard and as you mentioned those two games last year, losing both of them back-to-back was devastating. We were in second place and were hoping to get another shot at it. Fate gave us an opportunity to move in front and win our conference, but it doesn't surprise me that things ended up the way they did. I mentioned it to the kids in our locker room after our Penn game. We had lost at Princeton, and then we lost at Penn. We lose those two games and we're devastated. It was a tough situation for us right there. We talked though right after that Penn game and we said let's play it out, let's not try to figure it out. That's what we decided and vowed to do. We said let's just play it out. We knew crazier things had happened. The worst thing that could have happened would have been if we got an opportunity and we weren't prepared to take advantage of it. I said let's play it out and let's not try to figure it out. That's what we said we were going to do.
CBSSports.com: Did last year's team exceed your expectations?
Amaker: In all honesty, and I don't want to sound cliche' about things, we don't focus on expectations. We're very much committed to this phrase that we use and that's that expectations is an external word. We focus on our internal word and that's our standard and our identity. Those things don't change for us. Our standards, our identities, and our goals are always the same. We keep those things internal. Those are private and that's what we do. We never focus on whatever the expectation is because we view that as someone else's view. We're not concerned with someone outside our program who says who we should be or how we should play or how good we should be. If we focused on expectations this past year, we weren't expected to do very well. So that right there shows you that stuff like that doesn't have a lot of bearing on the way things turn out.
CBSSports.com: Do you think you're a better coach when you get a depleted team to overachieve like you did last year or when you have a talented team and just have to manage things accordingly?
Amaker: They're just different dynamics. I don't think you're better one way or the other. I just think that coaches have moments where you're going to have certain kinds of obstacles or challenges in front of you. As we've seen, good coaches figure it out. Or at least they put their players and programs in the best opportunity to be successful. That doesn't mean you're going to win and it doesn't mean things are going to go well. We were fortunate last year we didn't have any injuries with somewhat of a depleted roster. If we had a critical injury to Siyani Chambers or Wesley Saunders, I'm not sure how well we would have played but I still know we would have felt that we did as much as we possibly could as a coaching staff to put our players in the right positions. Three years ago we lost in a playoff game to Princeton and Doug Davis hit a shot at the buzzer to beat us. When that shot went through the basket, from that point moving forward we were predicted to be the number one team in the Ivy League the next year and we were. We had everyone back and I actually think we exceeded others expectations of ourselves even though we won the conference. We won the Battle For Atlantis. We won 26 games. We had an amazing year. There's never been a bar in this program where people can say this is who you're supposed to be or this is what you're supposed to do. And then this past year, we weren't thought of as very good or a team that could be in the same position. We're thrilled about the kids in our program and how they've embraced opportunity. Those are the moments that we talk about. Those are the really neat, special times when you can scratch and claw and believe in each other and believe in our program. Guys then grow and step forward. That's when things are beautiful and that's what we saw this past year.
CBSSports.com: Last year wasn't the first year you had success in the NCAA Tournament as a head coach. You took Seton Hall to the Sweet 16 in 2000. How different is it as a coach to have success at a program like Harvard versus when you were coaching at a school in the Big East?
Amaker: A lot of people would view what we did our last year as more successful because of how challenging it is, and one of the bigger challenges is sustaining it. At our level, it's probably harder to sustain it than it is at other levels. You have a run with a certain group of kids, Cornell did that. They had a great run and sometimes it's harder to sustain it because it's difficult to get the kind of players again that fit your system and take you to the next level. To continually get those kinds of kids at this level, I can see people saying how hard it can be to accomplish that and you've seen that. People that have been in these positions and have those types of breakthroughs, they leave. There's not anything wrong with that, they just take another opportunity because it's going to be a little harder to sustain things at this level. We recognize that. That's one of the things we're dealing with where we are right now. We're trying to sustain the level of excellence that we've had thus far. We've been able to do it. Just because we won a game in the tournament doesn't mean that was our first breakthrough. We've won for four years now.
CBSSports.com: What will the identity of this Harvard be?
Amaker: It never changes. Our identity is something that we're very much committed to no matter what year it is. We talk about our identity, our standards, and our goals. They're all absolutely the same for every year in this program. The outcomes of certain things may determine where we are and who we are in terms of our success. Our identity has always been we're going to defend, we're going to box out, we're going to sprint, we're going to be unselfish, and we're going to have fun. That's who we say we're going to be. We can live with whatever happens after that.
CBSSports.com: Siyani Chambers was a bit of a revelation last year at point guard and you'll probably pair him with Brandyn Curry. How dynamic can that duo be on the perimeter along with Wesley Saunders who was your leading scorer last year?
Amaker: A lot of talk has been about our point guard situation. Siyani and Brandyn are going to play together. They're both very good and what they bring together more than anything else is that they have a capacity and a desire to win. They're both unselfish and they both will do whatever it takes for the program and the team to be successful. The other thing that we're very hopeful with, especially with those two, is that we're hopeful that we're going to become better defensively. With those two guys creating things for us not just offensively, but defensively as well, I'm anxious to see that combination. I feel very confident. We can talk about those two and about Wesley, but I really feel the focus and the key to our team is our front line. We have some depth there. If we can do things by committee -- score, rebound, protect the rim, have a presence, block shots -- that will be big. If our front line guys can make foul shots when they get fouled, that will be big too. Last year I thought the key was going to be our sophomore class which was Wesley, Steve Moundou-Missi, Kenyatta Smith, and Jonah Travis. Those guys were the focus and the key for us last year and I thought they did a magnificent job. This year I think the key is going to be our post players. If they can protect the rim and defend for us in the paint and have a presence at the offensive end, I like the makeup of where this team could go.
CBSSports.com: How do you plan to structure your frontcourt?
Amaker: We think we initially have a chance to play a number of bodies and we're hopeful that we can do that. But as we've learned and as I've learned through the years, how it may look today could be a lot different in one or two months from now. Part of that is being lucky enough to stay away from injuries and if you're lucky enough to have guys develop. All of that is part of it as we know. To try and plan it out, who knows what it looks like. But as of today on paper, we do have some depth. We have should have a lot of competition in practice competing for opportunities which should make us a better team.
CBSSports.com: You played Laurent Rivard at power forward last year and that provided a key element to your team because of his ability the shoot the ball. Will that continue this year?
Amaker: Hopefully we'll have the opportunity slash luxury of playing different ways. Certainly that's what we had to adjust to last year in hopes of maximizing our personnel. Laurent did a magnificent job, and not just stretching it on the offensive end and just shooting it as well as anyone. He also showed some toughness and some grit when he had to guard some of those bigger guys on the other end and rebound the ball for us. We certainly recognize that is a way that we can go to if needed. When you have a deep team, you're hopeful that you can play a number of different ways if necessary.
CBSSports.com: How many players do you think you can play on a regular basis?
Amaker: We certainly believe that we can go 10 deep. Will we end up doing that all the time? I don't know. If we're healthy and kids are able to embrace roles and fitting in the way we want them to fit in, there's an opportunity we think to have 10 players play in the game for us.
CBSSports.com: You have all these standards surrounding your team and these guys have yet to play a game. How as a coach do you manage that considering these are 18 to 22 year old kids?
Amaker: It's very hard. We've talked about that. We need to embrace what we talked about a year ago which is to not listen to all the other stuff that was being talked about in regards to our team. They did that last season but it's much easier to not listen to some of the naysayers or negative comments. We're all human beings and if things being said are positive, uplifting, or encouraging, who doesn't want to hear that? Who doesn't want to hear positive things continually being said about them? But that's the challenge for us. This is what keeps me up right now. Falling into those traps of listening to that stuff. We need to hear within, and within is identities, standards, and goals. We did that last year and that's why last season wound up the way it did. If we are to have the year we hope to have and have another special year this year, we need to do the same thing again. Is it harder to do that now though? Absolutely. 
Show Comments
Hide Comments
Arizona recuit is leaving high school a year earlier and that's good news for the Wildcats

Wildcats are No. 2 in the CBS Sports Top 25 (and one)

Hawkins graduated from Kentucky after four seasons in Lexington
Perhaps it's better to have top-50 players who become sophomores than top-10 players who d...

With Andrew Jones also returning, the Longhorns could be one of the top four teams in the Big...

Longhorns coach Shaka Smart pulls a stunner by beating John Calipari and Coach K for the 7...