Providence heads to Italy with Kris Dunn still not cleared to play
The key to Providence's season could be the health of Kris Dunn -- but the talented point guard is still not cleared for full contact.
• 2 min read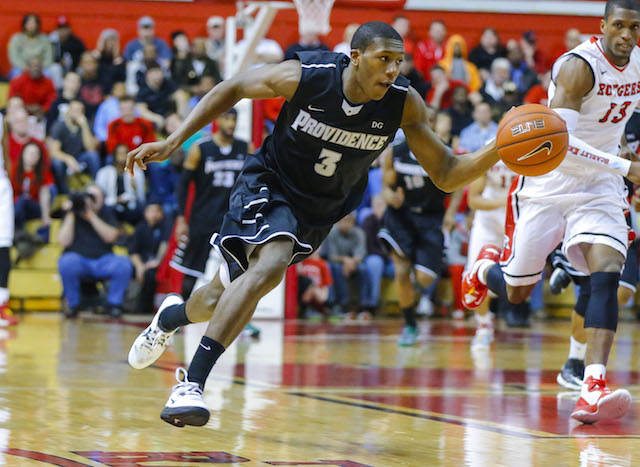 When Kris Dunn committed to Providence in 2011, he was expected to be part of an elite-level backcourt. Dunn and Ricky Ledo were a couple of five-star prospects and could have transformed the Friars under Ed Cooley. Three years later, Ledo never suited up for Providence – and Dunn has played 29 games in two seasons due to shoulder injuries.
Dunn underwent surgery on his right shoulder toward the end of his high school career, and it sidelined him for the first couple months of his freshman season. He then missed all but four games as a sophomore due to a shoulder injury suffered in a preseason exhibition game.
As Providence heads to Italy for a preseason trip, Dunn will accompany them – but he's still yet to be cleared for contact drills or games.
"Kris will be an assistant coach on our trip," Cooley told The Providence Journal. "We want to make sure he is 110 percent by the time we put him back out on the floor. I would not risk anything at this point in time."
Dunn has been participating in "non-contact" drills: shooting drills, 5-on-0 situations, etc.
"I feel great. I'm back on the floor with the fellas and everything is starting to come back to normal," Dunn told the Journal. "I do a lot of shooting. I'm not restricted at all. I'm in a very good state of mind. Just getting back on the court is a great thing for me and my family. I'm starting to feel like I'm a player again."
Dunn is clearly an important piece to the 2014-15 Providence team. The Friars won the Big East tournament and went to the NCAA Tournament last season – mostly on the shoulders of guard Bryce Cotton. With Cotton gone, along with starters Josh Fortune and Kadeem Batts, Cooley needs an influx of scoring into the lineup. A talented freshman class will help, but Dunn's health might be the biggest key going forward. If he's 100 percent, his playmaking and attacking mindset from the point of attack will be huge. Without Dunn, Cooley said he's relying on 17-year old freshman Kyron Cartwright.
That's not the ideal situation to get back to the NCAA Tournament. Providence needs Dunn.
(h/t CBT)
Show Comments
Hide Comments
The 2017 NBA Draft had more freshmen, and fewer seniors, taken in the first round than ever...

A scandal at New Mexico leads to a rarity for the NCAA Tournament selection committee

These two Hall of Fame coaches have been in the crosshairs of NCAA justice in recent years
Will Kentucky have more than two players taken in the first round of the NBA Draft?

Continues to lobby for a college hoops commissioner; hopes the NBA, NCAA can come together

This development means every Division I job is now filled