Q&A: West Virginia coach Bob Huggins
Bob Huggins and West Virginia struggle to a 13-19 record last season, but are 13-9 this season. He talks about life in the Big 12 and how it's tougher overall than the Big East last season.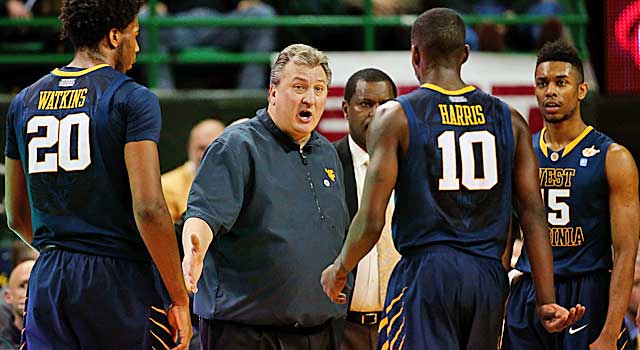 More college hoops: Palm's Bracketology | Top 25 (and one) | More news
Bob Huggins is quietly bringing West Virginia back to national relevance. The Mountaineers (13-9, 5-4 Big 12) face Oklahoma on Wednesday nighta. CBS Sports Network and CBSSports.com's Jon Rothstein sat down with Huggins to discuss West Virginia's turnaround, the strength of the Big 12, and Juwan Staten's dramatic improvement.
Jon Rothstein, CBSSports.com: You told me that last season (13-19) was the toughest year of your career. What's been the biggest difference in your team this season vs. last?
Bob Huggins: Their attitudes. They've been great to coach. They listen. They aren't always able to do what you ask them to do but they always try. We had several different agendas last year. This year we don't.
CBSSports.com: You pointed out that the team you had last year was recruited to play in the Big East and then had to play in the Big 12. How has the personnel adjustments you made -- adding a few stretch 4s (Remi Dibo, Nathan Adrian) - things like that, helped with your start this year?
Huggins: I think it helped a lot. When you don't have the guys that you thought we were going to have and we don't have a guy who we can throw the ball to, you need to have a few guys that can make shots. Remi is starting to make jump shots. If we could ever get Eron Harris and Terry Henderson to be consistent, we'd we win more. We had a real chance to win the Oklahoma State game but Terry went 1 for 10. If we could ever get those guys to be consistent, we'd be hard to beat.
CBSSports.com: You coached in the Big East for several years when it was one of the best leagues the sport had seen in quite some time. Where would you put this year's Big 12 up against the best ones that you've coached in?
Huggins: I think to a degree it's harder. You've got 60 percent of your coaches being coaches that have coached in the Final Four. Honestly, there was some people in the Big East that you felt like you could beat. There were 10 or 11 really good teams that you thought could beat anybody and then there was some others that weren't very good. In this league, anybody could beat anybody. There's so much more parity in this league. It's much closer.
CBSSports.com: Juwan Staten scored 35 points on Saturday in your win over Kansas State. Where he does rank in terms of players you've coached that have made massive improvements from one season to the next?
Huggins: Right up there. I mean obviously, Kenyon Martin made tremendous progress all the way through at Cincinnati, as did Steve Logan, but Juwan has been terrific. He really loves trying to learn the game, which I think is kind of rare. Here's a guy who came to me and asked me for tape of Logan and Nick Van Exel so he could watch and try and learn and add stuff from their games to his own. That shows his commitment level.
CBSSports.com: When we spoke before the season, you talked about the limited amount of bodies you had up front. How big has Devin Williams been in terms of anchoring things on the baseline for your team, especially since he's just a freshman?
Huggins: He's been really good. He got sick and he really hasn't played as well since he got sick. He hasn't rebounded the ball as well. We've all kind been sick and tried to get rid of it and hopefully it's through us and he can go back to where he was. He hasn't played as many minutes since the first time we played Oklahoma State.
CBSSports.com: Your next six games feature five ranked teams except for one. What's going to be the key to navigating this gauntlet?
Huggins: Make some shots. We're dependent on making some shots. If we make some shots, we'll be fine.
CBSSports.com: The great thing about your team is everyone of significance will return next season. With what you've seen so far this season, when do you think West Virginia basketball will be back as we knew it a few years ago?
Huggins: I don't think there's any doubt we'll be back. We return two really good scorers next year and we've recruited two incoming freshmen that are good players and will play immediately. Then you look at the guys sitting out (Jonathan Holton, Elijah Macon), there's no doubt that those guys would be two of our three best rebounders. We've got a real chance to be right in the middle of things next year.
Show Comments
Hide Comments
Averaged 7.1 points and 5.1 boards in 14.6 minutes a game as UNC's first one-and-done since...

Musketeers get a player coming back who can be their alpha and maybe help them reach another...

Jake Wiley's unusual path has turned him into a rare, true sleeper draft prospect
Diallo could be taken in the first round even though he didn't play a minute for the Wildc...

With the Big Ten tournament moving up a week, CBS will show the AAC Tournament before the Selection...

The Cardinals are No. 7 in the CBS Sports Top 25 (and one)