Quentin Snider's recruitment could be ending soon
After visiting UCLA and Illinois the past two weeks, Quentin Snider seems to be close to making a decision.
• 3 min read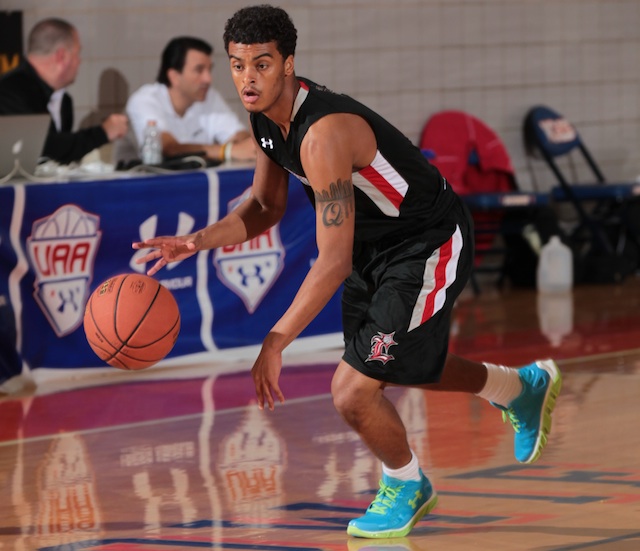 Things have moved very fast for Quentin Snider since he decommitted from Louisville back on July 31. Snider immediately received more than a dozen offers, and he began to start his second recruiting process quickly.
Just a month and a half later, Snider could be closing in on a second commitment, according to his father, Scott Snider.
"Whenever he feels ready," Scott Snider said Tuesday afternoon. "We don't want to drag it out until the spring. It's already been hectic. When he feels he's found the right spot, we're fine with whenever he decides to do that."
If the decision does come soon, most signs are pointing to UCLA or Illinois as the likely destination.
They visited UCLA two weekends ago, and also will welcome in the Bruins for an in-home visit on Tuesday night.
"He can come in and start right away," Scott Snider said. "They play in the Pac-12, and [assistant coach] Ed Schilling is out there. He's one of the best personal development guys, knows a lot about the game."
The Bruins looked like the leader after the visit to Westwood, but Illinois has made up plenty of ground over the past week – and many think the Fighting Illini could be the favorite heading down the stretch.
Snider visited Champaign over the weekend, and head coach John Groce also conducted an in-home visit with the Sniders on Monday.
"It was real good," Scott Snider said. "They showed us how they would use him in the system, step by step on how they would develop him. They showed us before and after pictures of their players, how they've done in the weight room over the past 15 months. Other than that, same basic basketball stuff. Taking us around campus. And they had a PowerPoint on what they had to offer."
UCLA watched Snider on Tuesday morning, while Michigan State also came to town to watch. The Spartans are expected to get an official visit this weekend from Snider. After that, Connecticut is scheduled to come for an in-home visit on Sept. 16.
Scott Snider said the primary things he and his son are looking for is playing style: Quentin prefers to get up and down. Moreover, he wants to go to a place where he can come in and play right away – but also somewhere that has established talent in place.
"Who cares if you're going to start somewhere if you're going to go 5-25?" Scott Snider said.
Snider, a 6-foot-1 point guard from Ballard (Ky.), is ranked No. 34 in the 247Sports Composite. As it stands, he is the No. 3-ranked point guard left on the board. However, Jordan McLaughlin is announcing his decision on Wednesday and Tyus Jones is considered a strong Duke lean.
As a result, nabbing Snider would be a huge coup for UCLA or Illinois (or one of the other schools on his list). Is there one school in the lead right now?
"Both play the style he wants; they get up and down the floor," Scott Snider said. "He would play right away at both places. UCLA is far away; does he feel comfortable there? And Illinois is close. He just has to weigh all the different options."
After each of Quentin's visits, there were rumors that he was ready to commit to a school. Following his UCLA trip – and Trevon Bluiett's commitment – many signs pointed to a Bruin pledge. After his campus trip and in-home visit with Illinois, the Fighting Illini suddenly had the momentum.
Scott Snider said he knew going in that there wouldn't be any decisions made while visiting.
"We wanted to come home and talk about it," he said. "It would be easy to commit, but we wanted to come home and talk about it. And talk to the other schools."
The clock seems to be winding down on Snider's recruitment – is it a two-team race for his decision?
"It could be," Scott Snider said. "Depends on what we get out of these upcoming visits."
Show Comments
Hide Comments
Sharpshooter's return figures to send the program to a place it has been only once before

Gary Parrish and Matt Norlander also discuss UNLV's recruiting class
The five-star big man is part of a surprise late-period recruiting coup by Marvin Menzies

It's time for random observers to stop being outraged by players' decisions

Plenty of decisions are still hanging in the air, calls that will help shape the 2017-18 s...