Ranking the Sweet 16 starters: From No. 80 to No. 1
Certain to spark some debate, Jeff Borzello ranks all 80 starters still playing in the NCAA Tournament. All of them, in order.
• 11 min read
More: NCAA Tourney News | Bracket Hub | Expert Brackets
Doug McDermott is gone. Jabari Parker is gone. Andrew Wiggins is gone, while Joel Embiid never even played. Sean Kilpatrick is gone. Some of the nation's best players are sitting at home after getting bounced during the first weekend of the NCAA Tournament. So who are the best players left? We've decided to take the five starters for each of the 16 teams remaining and throw them onto one long list – and then rank them. Yes, all 80 starters. This is certain to spark some debate.
It's not based on potential, NBA prospects, or purely college numbers. It basically comes down to, if I need a player for the next two games or four games, which guy am I taking?
Let's get into all 80 starters left in the NCAA Tournament, ranked in descending order.
80. Daniel Edozie, Iowa State: He played just one minute in the Round of 64, but the 6-foot-8 big man saw a major bump in minutes with the Georges Niang injury.
79. Philip Nolan, Connecticut: Nolan usually plays around 15 minutes a game, but he proves some rebounding on the interior for the perimeter-oriented Huskies.
78. Dakari Johnson, Kentucky: Johnson took over the starting center spot from Willie Cauley-Stein, and the 7-footer has shown occasional flashes of his potential.
77. JJ O'Brien, San Diego State: The former Utah transfer brings a little bit of everything to the table, but he might need to be more of a weapon against Arizona.
76. Skylar Spencer, San Diego State: The defensive anchor inside for the Aztecs, Spencer is a solid shot-blocker who doesn't offer much on the offensive end of the floor.
75. Stephen Van Treese, Louisville: Without Chane Behanan, Van Treese has had to play a bigger role down low. He's averaging 9.3 rebounds in his last six games.
74. David Wear, UCLA: His numbers have dipped in each of his three seasons at UCLA, and he's often pulled for Tony Parker or a small lineup with Bryce Alford.
73. Matt Kavanaugh, Dayton: Kavanaugh looked good for stretches against Ohio State, demonstrating good inside-outside offensive ability. Needs to be more consistent.
72. Khari Price, Dayton: Price isn't much of a scorer, scoring 26 total points in the last six games, but he can distribute effectively and knock down open shots.
71. Will Yeguete, Florida: One of the best interior defenders in the SEC, Yeguete brings intangibles and leadership. He's not much of an offensive option, though.
70. Mike Tobey, Virginia: With more minutes, Tobey could be a really effective offensive player. He has good low-post moves, but Virginia's offense is so balanced.
69. Niels Giffey, Connecticut: In Connecticut's smaller lineup, Giffey has had to guard bigger players all season. He also can get hot from 3-point range, knocking 51.9 percent.
68. Gabe York, Arizona: York displaced Rondae Hollis-Jefferson from the starting lineup, and his ability to stretch a defense and knock down shots from the perimeter is a plus.
67. Derrick Walton, Michigan: Walton had to the fill big shoes of Trey Burke, and he's been improving. He could be the key to the Wolverines' Final Four hopes going forward.
66. Antonio Barton, Tennessee: The former Memphis transfer has been somewhat inconsistent this season, but he scored 18 points in the Round of 32.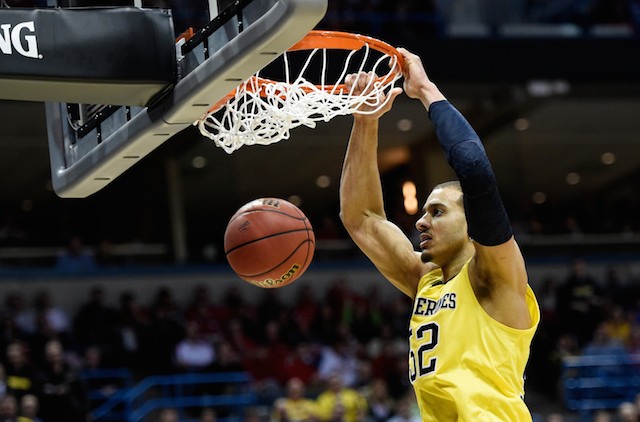 65. Jordan Morgan, Michigan: Morgan moved up this list with his performance from the first weekend, notching double-doubles in each of his first two tournament games.
64. Travis Wear, UCLA: Like his brother, his numbers have taken a dip each year at UCLA, but he's still a player who can stretch a defense and get hot at times.
63. Devin Oliver, Dayton: Oliver put up good numbers this season, and he's also hit some big shots in the NCAA Tournament. Had back-to-back double-doubles earlier this month.

62. Winston Shepard, San Diego State: Shepard has really struggled in the NCAA Tournament, but he's a versatile defender who can attack the rim well.
61. Royce O'Neale, Baylor: O'Neale is an all-around weapon that can knock down perimeter shots, distribute well in a half-court setting, and grab rebounds at a high rate.
60. Stefan Nastic, Stanford: When watching him, one might think Nastic's numbers should be better. He can face up and make mid-range jumpers, and has some good post moves.
59. Denzel Valentine, Michigan State: Valentine is underrated in the Michigan State system, but he brings a little of everything to the table -- at both ends of the floor.
58. London Perrantes, Virginia: Perrantes takes care of the ball like few players do across the country. He's not explosive with the ball, but he initiates offense and has great vision.
57. Josh Huestis, Stanford: Huestis is a very good defender, showing an ability to guard out to the 3-point line and also block shots. If left open, he can make outside shots.
56. Josh Gasser, Wisconsin: Gasser is perfect for the Wisconsin offense, given his 45.6 percent shooting from 3-point range, as well as his passing in the half-court.
55. Akil Mitchell, Virginia: After an all-ACC caliber season a year ago, Mitchell's numbers have taken a hit. But he's still capable around the rim and is a very solid defender.
54. Jeronne Maymon, Tennessee: Along with Jarnell Stokes, Maymon has made Tennessee an intimidating rebounding team down low. Capable of double-doubles.
53. Dyshawn Pierre, Dayton: Pierre is one of the more difficult matchups on the Flyers, because he can play in transition, face-up in the halfcourt, or score at the rim.
52. Josh Davis, San Diego State: Davis' offensive numbers haven't been the same after transferring, but he's still a monster on the glass and active around the rim.
51. Monte Morris, Iowa State: Morris is among the best in the country at taking care of the basketball, and he's also boosted his scoring in the NCAA Tournament.
50. Anthony Brown, Stanford: Brown is a consistent double-figure scorer for the Cardinal, providing a capable outside shooter and a secondary ball-handler against pressure.
49. Jordan Sibert, Dayton: The highest-ranked Dayton play, Sibert came up big in the first weekend of the NCAA Tournament. The former Ohio State transfer can make shots.
48. Chris Jones, Louisville: Jones came to Louisville with plenty of hype, but he's been inconsistent at times this season. He needs to pressure the Kentucky guards.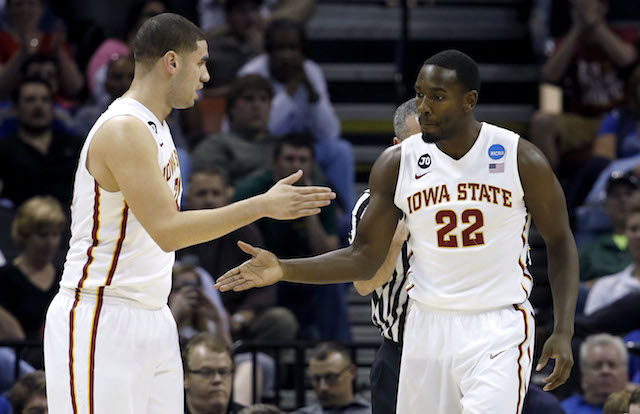 47. Norman Powell, UCLA: Underrated on a national level, Powell combines with Kyle Anderson and Jordan Adams on a talented perimeter. 31 points in NCAA Tournament.
46. Ben Brust, Wisconsin: The school's all-time leading 3-point shooter, Brust can stretch a defense and get hot from deep. Has to make shots against the Baylor zone.
45. Josh Richardson, Tennessee: Richardson's opening weekend performance has vaulted him in the rankings. Averaging 19.3 points in his first three NCAA Tournament games.
44. Michael Frazier, Florida: The Gators probably can't cut down the nets if Frazier isn't hitting shots. He's their lone consistent deep threat, and he can lift the offense.
43. Brady Heslip, Baylor: Heslip can't do much besides shoot the 3, but he's one of the best in the country at it. Coming off a 5 of 7 performance against Creighton.
42. DeAndre Daniels, Connecticut: He's the X-factor for the Huskies. He can be a matchup problem and a solid defender, but he has to be focused and motivated.
41. Dustin Hogue, Iowa State: He's very active on the glass, and has often been playing against bigger players down low. Iowa State needs a little more offense.
40. Ryan Boatright, Connecticut: He has a tendency to play somewhat out of control, but Boatright is also explosive with the ball and the perfect sidekick to Shabazz Napier.
39. Keith Appling, Michigan State: If he was fully healthy and productive, he would be much higher on the list. He has scored in double-figures just twice since January.
38. Traevon Jackson, Wisconsin: If this was a ranking of players in the final minute of a game, Jackson would be higher. He's clutch and finds ways to get open offensively.
37. Kaleb Tarczewski, Arizona: A very solid big man, Tarczewski is effective around the rim. He can score with his back to the basket, and is also a good enough rebounder.
36. Branden Dawson, Michigan State: His 26-point, nine-rebound performance against Harvard was impressive, and he's been playing his best basketball of the season.
35. Kenny Chery, Baylor: Chery has completely turned around Baylor. Few point guards are playing better than him right now; he's the key to the Bears' success.
34. Luke Hancock, Louisville: Hancock is Mr. March for the Cardinals. He was the Most Outstanding Player at last year's Final Four and is averaging 18.5 ppg in the 2014 tourney.
33. James Young, Kentucky: The most unheralded of the three perimeter frosh on Kentucky, Young's ability to knock down shots from the perimeter gives the 'Cats an added dimension.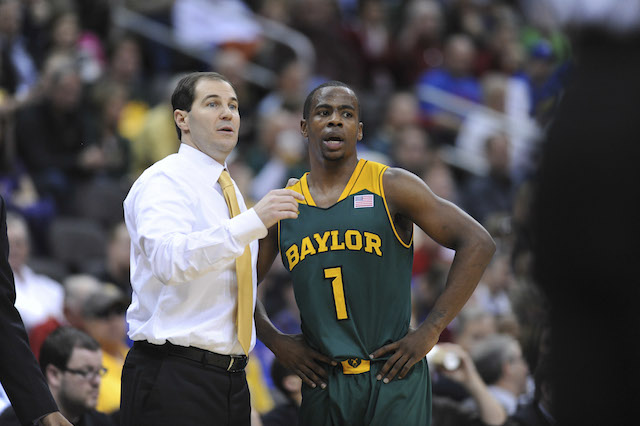 32. Caris LeVert, Michigan: LeVert has been one of the most improved players in the Big Ten this season, giving a consistent sidekick to Nik Stauskas on the perimeter.
31. Glenn Robinson III, Michigan: Robinson III has to be a major offensive factor going forward. He has been inconsistent at times, but he had 14 in each tourney game.
30. Andrew Harrison, Kentucky: If he plays like he did in the Round of 32 against Wichita State, the 'Cats are in good shape. Went for 20 points and three assists.
29. T.J. McConnell, Arizona: His numbers aren't eye-popping, but he holds the keys to Arizona. He is the primary ball-handler, outside shooter, and a solid perimeter defender.
28. Joe Harris, Virginia: Harris' scoring numbers dipped this season, but he's still a dangerous offensive player. Double-figures in six straight games for him.
27. Isaiah Austin, Baylor: Austin has a reputation of being soft inside, but he has first-round talent. Was dominant against Creighton, finishing around the rim and defending on the interior.
26. Patric Young, Florida: If Young is making his jump-hooks and finishing around the rim, he can be dominant. He is one of the best interior defenders in the country.
25. Frank Kaminsky, Wisconsin: His ability to stretch the floor and make shots from the perimeter make him a difficult matchup for most defenders. Solid rebounder.
24. Cory Jefferson, Baylor: Doesn't get as much hype as Isaiah Austin, but Jefferson is the more productive player. He is active around the rim and can also face-up.
23. Malcolm Brogdon, Virginia: One of the most consistent players in the ACC, Brogdon's emergence as been a huge key for the Cavaliers. Effective two-way player.
22. Casey Prather, Florida: He started off very hot, and while he has slowed down late in the year, Prather still finds ways to score at the rim. Finishes very well through contact.
21. Dwight Powell, Stanford: Something like a point-forward, Powell is capable of initating offense from the top of the key, while also shooting well and going off the bounce.
20. Aaron Harrison, Kentucky: The most dangerous of Kentucky's perimeter scorers, Harrison is averaging 18.5 points in the NCAA Tournament. Shot maker.
19. Sam Dekker, Wisconsin: Dekker sometimes needs to be more aggressive, but he's a difficult matchup for most teams. Hasn't scored more than 12 points this month.
18. Gary Harris, Michigan State: A very good player at both ends of the floor, Harris can do it all. He makes shots from the perimeter, is great in transition, and can go off the bounce.
17. Chasson Randle, Stanford: There are few guards in the country that can keep Randle out of the lane. He's strong with the ball and is an excellent finisher in traffic.
16. Jordan Adams, UCLA: Adams doesn't get enough attention nationally, but he might be the biggest offensive threat on the Bruins. A lights-out shooter from 3 and mid-range.
15. Aaron Gordon, Arizona: The future lottery pick is coming on strong at the right time. He is averaging 17.0 points, 7.0 rebounds, 4.5 assists and 2.5 blocks in the tourney.
14. Montrezl Harrell, Louisville: Harrell's emergence down the stretch took the Cardinals to a different level. He has racked up six double-doubles in his last 10 games.
13. Jordan McRae, Tennessee: One of the most underrated scorers in the country, McRae has bailed out the Volunteers ofen. Needs to find his outside shot (2 of 12 from 3 in the tourney).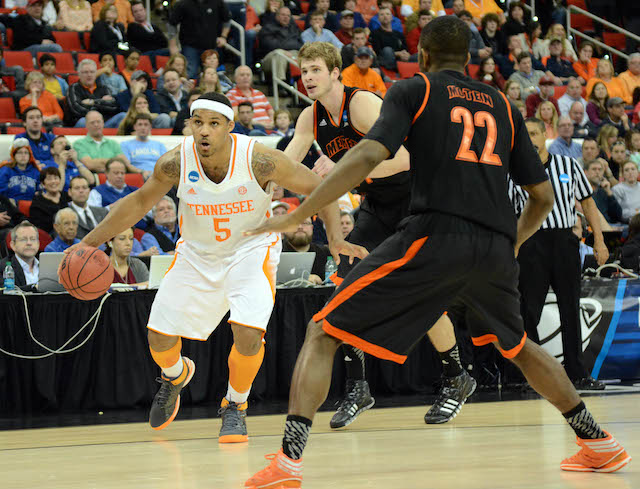 12. Jarnell Stokes, Tennessee: Stokes might be the best rebounder left in the NCAA Tournament. He's averaging a dominant 20.3 points and 15.0 rebounds in the tourney.
11. Melvin Ejim, Iowa State: The Big 12 Player of the Year, Ejim will need to be even better with Georges Niang hurt. Can score from the perimeter and in the post.
10. Nick Johnson, Arizona: Johnson has been one of the best two-way guards all season. He has hit big shots, locked up opposing scorers, and also produced highlight-reel plays.
9. Scottie Wilbekin, Florida: He's a killer late in the game or late in the shot clock. Reads ball screens effectively, has a variety of floaters, and is also a very solid defender.
8. Xavier Thames, San Diego State: Thames put the Aztecs on his back against North Dakota State, with 31 points. Made outside shoots, plenty of pull-up Js, and layups at the rim.
7. Julius Randle, Kentucky: Randle has to be a dominant inside force for the Wildcats -- and he certainly has the ability. Showed off his all-around talent against Wichita State.
6. Adreian Payne, Michigan State: Went for 41 points against Delaware in the Round of 64, and might be the toughest frontcourt matchup. Has to be aggressive.
5. Nik Stauskas, Michigan: When the Wolverines lose, it's usually when Stauskas struggles. He is a knockdown shooter, but is also adept at driving to the rim off the bounce.
4. DeAndre Kane, Iowa State: Kane might be the most aggressive scorer left in the tournament. He's strong and is a tremendous finisher. Clutch late in the game, too.
3. Kyle Anderson, UCLA: The most unique player in the country, Anderson keeps defenders off-balance and has excellent vision. It's impossible to find a matchup for him.
2. Russ Smith, Louisville: Smith has been a little too out of control in the tournament, with 13 turnovers -- but Louisville needs him to a menace at both ends of the floor.
1. Shabazz Napier, Connecticut: The one player remaining that can absolutely carry an underdog to a deep run. Napier has hit big shots all season long, and his toughness is second to none.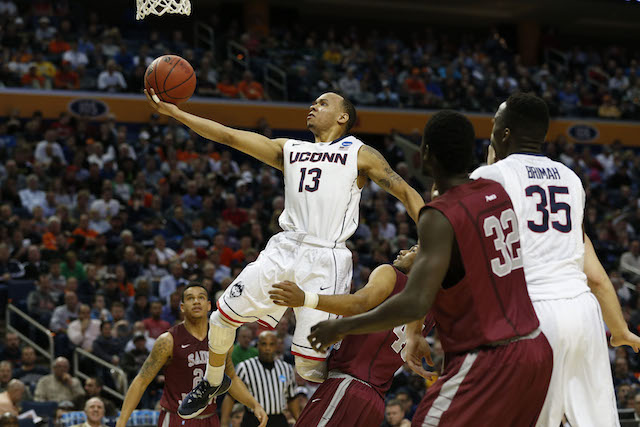 Show Comments
Hide Comments
Motley, who averaged 17.3 points and 9.9 boards, is projected as a borderline first-rounde...

Sharpshooter's return figures to send the program to a place it has been only once before
Gary Parrish and Matt Norlander also discuss UNLV's recruiting class

The five-star big man is part of a surprise late-period recruiting coup by Marvin Menzies

It's time for random observers to stop being outraged by players' decisions