Recruiting Rodeo: Point guard help is on the way
Are any stud point guards entering college in the next few years? Also, updates on Aaron Gordon, Trey Lyles, Jordan McLaughlin and much more.
• 9 min read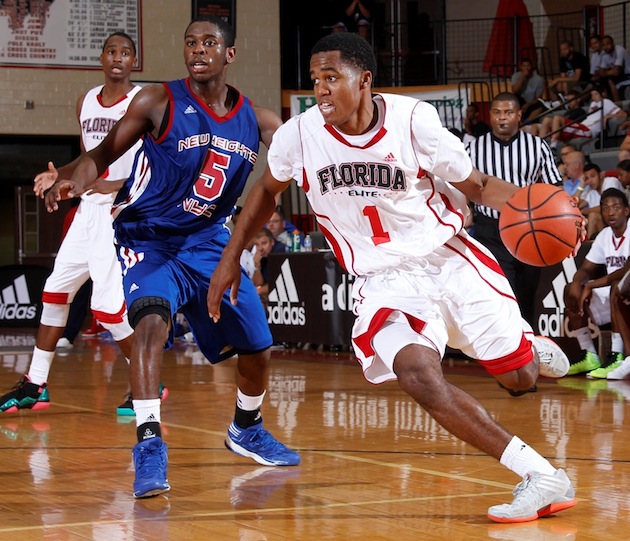 Kasey Hill should be able to make an immediate impact at Florida in the 2013-14 season. (Adidas)
Throughout the season -- and the past couple of years – we have constantly heard about how the level of play at the point guard position is way down. While "where have all the big men gone?" is probably still a more prevalent question, the lack of elite point guards is just as much of an issue.
However, given the way that Trey Burke and Marcus Smart have been playing this year, I almost forgot about it. Then my colleague, Jeff Goodman, this tweeted on Wednesday night: "Scoring seemingly drops every year as do the number of quality point guards who can effectively run a team."
It's true. One needs to only look at the fact that scoring offense is down across the board and figure out it stems from the lack of high-level guards at the point of attack. There are some guards who can facilitate but not get their own shot; others are converted scorers; others are effective but too out of control.
In general, there are simply not many great point guards in college basketball this season. Looking at most mock drafts, there are only five point guards projected as first-rounders: Burke, Michael Carter-Williams, Smart, C.J. McCollum and Lorenzo Brown.
Not to fear, though. The high school classes of 2013 and 2014 are filled with elite point guards at the top of the rankings -- guys who can come in and immediately be impact players.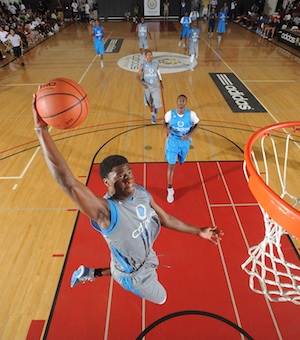 Mudiay is an impossible matchup offensively. (Adidas)
-- Andrew Harrison, 2013, Kentucky: Off the dribble, Harrison is nearly impossible to stop. He can get into the lane against pretty much any defender, either to finish at the rim or find an open teammate for a bucket. He is the focal point of the defense on a nightly basis yet finds ways to make plays, anyway. Given his size and ability to change speed, it's tough not to imagine him making an impact.
-- Kasey Hill, 2013, Florida: Hill is a pure point guard who loves to play up-tempo and make plays in transition. He has excellent ball-handling ability and can also get into the lane in a half-court setting. He sometimes has a tendency to play out of control, but he has great court vision and can rack up assists in a hurry.
-- Emmanuel Mudiay, 2014, Undecided: More similar to Andrew Harrison than the other players on this list, Mudiay uses his size and quickness to be a matchup nightmare on the offensive end. He can knock down shots in the mid-range but is at his best when getting to the rim and finishing. He can also see over the defense and find teammates for easy buckets.
-- Tyus Jones, 2014, Undecided: Jones emerged as a truly elite player a couple of summers ago, when it was clear he was arguably the best pure point guard out of anyone in the classes of 2012, 2013 and 2014. He has improved his scoring ability lately, and his basketball IQ and court vision are outstanding. He knows how to win games and get everyone involved.
-- Terry Rozier, 2013, Louisville: Rozier's transformation into an elite prospect this season has been eye-opening. He has become one of the best scoring guards in the country and has improved his jumpshot and playmaking ability. He will combine with junior college transfer Chris Jones to form a loaded backcourt at Louisville next season.
-- Others: Anthony "Cat" Barber, 2013, NC State; Joel Berry, 2014, North Carolina; Jaquan Lyle, 2014, Undecided; Tyler Ennis, 2013, Syracuse; Jordan McLaughlin, 2014, Undecided; Parker Jackson-Cartwright, 2014, Undecided
_________________________________________________________________________
Recruiting update: Jordan McLaughlin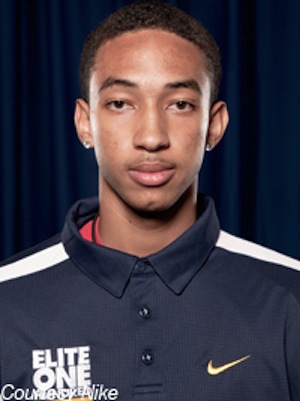 McLaughlin is among 2014's elite PGs. (Nike)
As we mentioned above, the class of 2014 is loaded with point guards at the top of the class, and Etiwanda (Calif.) product Jordan McLaughlin is among the cream of the crop.
Although Parker Jackson-Cartwright might get more attention nationally, McLaughlin compares favorably to the other high-level point guards.
"I believe I do, yes," McLaughlin told CBSSports.com. "And I just try to work hard and become the best I could become to be at the top spot. I'll do whatever it takes to get to the next level and beyond."
The 5-foot-11 McLaughlin has good length and athleticism and is very solid in transition. He can get to the rim for finishes, and he understands how to change speeds effectively.
Ranked No. 25 in the 247 Sports Composite, McLaughlin recently trimmed his school list to 10: UCLA, San Diego State, Stanford, Arizona, UNLV, Gonzaga, New Mexico, Indiana, Connecticut and Kansas.
"I just felt like I was ready to make that decision and start narrowing it down," he said. "I might take my time unless I get a good vibe and others, not so much. But I'm not sure right now. Just staying with those 10."
McLaughlin -- who is looking for style of play, coaching staff and a good education -- has been to a few San Diego State games. He has also been on the campuses of UCLA, Stanford and Arizona, and visited UNLV's arena. McLaughlin said the local schools – UCLA, San Diego State, USC, Stanford, Arizona, Gonzaga – are coming at him the hardest.
One interesting school on his list is Kansas, which hasn't officially offered yet but is showing heavy interest.
"They have been to a few practices and games and say they are very interested," McLaughlin said. "And I've talked to [Bill] Self, and he says he wants me."
Although most of the schools on his list are within a few hours of his California home, McLaughlin doesn't mind looking outside the West Coast for his future destination.
"I don't think that would be a problem."
_________________________________________________________________________
R.I.P. Josh Level
Sad news struck the high school basketball scene on Tuesday night, when 2014 prospect Josh Level collapsed on the court during a game against Quality Education Academy (N.C.). Level was pronounced dead after being rushed to the hospital.
"Our family -- it will never be the same again," Joseph Level, his father, told the Greensboro News-Record. "We will come together . . . but we will never be the same. You just can't duplicate Josh."
Level, an athletic and promising 6-foot-5 wing who was receiving interest from a variety of schools, attended New Garden Friends School (N.C.) and ran with Team Loaded on the AAU scene.
Our thoughts and prayers go out to Levels' family and friends.
__________________________________________________________________________
Mailbag: USC and UCLA, Trey Lyles, and Aaron Gordon
-- Why has USC had such a historically bad time keeping Southern Cal talent at home? Why not focus more on local guys? (via @moose_bigelow)
First of all, it's not just USC that has been having trouble keeping the best players from California in the state. UCLA is also not doing a good job of keeping the local talent at home. And there are several reasons for it. First, neither staff has really made an effort to do it -- they've been looking more national than regional, and the results have clearly been mixed. With a new staff on the way at USC, and UCLA also potentially looking to make a change, one would expect the new staff(s) to keep more of a focus on southern California. One other thing to look for is the fact that teams like UNLV, San Diego State, Arizona and others are getting more elite players. It's not just UCLA and USC fighting for the best prospects.
-- Any chance Louisville could snag Trey Lyles? (via @lvillefan11)
Lyles, a top-10 prospect in the class of 2014 and a former Indiana commit, recently cut his list to six schools: Kentucky, Florida, Louisville, Duke, UCLA and Butler. Since Lyles' decommitment over the summer, Kentucky has been thought of as the heavy favorite for his services. That probably hasn't changed. Lyles and his father went to Big Blue Madness in October and enjoyed the visit. Duke is also in the mix, and he has taken unofficial visits to Louisville and Butler. Louisville did well to get him on campus, but right now it looks like Kentucky is the favorite for Lyles.
-- How big of a factor is Oregon for Aaron Gordon, and who is the favorite to land him? (via @verbinsky)
Gordon, one of the top three uncommitted players left on the board, was down to Washington, Arizona and Kentucky as of last month. Suddenly, though, Gordon added Oregon to the mix, a team that he had previously trimmed off his list. What makes it interesting is the timing of the addition. A month ago, a couple of people close to Gordon thought that he had an idea of where he wanted to play his college ball. Is Oregon a serious player for Gordon? His former AAU teammate, Dominic Artis, runs the point for the Ducks, and they have been pursuing Gordon for a long time. At this point, though, it does still seem like Arizona is the frontrunner with Washington and Kentucky still under consideration. 
If you would like to ask a question for next week, simply tweet at me: @jeffborzello.
___________________________________________________________________________
Lists and the latest intel
Illinois is making headway in the Leron Black sweepstakes. The Fighting Illini have been in to see the former Missouri commit three times in the last month . . . Florida will have four prospects on campus this weekend: Payton Dastrup, Jordan Barnett, Malik Price-Martin and Brandon Francis . . . Former Vanderbilt commit Darius Thompson opened his recruitment recently. And while several schools have shown interest, Tennessee is making a serious push . . . Kendal Yancy-Harris is officially back on the market after his decommitment from USC, and the top-100 guard is hearing from a variety of schools. Connecticut, Texas, Missouri, Xavier, Auburn, TCU, Oregon, Texas Tech, Texas A&M, Miami, Providence, San Diego State, Arizona State, LSU, Virginia, Houston, Creighton and Washington State have shown varying levels of interest . . . Duke and North Carolina are getting an important visitor this weekend in Devin Booker . . . Tyus Jones will trip to Kansas . . . There are still some quality junior college prospects left on the market, and Elgin Cook is one of them. Oregon and Gonzaga are in the mix . . . 2014 guard Tyler Ulis is picking up plenty of interest, despite his 5-foot-8 (maybe) size. Michigan State saw him last month, and Iowa is among the high majors that have offered . . . Middle Tennessee had a nice pickup in former Missouri pledge Tyrek Coger.
________________________________________________________________________
For more college basketball news, rumors and analysis, follow @EyeOnCBB on Twitter, subscribe to our RSS Feed and subscribe to our College Basketball Newsletter. You can follow Jeff Borzello on Twitter here: @jeffborzello
Show Comments
Hide Comments
The information on who harassed John Higgins will now be turned over to the FBI

Some of these future NBA picks might work out, but others won't sniff being drafted

This is a good development for Louisville, which may avoid having its coaches forced to testify...
The athletic guard withdrew from the NBA Draft late Wednesday night

Next step in the case, which began in 2011, is for UNC to face the NCAA's Committee on Inf...

We look at 40-plus teams affected by this year's NBA Draft