Rout doesn't mean Butler overrated
Butler coach Brad Stevens understood his team was ranked ninth nationally. He also knew he might have a hard time winning this game against Saint Louis. He was right.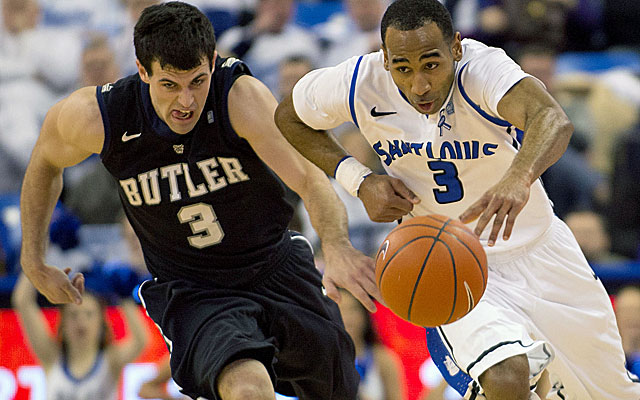 Butler took a rough loss against Saint Louis, but those things happen in the A-10. (US Presswire)
ST. LOUIS -- Brad Stevens was in the locker room 25 minutes before tipoff -- calm, chatty and sitting 15 feet from Butler's gameplan detailed on a board. He understood his team was ranked ninth nationally. He also knew he might have a hard time winning this game.
"We could play well and still lose," Stevens told me.
And you know what?
He was right.
And you know what else?
He would've been OK with that on some level because there's no shame in falling at Saint Louis. No. 20 New Mexico came here and lost by 14 points on New Year's Eve; and, it should be noted, Butler was actually a 3-point underdog Thursday night. So a Butler loss was always possible. In fact, oddsmakers considered it the most likely outcome. But a 75-58 beatdown featuring just two lead changes and four different Bulldogs with at least four turnovers? That was a little surprising -- and a major disappointment for Stevens.
"Like I told you earlier, we could play our hearts and play really well and still lose here," Stevens said afterward. "But we played poorly."
Or, as Butler's Chase Stigall put it: "We got punked."
More on college basketball
Related links
I'm sure some will use this game to back their argument that Butler is overrated and not really that good. To that I say, whatever. The resume the Bulldogs entered this week with speaks for itself. They won 17 of the first 20 games they played, recorded wins over No. 3 Indiana, No. 7 Gonzaga and No. 25 Marquette. So chant "overrated" if you want. But don't forget that Stevens spent his first five years as a head coach making doubters look stupid, which is why it would be stupid to doubt him or his team the rest of this season that continues Saturday with an afternoon game at Hinkle Fieldhouse against Rhode Island.
That said, Butler is gonna take losses in the Atlantic 10.
Because everybody takes losses in the A-10.
I mean, have you seen the standings?
Not a single A-10 team has played more than seven league games, and every single A-10 team already has at least two league losses. Eleven schools are within two games of first place, and the school in 15th place (Rhode Island) got its lone win against Saint Louis inside this beautiful on-campus arena, meaning the team currently 15th in the Atlantic 10 standings and on its way to Butler for a weekend showdown did something two weeks ago that the team currently ranked ninth nationally didn't come close to doing late Thursday. So good luck trying to predict the Atlantic 10 champion from a list of candidates that could reasonably include VCU, Xavier, Butler, Charlotte, Saint Louis, UMass, George Washington, La Salle, Temple, Saint Joseph's and Dayton. Seriously, good luck.
"Our league is really hard," said Jim Crews, SLU's interim head coach who took over in August, a few months before former coach Rick Majerus died from heart failure, and now has the Billikens off to a 15-5 start. "Our league is really tough and really competitive."
And really fired up about Butler's presence.
That's the other storyline here -- that Butler has already established itself as the Atlantic 10's biggest brand despite this being its first year in the league. For proof consider that a record crowd of 10,612 ignored snowy conditions Thursday and filled Chaifetz Arena for what was Butler's fourth A-10 road game, and it marked the fourth time every ticket has been sold in anticipation of a visit from the Bulldogs. They have four road games left -- at George Washington, Fordham, VCU and UMass -- and three of those are already sold out, too. So Stevens' team is walking into hostile enviroments each time it leaves Indianapolis, and that's something that's historically been reserved for traditional powers like Duke, Kansas, North Carolina and Kentucky.
"I like it, and I think our best teams and this team has enjoyed it, too," Stevens said. "But we did not play like it tonight. We played poorly. But it's all about how you respond, and we have a response in 36 hours."
Show Comments
Hide Comments
Once again coaches are participating in Oakland coach Greg Kampe's charity event

The Tar Heels point guard was the Most Outstanding Player of the 2017 Final Four

A list of every player who is testing the waters for the 2017 NBA Draft, a record 182 guys
The MVC is looking for a school to replace Wichita State, which left for the American Athl...

Self's one of the very best, but he's changing his attack strategy to help his chances nat...

Collins is set up to be Northwestern's coach for a very long time -- if no one bigger lures...