Roy Williams 'doing OK' following collapse after yelling at official
North Carolina coach Roy Williams collapsed after disagreeing with an official.
• 2 min read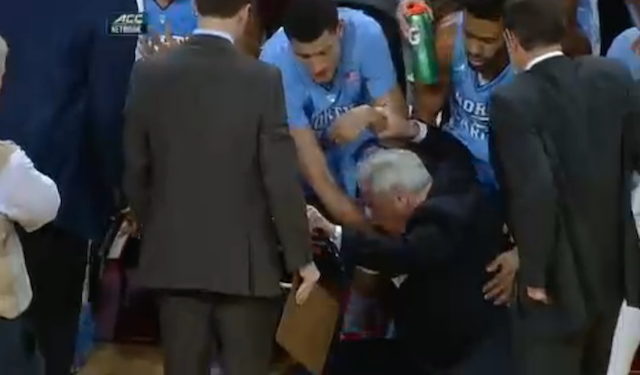 North Carolina was on the ropes at Boston College, trying to avoid its third straight loss after a terrible first half, but even more concerning was an apparent health scare for head coach Roy Williams. Luckily the No. 9 Tar Heels were able to escape with a 68-65 win, but the primary concern right now is the health of the head coach. 
Williams was voicing his displeasure with an ACC official as the broadcast went to a timeout when he collapsed in front of his team's bench. Justin Jackson and other players were there to catch Williams, but he was escorted to the locker room after the incident. 
Scary moment in tonight's UNC game as head coach Roy Williams collapsed and had to be helped to the locker room: https://t.co/Sc824UOxAv

— ESPN (@espn) February 10, 2016
According to a school spokesperson, Williams is "doing OK" in the locker room. 
Roy Williams apparently "doing okay" in the locker room, per a UNC spokesperson. No word on whether it was a vertigo issue or not.

— InsideCarolina (@InsideCarolina) February 10, 2016
Wiliams has dealt with vertigo, an inner ear condition that impacts balance, since 2007. When he has issues during games, he frequently will take to one knee and receive some help from one of the assistant coaches. 
While Williams was in the locker room, North Carolina charged ahead and took the lead behind Justin Jackson. The sophomore broke out with one of his best games since ACC play started, leading the team with 20 points (13 in the second half) on 9-of-11 shooting. North Carolina needed Jackson's scoring outburst to match Eli Carter (26 points) and a BC team that did a great job of beating up UNC on the boards in the first half.  
After the game, Williams actually addressed the media to discuss the situation. 
"What I want to do is tell you I'm alive, I'm well, Williams said after the game, via Andrew Carter of the News & Observer. "I'm kicking. I'm not well, mentally." 
Williams confirmed that it was an issue "benign positional vertigo," and according to Carter he was "really emotional" talking about the job Steve Robinson did in the interim position.  
"What I want to do is tell you I'm alive, I'm well. I'm kicking. I'm not well, mentally."

— Andrew Carter (@_andrewcarter) February 10, 2016
Roy getting emotional talking about Steve Robinson. "He coached his buns off." Roy says he didn't want to be distraction.

— Andrew Carter (@_andrewcarter) February 10, 2016
Roy Williams' collapse in today's game was due to dizziness & vertigo-related. @UNC_Basketball confirmed he is OK.https://t.co/LHvigeXRpd

— ACC Digital Network (@theACCDN) February 10, 2016
Show Comments
Hide Comments
Our Latest Stories
George Washington assistant Maurice Joseph replaces Mike Lonergan, who was fired

Who are the guys that should take a big-time leap this season? We've got your answers

Multiple programs expressed concern over Puerto Rico's Zika instability
Wooden is primarily associated with UCLA, but he had big-time impact at Purdue

The project is part of a big renovation taking place at the Breslin Center

Get ready, Washington fans. The freshman guard could be a special one for the Huskies this...