Roy Williams says he is tired of talking about suspended Hairston
The UNC coach told the media at a golf event Wednesday that he's tired of reading and talking about his indefinitely suspended star forward.
• 1 min read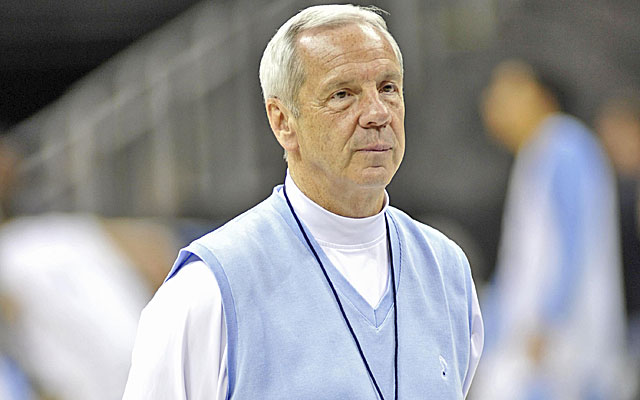 While playing in the pro-am portion of the Wyndham Championship Wednesday, UNC coach Roy Williams told the media he's about had enough of discussing P.J. Hairston.
Hairston is the currently indefinitely suspended junior forward for the Heels who's had three run-ins with police during the offseason, all related to traffic stops, two of them while driving rented cars with ties to an ex-convict. After completing a drug assessment program and providing proof of license, Hairston had all charges against him stemming from the infamous June 5 arrest dropped in late July.
Hairston's speeding display less than a week after having charges dropped is what landed him the indefinite suspension. Cited for reckless driving while driving the car of a friend, Hairston was caught going 93 miles per hour in a 65 MPH zone.
According to the AP, Williams is "tired" of the Hairston topic.
When asked about Hairston's situation, he said he's "tired of reading about it, tired of talking about it" and declined to discuss it further. Williams suspended Hairston from the team July 28 after receiving his third traffic citation of the summer. That came after Williams said Hairston would face "serious consequences" following a prior arrest.
Can't blame Williams for feeling that way, but that's the breaks -- and it's only going to get more Hairston-centric as we get closer to the season. Inevitably Williams will have to decide on the length of his player's suspension and then deal with questions beyond that, too. The matter is legally over, but as far as the media is concerned this is still a story and probably will be for weeks into the season.
I spoke with Williams in Georgia, at the Peach Jam, in mid-July. He said "life is very fun right now" in regard to the Hairston situation -- and this was before the speeding ticket that forced Williams' hand.
Hairston averaged 14.6 points last season and came back to UNC after flirting with the idea of heading into the NBA Draft. North Carolina should be a popular top-10 preseason pick in this fall's polls.
Show Comments
Hide Comments
Coaches must buy useless recruiting services if they want to remain involved with prospect...

We wrap-up what happened in Las Vegas on this edition of the Eye on College Basketball pod...

Word is getting out on this 4-star wing after his improvement in the July recruiting perio...
Coaches share stories of the exorbitant amounts of cash they've spent to watch recruits each...

The 6-foot-10 forward was one of the Bruins' best defenders in his lone season

Catch up on the top 10 players in the class of 2017 and the biggest storylines from Las Ve...