Scouting the Final Four: Wichita State
Scouts and coaches give Jeff Goodman the inside scoop on Wichita State, explaining the Shockers' strengths, weaknesses and if they have a shot vs. Louisville.
We ran team scouting reports on some of the top teams in college basketball back in January and early February. Now that we're down to four teams left vying for the title, it's time to reassess and get a grip on how each of the squads remaining can be beat. What do they do best? What are the wrinkles the casual fan might not notice?
Jeff Borzello gave you the scoop on Syracuse, and Matt Norlander covered Louisville. Now it's on to the Cardinals' opponent Saturday, No. 9 seed Wichita State. We've talked to four or five coaches and guys on staffs that have actually gone up against these teams this season, some inside their league and others outside, and as recently as this NCAA tournament. How should you attack Syracuse's 2-3 zone? What's Wichita State's biggest weakness? We'll find answers to those questions and many more.
Final Four
Related links
More college hoops coverage
Now, let's get to the Shockers.
Style of play
"Very physical on both ends. They can play fast, although not real fast. They are great on the boards. They haven't been a great shooting team all year, until the postseason. They are really, really long and big around the rim."
"They really guard you tough and kick your tail on the boards at both ends. They run ball-screen motion, along with triangle sets, mostly to get post touches. They have great depth and play with a toughness."
"Physical, smash-mouth and they will grind you yet they have the ability to push tempo. They are very good defensively."
"They are very aggressive at both ends of the floor. Offensively, they attack the rim and often times a missed shot is their best chance to score turning a 15-footer into a 2-footer. Defensively, they play physical man to man. Foul a lot and great on [defensive] glass."
Offensive strength
"The biggest thing is their offensive rebounding, but they also have depth and balance. They have four and now five guys that can get 18 or 20 points."
"They do a great job with transition off their defense and also take advantage of offensive boards. Cleanthony Early and Malcolm Armstead can create their own shot, and that makes them dangerous."
"They like to pound the ball inside and sometimes their best offense is a missed shot. When sets break down, Armstead has ability to make plays off high ball screen."
"They will find the open man. They don't have a dominant scorer, but have several guys capable of scoring."
Key player
"Malcolm Armstead. He controls the ball and is a very good shooter. He can also get to the rim. He makes big shots and big plays, as you saw against VCU. He's really physical."
"Carl Hall. He's a tough guy and also a leader. He's their best defender and rebounder, but Armstead has elevated his play in the postseason and starting (Ron) Baker has helped them"
"Armstead. He controls the tempo. Hall is rock solid and consistent, and Early is clearly their most talented guy that creates matchup problems. But to me, Armstead is the guy you need to stop if you want to beat them."
"Armstead is only guy that can get his own consistently. He's best when he can get in the paint off ball screens. Double-teaming the ball screens or hard hedges bother him."
Weakness
"It was their shooting. They had been shooting 33 percent as a team, but Baker didn't play a lot and he's made a huge difference. They've shot it really well lately, so I'm not sure if that's their weakness now. It may be low-post scoring. They don't have a back-to-the-basket guy. Carl Hall uses angles."
"You need to make them beat you with the 3-pointer. Adding Baker has helped and their shooting has improved, but still ... they aren't a great shooting team."
"Outside shooting, although they have shot it well in the tourney. Baker coming back has really helped them, especially in the tournament."
How to stop them
"Keep them out of the lane and off the boards. If they are making 3s, you have to extend your defense on certain guys. You have to keep them out of the lane, because if you don't it'll lead to offensive boards and open shots."
"You have to contain Armstead penetration. You can't give open 3s to Early and Baker. You have to battle them on boards and you can't put them on the line."
"What you need to do is pack the paint and make sure, the best you can, to keep the ball out of the paint. You need to limit post touches. If you get them to miss, you must get the rebound. One and done."
"Pack it in the paint and make gang defensive rebounding your top priority. They have to score on garbage baskets and broken plays to be effective."
How to score on them
"They aren't great on ball-screen defense and aren't great laterally. I think they'll really struggle to guard Louisville because they run so much ball-screen."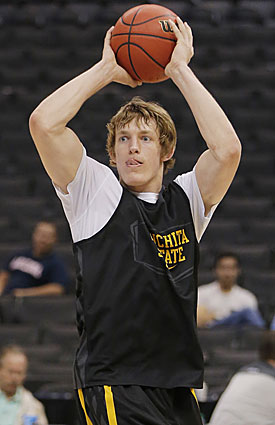 "Attack their press to score when they press. We took their bigs away from the basket and spread the floor. You need to ball screen them when they go big. Go at Early and Baker."
"Their bigs can be put in ball-screen action. Attack Early and make him defend."
"Be patient. They like to gamble and use their physicalness to create turnovers. ... If you can make them defend for a decent period they can break down and get impatient."
Ultimate concern
"Their dominance on the glass and their physicality. They really get after it and you have to match their toughness and physicality."
"Battling them on the glass is clearly the biggest concern."
"Clearly keeping them off the glass. Keep them from making runs because they are capable."
"Allowing them to physically punk you. They are one of the toughest teams in the nation and they fully expect to win when the jump ball is tossed. They won't play scared so you have to beat them."
Can they beat Louisville?
"I don't think so, but that's no disrespect to them. Louisville is playing at a different level. I don't think anyone can beat them right now."
"Yes, they can beat Louisville with multiple ball-handlers against the press and pressure."
"Yes, but must control tempo which won't be easy against Louisville."
"I don't think so. Everyone will be rooting for it, and if it's close late Cleanthony Early, Armstead and Hall all have major-league swagger. They can make a winning play if it's close. But I don't think they will get it done."
How good of a coach is Gregg Marshall?
"He's a really good coach. People in the league don't like him, but he has those kids playing with toughness. It took him a little while, but he's developed a culture now."
"Marshall has a great associate head coach in Chris Jans, but hell yes he can coach. They play hard and compete."
"Very good. He gets those guys to play extremely hard -- and that's his best asset."
"He is damn good coach. He's won a ton of games off good talent that he gets to play tough. Their injury situation was unreal this year and they still found a way."
Leftovers
"They can sub without losing any physicality or toughness. They have enough scoring and talent that they can go to the bench and they don't lose that much. [Marshall's] depth is huge -- and so is their overall toughness."
"They are talented and deep. [Demetric] Williams is all-time winningest player and comes off the bench. They won't be intimidated."
Show Comments
Hide Comments
Shareef picked Arizona over UCLA, USC, LSU and others

Stephen Curry, Damian Lillard, C.J. McCollum and Ian Clark didn't come from college powerhouses,...

The four-year player at VCU will try and make the Colts as a tight end
Letting teams open on a Friday in football season has never made sense

College basketball's season could start earlier

Allen will enter his senior season as the most famous college basketball player in years