Scouting title contenders: Florida
Florida has been steamrolling through most of the SEC season, but are the Gators a true title contender? Coaches break them down for us.
by

Eye on Col Basket staff

• 12 min read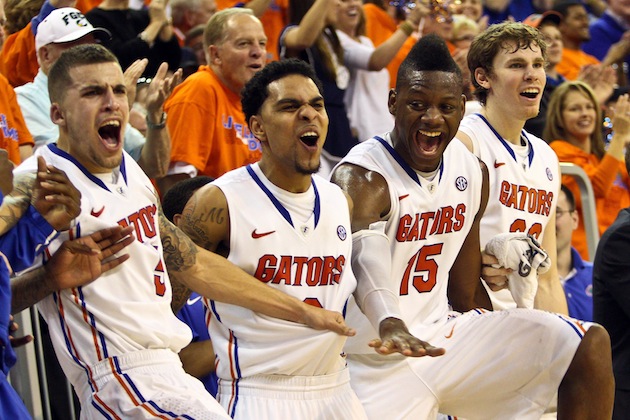 Florida has rolled through most of its opponents in SEC play, with each of its wins coming by at least 14 points. (USATSI)
By Jeff Borzello and Jeff Goodman
Watching a game, we all think we know the best way to score on Louisville or a couple of strategies to slow down Michigan. But what about the guys who get paid to figure out that stuff -- what do they think?
Over the next six weeks, CBSSports.com college basketball writers Jeff Goodman and Jeff Borzello will go through the national championship contenders and attempt to answer that question. For each team, we will talk to four or five coaches who played those contenders this season, and get in-depth insight into each title threat. How should you attack Duke? What's Kansas' weakness? What concerns you about Indiana? We'll find answers to that, and much more.
This week, we take a look at Florida. (Past scouting reports - Duke | Louisville | Michigan | Kansas | Indiana)
Style of play
"They're really reliant on efficiency from the 3-point line. They like to get out and push the basketball because when it comes down to it, they have three point guards starting. They push the ball and [Erik] Murphy is such a 3-point threat, so they spread you out. Defensively, they're really locked in."
"Offensively, they've been very difficult to guard because there's a number of things that they do. They've got a four-man who can really stretch the floor, which is another thing you have to deal with. They present problems. Defensively, quite honestly, they're a lot better than they've been in past years."
"They are as good of a passing team as I've seen in the country this year. The execution, their ball movement and spacing are always tremendous. They don't necessarily have a star, but they have so many good pieces. They stretch you with shooters, they are always driving and putting you in defensive rotations. They really share the ball." 
"Fast. Up-tempo. They mix man-to-man and plenty of zone this year. They don't press as much now that [Will] Yeguete is out. But they play up-tempo and shoot a lot of 3's." 
Offensive strength
"Donovan loves to have them shoot the 3-point shot. They have by far the best talent in the SEC, but they're also the most unselfish team in the SEC. They do a great job of passing the ball. When you look at [Kenny] Boynton now from where he was, you take what he's doing now, every day of the week."
"They shoot the 3 really well. They've got such a variety of things, schematically, that they're doing. That's one issue. They've got really good players that they're doing it with. That's another issue. And three, they can stretch the floor. On top of all that, they run their offense in a way that's full-steam. They don't just play around. When they go, they go hard. They'll leave you in the dust."
"Their ability to shoot the 3 is obvious. They can really play in space and get the ball moving. They are so unselfish." 
"Shooters. There are times when all five guys on the floor can shoot it. Even when Patric Young is out there, they usually have four other guys who are able to knock down shots. There aren't many teams in college basketball like that. Their guys are really good at sprinting, stopping and shooting the 3 -- and that's not easy to do." 
Key player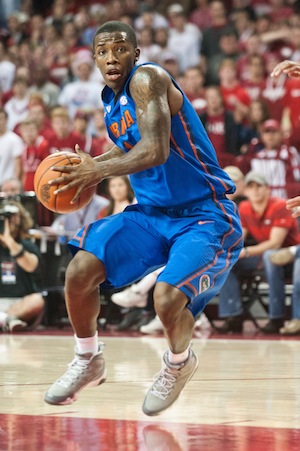 Boynton needs to be consistent for Florida. (USATSI)
"I think it's Yeguete. If he's not able to come back and play for them, they're really vulnerable on the inside. Young is prone to foul trouble, and Murphy doesn't want to do the work down low. Yeguete can come in for both of those guys and defend the post, or go out on the 3-point line and pressure the basketball."
"I guess the flavor of the month is [Scottie] Wilbekin. He's been awfully good for them, maybe the most improved player in the league. The only thing that they don't have is depth. If Wilbekin were to have the flu or a sprained ankle or foul problem, that could be an issue for them. All that being said, Wilbekin is probably the biggest key for them. If they've got to play without him, I don't know what they would do."
"Erik Murphy. He always opens up the floor for the rest of the guys -- Boynton, (Mike) Rosario and Scottie -- to get up 3's. He's in every screening situation and he puts every team in scramble." 
"Murphy. When he's on, they are really, really tough to beat. Usually, two of their three guards are going to play well. But when Murphy is on, hitting shots and is active, it takes them to another level, He's a pick and pop guy who is extremely difficult to defend." 
Primary weakness
"If they're taking too many 3-pointers and not hitting. They're in love with the 3-point shot. You can switch all their ball-screens, to make Murphy less of a threat. And you have to limit their opportunities from the 3-point line, because they don't have a lot of isolation/breakdown guys. And Young isn't that good in the post. They live and die by the 3."
"I don't know what you're going to pick apart offensively, and they guard you so well, so I think it's depth. Another thing is they haven't been in a bunch of highly-contested games. You look at Miami, and they've been in close games. What does Florida do in a game like that?"
"Low-post scoring. They just don't really have anyone that can manufacture a hoop with their back to the basket." 
"Depth and physical play. Patric Young is physical, but they aren't very physical other than him." 
How to stop them
"They get a lot of 3s in transition. You have to be locked in defensively, no jail-breaks or breakdowns defensively. Second thing is the switching. Anytime you guard a guy like Erik Murphy, the only way to guard it without putting in bad rotations is switching. If you have a 4-man who can switch to a point guard, that's by far the best way to guard them. Any other way – hedging, not switching – you're putting yourself in bad rotations."
"It's hard. The problem with Florida is that your ball-screen defense has to account for Murphy. Your defensive game plan for Florida is very detailed. You can't simplify it, because they have so many different weapons."
"You have to be extremely physical with them, you need to be able to recover and almost make them 3-point happy. Take away their dribble-drive and be able to close out and make them take contested 3's. Ultimately, though, you need to be physical with them. That's the whole key. Score at them at the rim. Go at them." 
"Pressure their guards. Get up in them and pressure them. You can't lay back. You have to get after them and take them out of their comfort zone. They pass the ball so well and it's flying around. When things are rolling, they play beautiful basketball." 
Best way to score on them
"You can drive Murphy if you have a perimeter four. I think you have to attack Murphy. I think the other thing is that Young is a really good defender, but you have to throw the ball inside and get him into foul trouble. They don't have a deep rotation of post guys."
"If I had a big post player, I'd throw it in there and make them defend. How many times are they going to defend without fouling? I think that's where you go with the ball first. I don't know that Murphy is going to be good against a strong, powerful, athletic guy down there in the block."
"Put them in screening action and reverse the ball to get your big on the block. You want to try and get Patric Young helping, and take him away from the rim. That makes them extremely vulnerable." 
"Pound it inside. They have Patric Young, but with Yeguete out, they don't have another physical player. If Patric gets into foul trouble, you have a chance." 
Ultimate concern
"First of all, it's transition. Their transition leads to 3-point shots. They run and jump in their press, and bad ball-handling teams turn defense into offense for them. So it's their transition and defense leading to turnovers. And in the half-court, what are you going to do with the ball-screen with Murphy?"
"I think there's two things. Their press is a concern. You've gotta get the ball in the frontcourt if you want to have a chance to score. And their ability to shoot the 3. Those two are the biggest issues."
"Getting run out of the building. They can really get going from 3-point range. You can't turn it over, and you have to handle their press -- that really gets them going." 
"They can score it so quick and get on runs because of their ability to shoot the 3. They have so many guys that can shoot it, so it's tough to stop them." 
On their go-to-guy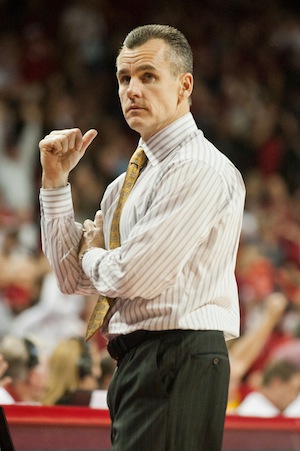 Donovan has his time clicking right now. (USATSI)
"I would want Wilbekin to have the ball in his hands, because he's going to make the right decision. I don't trust Boynton to make the right decision. Wilbekin is going to find the open man or finish, the right decision."
"You might be onto something there. I couldn't stand the shot Boynton took last night, and it was like he was being funny with the shot. I have no idea what they called in the huddle, or what they were trying to run. And we're singing Wilbekin's praises, but he hasn't been in that position. The one guy who can make a dagger is Murphy. He's the guy, for me, when he rises up and shoots one, he's going to make it. The trick of that is how to get the ball to your four-man for a jumper. I lost some trust in Boynton last night."
"Rosario. He's got a set of nuts on him. Boynton thinks he does, but it takes too much just for him to get a shot off. Rosario is a really good player -- especially on the offensive end." 
"Boynton. He's got big balls and has made big shots before. I know he missed the one against Missouri, but do I want Wilbekin, Murphy or Rosario taking the shot? Probably not. Boynton is older and has been around." 
On

Will Yeguete

's injury
"I don't think there's any way they can make a run to the Final Four without him. Young is going to get in foul trouble, and Murphy is forced to defend a physical post player, and I don't think he's willing to do it or can do it. And [Casey] Prather is not as effective as Yeguete coming off the bench. I don't see it happening."
"I think it hurts. If nobody gets hurt, nobody gets sick, nobody has foul problems, you're probably OK. Prather can pick up some of the slack, but he's more perimeter-oriented than Yeguete. That could be an issue before everything is over for them. The one thing to keep in mind, the timeouts are so long in the NCAA tournament, you can shorten your bench a bit. That doesn't help with fouls or injuries, but it does with conditioning."
"He's the best role player coming off the bench in the entire country. He plays with so much energy, is terrific defensively and rebounds the ball. He's so aggressive on the front of their press and changes what they are able to do. They need him back to make a deep run in March." 
"They won't win it all -- or even get to the Final Four -- without him. They aren't all that tough as a team, and need him for defense and toughness." 
Leftovers
"Their coaching staff does a tremendous job of scouting. Our players were coming to us saying, 'Coach, they know all our plays.' 'Well, no shit.'"
"Murphy isn't great in the post, but he's so difficult to prepare for. When you switch a point guard on him, he can score in the post. And he can shoot."
"Wilbekin is so good defensively. He chased around Marshall Henderson and never got screened; we didn't have anyone who can do that. He's terrific defensively. On the ball, off the ball, doesn't matter."
"Young is older and that helps him, and he's stronger and that helps him. And there's not a lot of good post players in our league. Who's got a post player that's really a threat to him?"
"They are great in terms of perimeter defense. Wilbekin is a terrific on-ball defender. He's strong and physical -- and he's the one who sets the tone for them. If they didn't have Wilbekin and Patric Young, they couldn't do anything defensively." 
"I worry about Florida in the tournament because the SEC is so, so bad. They don't get pushed night in and night out -- not like the Big Ten and the Big East. I'm afraid it's going to be like Gonzaga -- and the league hasn't prepared them well enough to make a run when it counts." 
"They are a prime suspect for early departure in the tournament. They peaked early, and teams have started to figure them out a little bit. They aren't physical and aren't deep -- especially without Yeguete. Can they make the Final Four? No question. They can also get beat early and it wouldn't shock me at all." 
__________________________________________________________________________
For more college basketball news, rumors and analysis, follow @EyeOnCBB on Twitter, subscribe to our RSS Feed and subscribe to our College Basketball Newsletter. You can follow Jeff Goodman on Twitter here: @GoodmanCBS and Jeff Borzello here: @jeffborzello.
Show Comments
Hide Comments
A likely All-American, a big-time NBA prospect and an important X-factor to test draft wat...

Kentucky is losing 95 percent of its offense with all of its NBA talent and outgoing senio...

The former five-star recruit has not yet hired an agent
Shareef picked Arizona over UCLA, USC, LSU and others

Stephen Curry, Damian Lillard, C.J. McCollum and Ian Clark didn't come from college powerhouses,...

The four-year player at VCU will try and make the Colts as a tight end