Scouting title contenders: Indiana
How do you go about beating Indiana? The Hoosiers have plenty of scorers, and they're starting to defend. Let's find out.
by

Eye on Col Basket staff

• 13 min read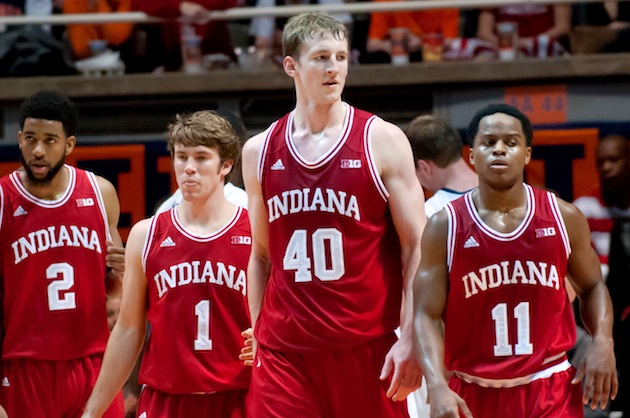 Indiana came into the season as the preseason No. 1 team, and now it's back atop the rankings. (US Presswire)
By Jeff Borzello and Jeff Goodman
Watching a game, we all think we know the best way to score on Louisville or a couple of strategies to slow down Michigan. But what about the guys who get paid to figure out that stuff -- what do they think?
Over the next six weeks, CBSSports.com college basketball writers Jeff Goodman and Jeff Borzello will go through the national championship contenders and attempt to answer that question. For each team, we will talk to four or five coaches who played those contenders this season, and get in-depth insight into each title threat. How should you attack Duke? What's Kansas' weakness? What concerns you about Indiana? We'll find answers to that, and much more.
This week, we take a look at Indiana. (Past scouting reports - Duke | Louisville | Michigan | Kansas)
Style of play
"They have a fast-paced style, really successful in transition. The guards do a great job of pushing tempo, pushing pace, either with the dribble with the pass. Attack, attack, attack. They do a good job of playing with freedom. Any team that has that type of freedom with talented players is a tough combo."
"They're probably one of the fastest teams, pace-wise, in the Big Ten. They want to get transition baskets, off makes, misses and turnovers."
"The main concern was transition, how quickly they run the floor. It starts with [Cody] Zeller, and Yogi [Ferrell] pushes it so well. He's such a good facilitator and they have those guys running on the wings. And you have to be aware of [Christian] Watford trailing."
"Their individuals are very fast and athletic. From end-to-end, one of the top two or three fastest teams in the country. They push the ball so well. Transition is a big part of what they do, they space the floor out. Solid cast of drivers, and guys who can kill you with 3-pointers."
Offensive strength
"They have five guys that can shoot the basketball and stretch the defense. And they combine that with guys that can drive. You have to guard the 3 and the bounce, and then throw in a 7-footer who can score on the block. They have such versatility."
"Their balance and they have two of the better players in the country. They have inside-outside, you can't key on the perimeter or inside."
"They can score at every position. They're very explosive offensively. That's why you have to do whatever you can to make them play against a set defense. They're not as good in a halfcourt set."
"Their ability to get the ball in the paint with the dribble. Once you're in the half-court -- and more and more teams are changing up their defense and rebounding schemes to get back, so you're going to see them more and more in the half-court. In the NCAA tournament, the scouting takes a hit because it's unfamiliar. It will be the same this year in the tournament, with a track meet. They're so fast." 
Key player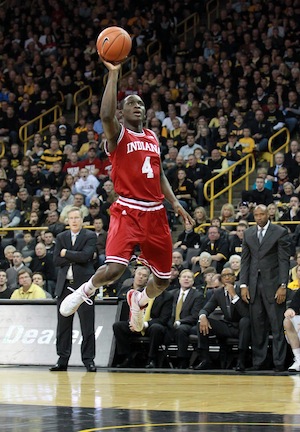 Oladipo is a game-changer at both ends. (US Presswire)
"I think Christian Watford is pretty key. He's so talented. When he's shooting the ball well and making 3s in transition or off kick-outs, or posting up. Just being aggressive. When that happens, they're really tough. You know what you're getting with Zeller and Oladipo. It's a three-headed weapon when Watford is bringing it."
"I think the X-factor is Zeller. He just makes everyone better, he just demands and draws so much attention. The one that's surprising is that they're so balanced that they don't try to force him the ball. But he plays well off those other guys as well."
"I think Jordan Hulls is the key. Everyone talks about all these other guys, but I think Hulls is the major key. If you can take him out of the game, it puts pressure on some other guys. Not allow him to get any open looks from 3; it forces other guys to step up and make some plays. You also have to keep somebody in between Zeller and the basket at all times. Can't let Yogi and [Victor] Oladipo drive the lane and get dump-offs. Make him score through you."
"They're a Final Four-caliber team. If you take one guy of the lineup that prevents them from being that, it's Zeller. He makes a huge difference. I would say he's the key. But as you look at it, Watford is starting to play a lot better. Oladipo's energy and intensity causes problems. You have to call plays away from him or get him in foul trouble. Be aware of where he's at at all times."
Primary weakness
"The only thing I could really say is that Zeller can get lost offensively. They don't just jam it down there. I don't know if that's a negative because they have other guys that can score. In the Ohio State game, they made it a point to get him the ball. When you've got other guys that can score, though, you can get away with it. Any team that has a big guy like him, it's an issue when he gets going."
"Defensively. They're better than they were last year, but I still think they're not great guarding people off the dribble. They play the zone to try to hide their weakness of not being able to guard the dribble. But it changes you up, makes you uncomfortable."
"That's tough. They're the most talented team in the country and Oladipo is the best defender in the country. He's got such a combination of length and athleticism, and he puts a lot of pressure on you. But if there is a weakness, it's that they can be driven on the perimeter, aside from Oladipo. You have to be able to attack Hulls and Yogi. It's much easier on them than Oladipo. And you have to force Zeller to guard."
"They go to that zone randomly in the middle of a play. Sometimes they're unsure of what they're trying to do defensively because they change a lot. They give up shots. Offensively, Oladipo has to be their go-to-guy -- but who's getting the ball when it's bucket time?"
How to stop them
"You have to slow it down. Unless you're as talented as them and you can afford to get into a track meet, I think you have to limit possessions. Obviously you have to control the paint. You can't let Zeller live with two feet in the paint. Make them work for post touches. Their guards do a great job of scoring in the paint, with ball-screens. If they're getting into the lane, it's tough. And I guess you've gotta hope they're not knocking down shots."
"Can't give up transition baskets, which is tough to do. They do a good job of getting it out, on a make or miss. They have multiple guys that can handle the ball. Get it into a half-court game, like Illinois and Wisconsin did."
"Get back in transition. You have to dictate tempo. That's the key when playing Indiana. You've gotta be able to score in transition, but when it's not, force them to guard. You've gotta be able to get back and force them to play in the halfcourt."
"Big part is stopping transition. Keep them out of the paint. The third thing is you want to contest all shots. Make sure Hulls isn't getting great looks, make sure Watford isn't getting great looks. Got [Will] Sheehey coming off the bench, and he's dangerous. When they don't score, they start looking around."
Best way to score on them
"I think you have to stick with what your base is. I think Wisconsin just did a good job of sticking with their stuff. Stick to what you've had success with, force them to have to guard. You have to be proactive against really good teams. If they dictate at both ends, it's tough. Obviously Oladipo is a different type of guy, but maybe you can take advantage of Hulls or Yogi."
"Move them around. Drive and kick. I think Zeller doesn't want to foul inside, so if you have a big guy, you can throw it inside. Get some transition baskets, and make them work in the half-court. Be opportunistic in transition, because you don't want go up and down with them."
"Spread them out as much as you can. The teams that have been able to beat them, they've been able to spread them out and shoot from long range and then get back and drive off the bounce. Put them in rotations."
"Pound it inside and go right at Zeller and get him in foul trouble, or kick it out. They're not great getting back in transition. And bang Hulls because of his size. Go inside-out."
Ultimate concern
"Transition defense. They do such a good job of making that throw-ahead pass, and then they're right in attack. And they have really good spacing and guys that can shoot. Before you know it, those guys are spotting up for wide-open 3s. So it's getting back and locating out to the 3-point line. They're really good when they're flying up and down and getting into space."
"Transition. They have multiple guys that can rebound the ball and start the fast break, and guys at the other end who can shoot the 3. Zeller does a great job of running the floor. If your bigs don't run, he's going to create open shots because he commands attention."
"Their explosiveness offensively. They can score at all five positions. I'm not sure how many teams in the country can score at such a high level. They're really good, they play smart, they share the ball. They're the most talented team in the country."
"Getting blown out of the gym. You think of Indiana, you think of their transition game. They're more prone to get bogged down because they put such an emphasis on their transition game. Their half-court game takes a back seat. Take away their transition game, they're not as efficient in the half-court. Gotta slow them down."
Tough enough to win a title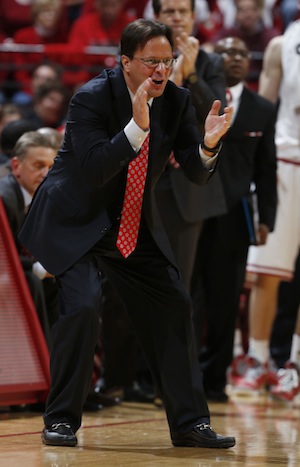 Crean is instilling a killer instinct in IU. (US Presswire)
"I think so. Coach Crean has been there before with Marquette and I think he knows what it takes. In terms of preparation, how you're going to practice down the stretch, when to rest guys, game-planning. He just does a good job. When you've got competitive kids that feed off that culture, that helps. And they made a run in the tournament last year, so they know what to expect. And they have all the pieces. They've got it all."
"I think that's the biggest question. Can they do it on a big stage against elite competition? If you look at the early-season games, they had a lot of blowout games. Once you get into league play, games are going to be closer and tighter and you're not ready for that situation. I think they can change that. It's a game-by-game deal. The thing about them is that they have a couple of really good seniors, plus Sheehey and Oladipo are experienced juniors."
"That's the ultimate question. They've never been blown out, they've lost in close games. And they've won close games. You want to get to the point at the end of the game where you have a chance to win."
"They've got kids that you know what you're going to get from them. Watford and Sheehey are still trying to be consistent, but guys like Hulls, Zeller and Oladipo and Yogi, they bring it everyday. They have a tendency to have defensive lapses, and that's where they get exposed. Look at the Illinois game, a couple of defensive mistakes that will be corrected as guys continue to understand their roles."
On their go-to-guy
"Watford has made some big shots and he's such a mismatch. And they have a lot of confidence in Jordan Hulls. He's got that moxie, he's crafty. He doesn't have fear. But it's almost a crapshoot on who they're going to go to."  
"If you look at the Illinois game, Oladipo turned it over. I think the guy would be Zeller – if they can throw the ball to him."
"You've gotta go to Zeller on the inside. On the perimeter, Oladipo is a tough matchup. He can make some things happen. Jordan shoots it so well, Yogi can get by you off the bounce. Which matchup do they try to exploit? And it may change game-to-game for them."
"In a perfect world, it's Zeller. And they're trying to do it a little bit more. You've gotta have a go-to-guy. Who's going to get them a bucket or get to the foul line? Who's going to make a play?"
Leftovers
"I get depressed watching tape of them."
"I don't know if you can take Oladipo out of the game defensively. Either he's going to guard your best player, or he's just going to be really effective away from the ball. He's going to make his presence felt. We tell players to pass-fake, be ball strong, but it is what it is. Be prepared for it."
"What Crean has done at Indiana is remarkable. From the position when he took it over to the No. 1 team in the country in the time-frame he's done it, is remarkable."
"They sometimes just play the zone just for a change of pace. They'll show a couple possessions of man, then they'll jump into the zone real quick. It's almost like their press. Just gives teams another thing to prepare for."
"I don't think Watford can handle not being a go-to-guy. But I think Crean has finally convinced him he needs to bring it when he plays."
"They don't lose anything when they go to the bench. They legitimately get better. They can rely on it in their back pocket. The things that Sheehey brings usually gives them a huge boost."
"The biggest thing with Oladipo is that he's a high-energy guy. He's not great fundamentally defensively, but he plays so hard and he's so quick. He disrupts and gets steals. Box him out, not let him score in transition."
"Oladipo has the unique ability to control a game on the defensive end. And I don't think I've seen that in awhile. Put him in positions where he has to guard. Over the course of 40 minutes, can you get him to break down? He's the best defender in the country, and it's not close."
"You can't let Watford catch and shoot rhythm 3s. You can't let him trail on the break, you can't let him spot up and get catch and shoot 3s. Force him to put it on the deck."
"I don't think Yogi has to be that good for them. He will be counted on to hit shots and make some plays, and he's good defensively, but I don't think he really has to do much with the surrounding cast he has."
___________________________________________________________________________
For more college basketball news, rumors and analysis, follow @EyeOnCBB on Twitter, subscribe to our RSS Feed and subscribe to our College Basketball Newsletter. You can follow Jeff Goodman on Twitter here: @GoodmanCBS and Jeff Borzello here:@jeffborzello.
Show Comments
Hide Comments
Motley, who averaged 17.3 points and 9.9 boards, is projected as a borderline first-rounde...

Sharpshooter's return figures to send the program to a place it has been only once before
Gary Parrish and Matt Norlander also discuss UNLV's recruiting class

The five-star big man is part of a surprise late-period recruiting coup by Marvin Menzies

It's time for random observers to stop being outraged by players' decisions