Selection committee faces interesting cases come March
After spending two days in Indianapolis, there were several eye-opening resumes and issues when it comes to certain teams.
• 5 min read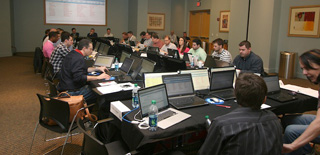 There were plenty of difficulties sorting out the team resumes given to us in Indianapolis. (NCAA)
The NCAA tournament selection committee is not going to have an easy time with the Field of 68 this season (not that they ever do). That became very apparent during my two days at the mock selection exercise last week in Indianapolis. I already went through the three primary things I learned about the process and selection of teams, but now it's time to look a little closer at the specific teams. 
Because I have been doing brackets for more than a decade, and still do them over at Busting the Bracket, I had a good idea about what each team's resume looked like. Or I thought I did. After examining profiles for 15 hours, there were several eye-openers.
Note: Here is the complete bracket.
Illinois Fighting Illini : I went into the week thinking that Illinois was in the field but at best a No. 9 or No. 10 seed. As we kept comparing the Fighting Illini, though, it was clear they had a better resume than most teams. They have five top-50 wins, with all five coming against the top 30. There are road wins ( Gonzaga Bulldogs and Minnesota Golden Gophers ), neutral wins ( Butler Bulldogs ) and marquee victories (Indiana). Given their solid computer numbers, it's easy to overlook the losses to Northwestern Wildcats and Purdue Boilermakers . 
Ohio State Buckeyes State" data-canon="Ohio Bobcats" data-type="SPORTS_OBJECT_TEAM" id="shortcode0">: The Buckeyes have been a No. 3 or No. 4 seed for most of the last couple of months, but we had them as No. 6 seed. Why? Well, they simply don't have a great resume when compared to other No. 4 and No. 5 candidates. There are no bad losses, of course, but 14 of their 18 wins are against teams ranked 100 or below. The wins over Michigan Wolverines and Wisconsin Badgers are great, but after that? Iowa Hawkeyes and Washington Huskies are the only other top-100 wins. That's not very good. 
Michigan State Spartans : Before Michigan won the Big Ten tournament in our fantasy world, beating Michigan State and Indiana, it was the Spartans who received the final No. 1 seed in the bracket. Originally, Florida Gators was chosen -- but when compared to Michigan State during the "seed scrub" process, it wasn't all that close. The Spartans have a top-five RPI, seven top-50 wins -- including victories over Kansas Jayhawks and Michigan, as well as a road win at Wisconsin -- and no losses worse than a season-opening defeat to Connecticut Huskies in Germany. Plus, they've been banged up all season. Come Selection Sunday, don't be surprised to see Michigan State on the top-seed line. 
Virginia Cavaliers : This is going to be the most talked-about profile heading into Selection Sunday. But as Seth Davis put it during the mock exercise, the Cavaliers' profile looked like a juggernaut compared to the other bubble teams. Sure, there were the six sub-100 losses, but nearly every mock committee member valued good wins over bad losses -- and Virginia was 6-0 against the top-100 heading into the weekend (they have since lost to North Carolina Tar Heels ). Virginia will be an interesting case.
Kentucky Wildcats : This is going to be an issue for the committee. With Nerlens Noel in the fold, the Wildcats had a bubbleish profile, with a win at Ole Miss Rebels highlighting the ledger. With Noel done for the season, though, the committee will have to pay attention to what Kentucky has done sans Noel. So far, there's been a 30-point loss to Tennessee Volunteers . The Wildcats have to play themselves into the Dance during the final stretch.
North Carolina: This was another resume that was surprisingly bare. The Tar Heels have a nice win at home over UNLV Rebels , which doesn't look all that great anymore. There are good computer numbers, but they struggle away from home and also have an 18-point loss at Myck Kabongo -less Texas Longhorns . Outside of the UNLV win, there was nothing on the profile that screamed "at-large team." The win over Virginia on Saturday helped, but there is work to do.
California Golden Bears : Heading into the week, I assumed California was barely a bubble team. They weren't in any projected brackets, and I had them at least 10 or 12 spots away from the field in my last projection. Then they won at Arizona Wildcats and beat UCLA Bruins -- and suddenly, the Golden Bears had a better resume than many bubble teams. Cal now has a road win at Arizona and two more solid wins over Oregon Ducks and UCLA -- along with no bad losses and a 7-5 record away from home.
SEC: What's the committee going to do with the SEC? Florida is the only lock right now, and it's not insane to think of no other teams as comfortable. Missouri Tigers is next in line, but the Tigers are 1-6 in away games and only have a couple of top-50 wins: Illinois and VCU. They'll probably get in, but it won't be easy. We've already looked at Kentucky, but Ole Miss has work to do too. There's a win over Missouri when the Tigers were without Laurence Bowers , and the SOS is terrible. Alabama Crimson Tide is compiling wins, but the Tide doesn't have much to love on their resume besides a good record. 
Missouri Valley: Is it crazy to say that the Missouri Valley could -- could -- be a one-bid league come Selection Sunday? Creighton Bluejays and Wichita State Shockers eking out close wins this weekend probably eliminated that chance, but they are making life difficult on themselves. Creighton has a couple of nice wins, but the SOS is poor and the bad losses were piling up. The same goes for Wichita State. Indiana State Sycamores had positioned itself as a potential third bid, but the Sycamores have suffered back-to-back bad losses.
Mountain West pecking order: After New Mexico Lobos as a top-four seed, and Boise State Broncos leading the bubble teams, what is the committee going to do with UNLV, San Diego State Aztecs  and Colorado State Rams ? I was a huge backer of the Runnin' Rebels heading into the week, but the profile isn't that impressive. The win over New Mexico and the sweep of San Diego State is nice, but they have trouble on the road and also have a bad loss to Fresno State Bulldogs . San Diego State has been swept by UNLV, but also beat New Mexico, Colorado State Rams and UCLA. As for Colorado State, the Rams might have the best profile of them all. The RPI is great, they have a couple of good home wins in MWC play -- but the best nonleague wins are over Denver Pioneers and Washington.
Charlotte 49ers : The 49ers aren't in the field yet, but they are way closer than I thought heading into the process. The computer numbers aren't all that impressive, but they own a key road win at Butler that most bubble teams don't have, as well as home wins over La Salle Explorers and Massachusetts Minutemen . The road loss at George Washington Colonials isn't good, but they're certainly not the only bubble team with a bad loss. When comparing to North Carolina and Kentucky, the 49ers might have had the edge.
For more college basketball news, rumors and analysis, follow @EyeOnCBB on Twitter, subscribe to our RSS Feed and subscribe to our College Basketball Newsletter. You can follow Jeff Borzello on Twitter here: @jeffborzello
Show Comments
Hide Comments
Our Latest Stories
Trimble and the Terps didn't have enough to defeat the Badgers

Three arrests resulted from the fight between Daniel Webster and Southern Vermont players

Gonzaga wins and remains No. 1. Baylor stays No. 4 despite falling to No. 3 Kansas
Meanwhile, Syracuse's path to the NCAA Tournament gets harder, as does Michigan's

With the game in hand, the Bruins were gunning for a hundred and reached the mark

LaVar Ball didn't shy away from his stance that his son is better than the Warriors' star