Sixteen-team Nike event in the works for 2017
We could be seeing the best non-conference event of all-time in a few years. ESPN.com is reporting that 16 Nike-sponsored schools have committed to a two-tournament event in 2017.
• 1 min read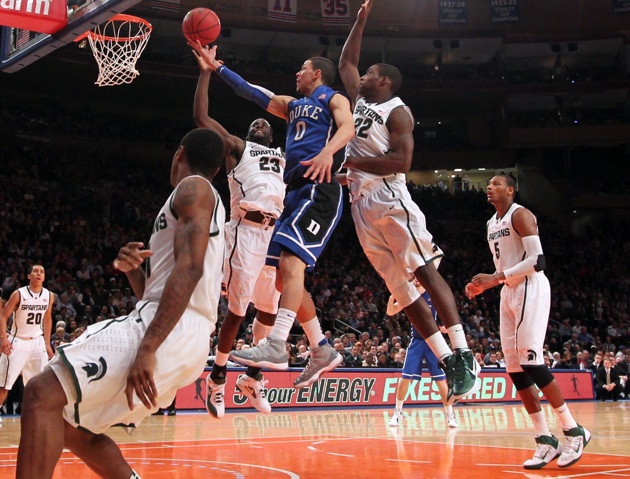 Michigan State and Duke are two of the 16 schools to commit to a blockbuster Nike event in 2017. (US Presswire)
Well, this is all sorts of awesome – even if it is five years away.
ESPN.com reported on Thursday that 16 Nike-sponsored schools have committed to a two-tournament event to honor company co-founder Phil Knight's 80th birthday.
The schools include Michigan State Spartans , Kentucky Wildcats , Duke Blue Devils , North Carolina Tar Heels , Ohio State Buckeyes , Florida Gators , Connecticut Huskies , Texas Longhorns , Georgetown Hoyas , Butler Bulldogs , Xavier Musketeers , Gonzaga Bulldogs , Oklahoma Sooners , Stanford Cardinal , Oregon Ducks and Portland Pilots .
Michigan State athletic director Mark Hollis – one of the main people in charge of last year's Michigan State vs. UNC game – was organized the event, which would take place in Portland, Ore. – home of Nike – in November of 2017. Knight's birthday is Feb. 24, 2018.
According to Andy Katz, there would be two eight-team tournaments because schools from the same conference cannot play in the same non-league events. Moreover, Hollis told Katz that it wasn't Nike or Knight's idea; the schools' athletic directors did it.
The logistics and details haven't been worked out yet, as there are still various ideas being thrown around.
"What we're doing is creating the greatest in-season basketball event of all-time," Hollis said.
Right now, the best events are the ones with four or five really good teams, and then maybe two solid teams. This Nike event would have potentially seven or eight top-10 teams, and perhaps 12 of the best college basketball programs in the country right now. If it took place this season, seven of the top 20 teams in CBSSports.com's Top 25 (and one) would be participating.
It's already circled on my calendar.
Buddy Boeheim was so impressive at Peach Jam that Gonzaga offered; others showing interest

The truths and myths about the push for 2018's No. 1 recruit to play college hoops a year...

Here are the under-the-radar players who will have breakout seasons in 2017-18
Duke coach says sometimes troubled guard played hurt last season, adding, 'I'm really proud...

Michigan, Marquette, California, LSU and VCU are also in the 34th annual field

The expected rise of Missouri figures to be a storyline once they start playing for real