Spring signing period preview: Who else is on the board?
Nerlens Noel and Shabazz Muhammad aren't the only two marquee recruits still available. Here's a look at a dozen other players who have yet to make a commitment -- and where we think they will end up.
• 4 min read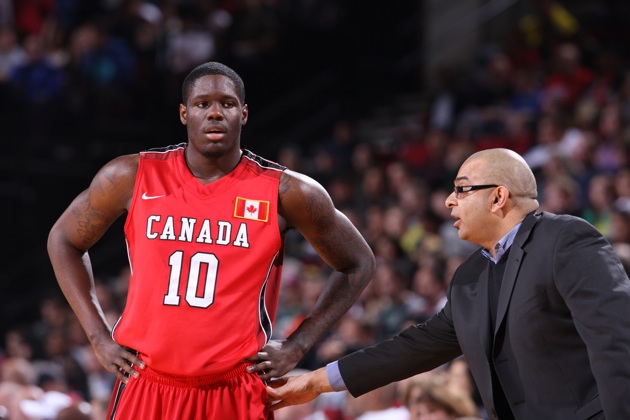 Outside of Nerlens Noel and Shabazz Muhammad, Canada native Anthony Bennett is the top uncommitted player. (NBA)
The spring signing period begins on Wednesday, and the decisions of Nerlens Noel and Shabazz Muhammad are the main highlights. Those are not the only two big-time recruits still on the market, though. It is uncommon for so many five-star recruits to be available – and wide open – this late in the process, but there is plenty to be sorted out over the next few weeks.

RELATED: Noel, Muhammad heighten excitement for spring signing period
RELATED: Updated Top 100 rankings

Here's a look at the best of the remaining players, outside of Noel and Muhammad, and our predictions on their next destination:
Anthony Bennett, 6-7, PF, Findlay Prep (Nev.)
Considering: Oregon, UNLV, Florida, Kentucky, Washington
Bennett is not likely to commit for another couple of weeks, and things are still unclear with him. He is just starting to take official visits, but it looks like Florida and Kentucky are the leaders.
Prediction: Kentucky
Amile Jefferson, 6-8, PF, Friends Central (Pa.)
Considering: North Carolina State, Duke, Kentucky, Villanova
Jefferson has seemed close to making a decision at several times in the past few months, but he hasn't been able to pull the trigger. Kentucky has turned up the heat, but Duke and North Carolina State seem to have the edge.
Prediction: Duke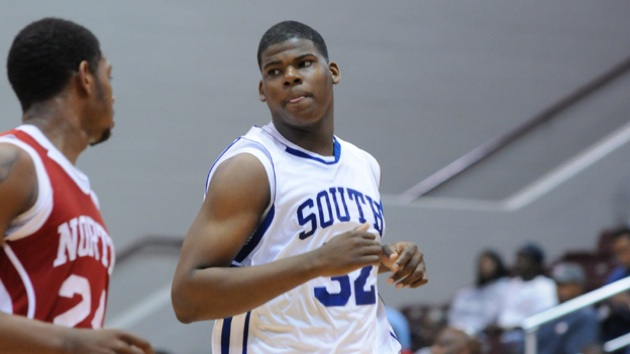 With so many twists and turns, t's tough to get a read on Tony Parker's recruitment. (NBA)
Tony Parker, 6-8, C, Miller Grove (Ga.)
Considering: UCLA, Kansas, Duke, Ohio State, Georgia, Memphis
Parker is another player whose recruitment has taken plenty of twists and turns in the past few months. He said last week that UCLA, Kansas and Duke stood out, but don't count out Georgia down the stretch.
Prediction: UCLA
Devonta Pollard, 6-7, SF, Kemper County (Miss.)
Considering: Alabama, Georgetown, Texas, Missouri
We haven't heard too much from Pollard in terms of recruiting, but he has taken official visits to Texas, Missouri and, most recently, Alabama. Pollard has one more trip planned, to Georgetown. It's tough to read this one.
Prediction: Alabama
Robert Upshaw, 6-11, C, San Joaquin Memorial (Calif.)
Considering: Louisville, Fresno State, Georgetown?, others?
Upshaw decommitted from Kansas State after head coach Frank Martin left for South Carolina, and things have been quiet for him since then. Louisville, Fresno State and Georgetown were the other finalists when he originally chose the Wildcats.
Prediction: Fresno State
Chris Obekpa, 6-8, C, Our Savior New American (N.Y.)
Considering: Cincinnati, Providence, St. John's, Connecticut, Oregon, DePaul
Obekpa is still taking his time with a decision, but has visited a handful of schools in recent weeks. Oregon is the only non-Big East school on the list, but he plans to take a trip to Eugene soon. This will be close, but Cincy, Providence and St. John's look to be the favorites. 
Prediction: Cincinnati
Torian Graham, 6-4, SG, Christian Faith Center Academy (N.C.)
Considering: North Carolina State? Memphis?
Graham has committed and decommitted to North Carolina State more times than we can count, and it's unclear where his recruitment currently stands. The Wolfpack are still involved, as far as we can tell.
Prediction: Prep/Junior College
Norvel Pelle, 6-9, PF, Stoneridge Prep (Calif.)
Considering: San Diego State, Iowa State?
After being ruled ineligible at St. John's, the California native decommitted and enrolled at The Phelps School in Philadelphia before moving to Stoneridge. He has been linked with San Diego State, but he needs to get his academics in order before signing.
Prediction: San Diego State 
Savon Goodman, 6-6, SF, Constitution (Pa.)
Considering: Temple, UCLA
The idea of prep school has been a major factor with Goodman since he decommitted from Villanova last summer, and it's looking more likely now. If not, hometown Temple remains an option.
Prediction: Prep 
Phil Nolan, 6-10, PF, Riverside University (Wisc.)
Considering: Missouri, Memphis, Tennessee, Oklahoma, Minnesota, Marquette, Clemson
Nolan has had a varying list throughout his recruitment, and it doesn't seem like he has narrowed it down much. Eligibility and academics have also been factors. Now that he's back in Wisconsin, could Marquette be the favorite?
Prediction: Marquette
Nino Jackson, 6-1, PG, Ardmore (Okla.)
Considering: Oklahoma State, Missouri
There's not much news on Jackson lately, although one of the regional schools (Oklahoma State, Missouri) could be an option if Jackson is eligible.
Prediction: Junior College
Michael Chandler, 6-10, C, Faith Baptist Prep (Fla.)
Considering: UCF?
Things are unclear with the former UCF commit at this point. We reported back in December that UCF had stopped recruiting Chandler, after the NCAA reached out concerning his association with potential agents and runners. 
Prediction: Junior College
Show Comments
Hide Comments
The former five-star recruit has not yet hired an agent

Shareef picked Arizona over UCLA, USC, LSU and others

Stephen Curry, Damian Lillard, C.J. McCollum and Ian Clark didn't come from college powerhouses,...
The four-year player at VCU will try and make the Colts as a tight end

Letting teams open on a Friday in football season has never made sense

College basketball's season could start earlier