Sun Belt tournament: Preview, prediction, TV info
Georgia State has rolled through the Sun Belt regular-season, and is the heavy favorite for the conference tournament.
• 2 min read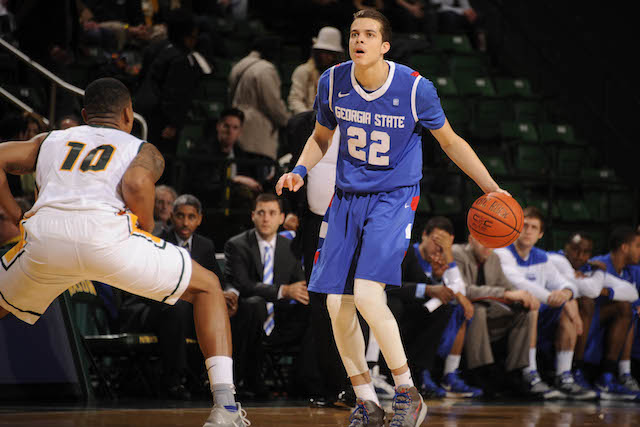 Latest in hoops: Top 25 (and one) | Bracketology | Bubble Watch
What: Sun Belt Conference championship.
When: March 13-16.
Where: Lakefront Arena in New Orleans
Bracket: View tournament field here.
TV: Championship game on ESPN2 (March 16, 1 p.m.). Opening round, quarterfinals, semfinals on ESPN3.
Last year's champ: Western Kentucky (20-16, No. 16 seed)
What matters: The Sun Belt has a unique bracket setup for its conference tournament, giving the top two seeds byes into the semifinals, the third and fourth seeds byes into the quarterfinals, and then having four more teams play in the opening round. Two teams don't make the conference tournament. Georgia State is the heavy favorite entering the postseason, rolling to a 17-1 record in the regular season. The Panthers' only loss since December 7 was a road defeat at the hands of Troy in mid-February. They have won 21 of their last 22 games. Western Kentucky lost four of its final eight games, but enter the tournament as the No. 2 seed, while UL Lafayette won eight of its last 10 contests -- with the only losses coming at Georgia State and Western Kentucky by a combined six points. Arkansas State lost three of its final four games to drop to the No. 4 seed.
Who matters: There is some very good individual talent in this league. It starts with Georgia State, who possesses two of the Sun Belt's best players in guards R.J. Hunter (18.5 ppg, 4.6 rpg) and Ryan Harrow (17.2 ppg, 4.4 apg). Hunter was the Player of the Year, and he is capable of getting hot from the perimeter, while Harrow is a former North Carolina State and Kentucky transfer who is difficult to handle off the bounce. Manny Atkins (14.6 ppg, 6.1 rpg) and Devonta White (11.8 ppg, 4.4 apg) were also named to the all-conference team. Lafayette has maybe the league's best inside-outside duo in Elfrid Payton (19.3 ppg, 6.0 rpg, 5.9 apg) and Shawn Long (19.2 ppg, 10.4 rpg, 2.8 bpg). Those two are good enough to carry the Ragin' Cajuns. Western Kentucky is led by T.J. Price (15.4 ppg, 4.4 rpg). Reger Dowell of Texas-Arlington (20.2 ppg) led the league in scoring.
Fun fact: 12.3 percent. Georgia State led the nation in offensive turnover percentage, meaning the Panthers turn it over the on fewer occasions than anyone in the country. The Panthers have multiple ball-handlers and playmakers on the perimeter, which makes them difficult to guard. Letting Hunter and Harrow get confident and comfortable early in the game could spell trouble for opponents. Moreover, the Panthers forced more turnovers than anyone in the league. Georgia State getting more possessions than its opponents is a huge boost. 
Prediction: Georgia State rolls to the automatic bid, beating Lafayette in the title game. The Panthers are clearly the best team in the league, ranking No. 1 in five offensive categories and five defensive categories at KenPom. They have the most talent in the conference, with Hunter and Harrow both capable of carrying the offense. Moreover, they are the hottest team in the league. In the bottom of the bracket, I think Lafayette knocks off Western Kentucky in the semifinals to create an intriguing title game. But all signs point to Georgia State winning the conference tournament and being a difficult Round of 64 opponent in the NCAA Tournament.
Show Comments
Hide Comments
Our Latest Stories
Duke is at Miami and Kansas faces a let-down situation on Saturday.

Tom Izzo's Spartans are looking to secure a profile-boosting victory over Wisconsin on Sun...

Florida puts its nine-game win streak on the line in a difficult road game at Rupp Arena on...
SMU's 10-game winning streak is on the line as it travels to UConn to face a hungry Huskies...

There's a little something for every kind of college hoops fan this weekend, and it'll get...

Syracuse's NCAA hopes are still alive and a win over Louisville would go a long ways to solidifying...