Syracuse freshman Tyler Ennis will declare for the 2014 NBA Draft
Syracuse freshman Tyler Ennis will forgo his final three years of college eligibility and enter the 2014 NBA Draft, the school announced on Thursday.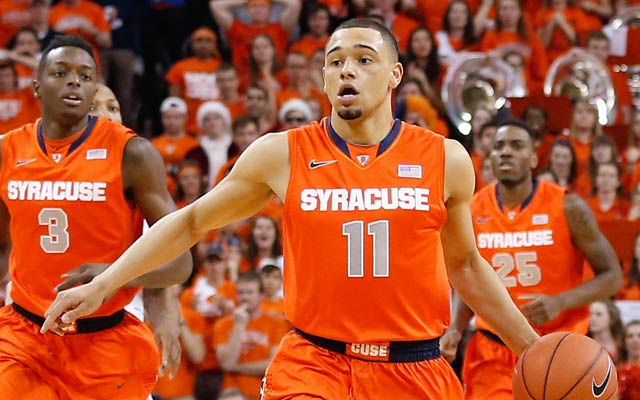 Ennis was a borderline top-25 prospect coming out of high school who flourished in one season while leading the Orange to a 25-0 start. The 6-foot-2 point guard averaged 12.9 points, 5.5 assists and 3.4 rebounds in 35.7 minutes per game. He's projected as a first-round lock who could go in the lottery. He's listed 19th in this mock draft.
Syracuse's season ended Saturday with a loss to Dayton.
The Orange finished 28-6.
Now coach Jim Boeheim will wait on a decision from Jerami Grant. The 6-8 forward is, like Ennis, a projected first-round pick. He averaged 12.1 points and 6.8 rebounds this season.
Buddy Boeheim was so impressive at Peach Jam that Gonzaga offered; others showing interest

The truths and myths about the push for 2018's No. 1 recruit to play college hoops a year...

Here are the under-the-radar players who will have breakout seasons in 2017-18
Duke coach says sometimes troubled guard played hurt last season, adding, 'I'm really proud...

Michigan, Marquette, California, LSU and VCU are also in the 34th annual field

The expected rise of Missouri figures to be a storyline once they start playing for real