Syracuse's wild ride continues and Jim Boeheim is enjoying every minute
Syracuse is off to the Elite Eight. Who could have thought this was possible? We know one man did. Jim Boeheim.
• 6 min read
CHICAGO -- There he walked, a slight hitch in his gait -- no smile of course -- ambling back to the Syracuse locker room. Dozens of media members flanked the outskirts of the hallway at the United Center. The Orange had just pulled off one hell of a comeback. Jim Boeheim had a crooked folded lip, a steady poker face as he barely looked up. He trailed his trusted fifth-year veterans, Trevor Cooney and Michael Gbinije, and as they all walked in, the celebration hit a new decibel level in the Syracuse locker room.
Just as the door on the far side of the narrow hallway was about to close to give the Orange a few minutes of alone time to rejoice, there it was. It happened. I swear I saw it.
Jim Boeheim, off to the side while the rest of his team huddled up and hooted, cracked a big smile.
You can show that smile off to the world, coach. This is the most Boeheim of things to ever Boeheim. Yes, I just used Boeheim as a verb, because of course Syracuse is doing this. This season has become the most unlikely one of Boeheim's Hall of Fame career. Syracuse, one of the most controversial 10 seeds in tourney history, has also become the most unlikely story of the NCAA Tournament.
Almost 14 months ago, in the midst of a struggling campaign, this program went under a self-ban for the postseason. Boeheim was his typical self throughout the saga, fighting back against the reputation of the program -- meaning his reputation, in essence -- and of what Syracuse basketball had become. Many were happy and eager to mold SU basketball in dirt and grime. Plenty of people called for Boeheim's job, something he was of course never going to give up.
Part of the NCAA's punishment was to force Boeheim not just to sit for nine games this season, but to not have any contact with anyone in the program during that time. Before and after that discipline, he openly and frequently complained. He joked that he might just golf the whole time. When it was uncertain whether Cuse would get into this tournament, after losing to Pittsburgh in the team's first game of the ACC Tournament, he politicked then too, explaining how it wouldn't be fair to his players to be "punished" again by means of getting sent to the NIT.
But Syracuse got in -- with an RPI of 72! -- and in doing so set a record for the lowest-rated team to ever make the field as an at-large.
And here we are. Boeheim breaking a smile, breaking through the bracket and now one win away from busting into the most improbable Final Four of his career. It's amazing how this tournament will turn a season, change a narrative and build out twists to even the biggest of college coaches' careers.
Friday's win put Boeheim into the Elite Eight for the seventh time in his career -- it's absolutely the most unexpected regional final of his life -- thanks to a flurry of a rally and a 63-60 win over No. 11 Gonzaga.
The Bulldogs had a nine-point lead with 6 1/2 minutes left.
"We're not a prolific offensive team," Boeheim said. "We can't really spot people 10 points. We really dug a huge hole for ourselves."
They can and they did and they won. Syracuse went on a 15-3 run. Dozens if not hundreds of Orange fans trickled into the lower bowl, taking over the vacant seats of Iowa State fans who bailed after their team got bounced by No. 1 Virginia. They watched as Syracuse deployed its excellent press defense, something assistant coach Gerry McNamara told me this team practices relentlessly. At the three-minute mark, the buy-in paid off. Syracuse sped the game up, and Gonzaga was rattled.
"His timing's pretty good after all these years," McNamara said.
There was that controversial call at the end that went against Syracuse, but it wound up not mattering because Tyler Lydon sent back Josh Perkins' would-be game-winning attempt.
An incredible play by the freshman, who said afterward that was not the kind of chance block he would've had the instinct to make a few months ago.
"Our young guys aren't young anymore, but they're naive enough not to know the stage," associate head coach Mike Hopkins said. "It's almost like a good dumb."
Boeheim doesn't need another Final Four appearance to show off the swank right now. Check this quote. Read Boeheim going into how Syracuse is still not getting its due.
"We were kind of underdogs a little bit," Boeheim said. "I thought Dayton was pretty darned good until we beat them, and then all of a sudden they weren't any good, and then I thought Middle Tennessee was pretty good until we beat them, and then they weren't any good. So I guess now Gonzaga probably won't be any good tomorrow morning."
You know, he makes good points. The man has always been terrific behind the microphone because he doesn't run from anyone or anything. The very things that put him in this situation -- that brought on this melodrama with the program over the past year, the past decade, even -- are what still drive him to coach into his 70s.
"Trevor Cooney and Michael Gbinije, those are fifth-year guys who had to deal with the postseason ban last year," said McNamara, "and I know coach Boeheim feels really good for those guys."
Now it's Virginia. It's an ACC rematch, a game Syracuse lost on the road by eight points two months ago. Will that quick turnaround and familiarity with Virginia be to Syracuse's advantage?
"It doesn't help us at all. I know them; that's the problem," Boeheim said. "They know us and we know them, and what I know about them, I don't like. They've got a great team. I'm going to try not to think about that for another 10 or 15 minutes."
Boeheim has built up one of the more tangled careers in the history of the sport. He wasn't supposed to be here. Syracuse is the shocker of this tournament. Its coach hasn't been an underdog in a very long time, but by the sound of it, it's a role that fits him perfectly in the December of his career.
"He's the most competitive guy I know," Hopkins said. "Whatever the circumstances, they took stuff away, but he has so much pride in this program. Like the Secret Service, he'd [take a bullet] for it. That's how much it means. Even at the start of the game he was as fiery ... he came in, and the message was, 'You have to be ready from the get-go.' That guy, a lot of people used to say, if you're playing pool with him and you're ahead, watch out -- because you might get hit in the head with a pool stick."
It fits. You don't win nearly 1,000 games in the this sport, based in central New York, without learning every possible way to win with a pool stick. The zealotry of Boeheim, the combativeness of the man, has always been his defining trait -- for good and for bad. When the good gets really good, you have what we've come to now: one of the most unlikely, and most cherished, two-week runs of the man's life. From St. Louis to Chicago, this is a reclamation tour that will probably wind up being the last major verse of his time at Syracuse.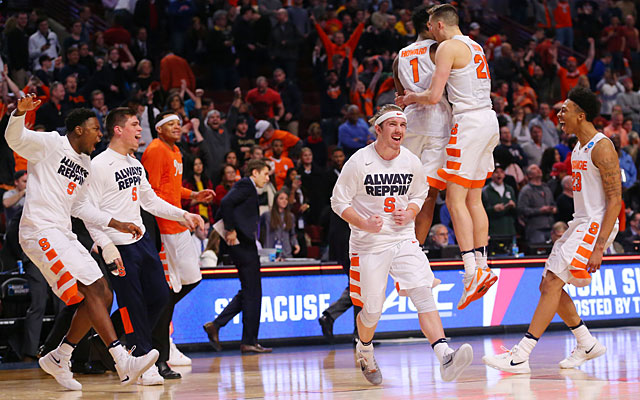 Show Comments
Hide Comments
Our Latest Stories
The Buckeyes couldn't get a player to dress up, so it was Matta to the rescue

Pressure and criticism forced Neal to transfer from the team his dad coaches

The Mountaineers and Panthers will revive their longstanding series in 2017
A private basketball court, a barbershop, flat screens on every floor, elevated showers and...

Every major team, every big matchup -- and plenty you didn't even know about.

IU isn't getting into specifics about the injury and a timetable for the forward's return