Thanks for the memories, C.J. McCollum
After Lehigh's loss to Lafayette on Saturday, it hit me: We'll never see C.J. McCollum in college basketball again.
• 1 min read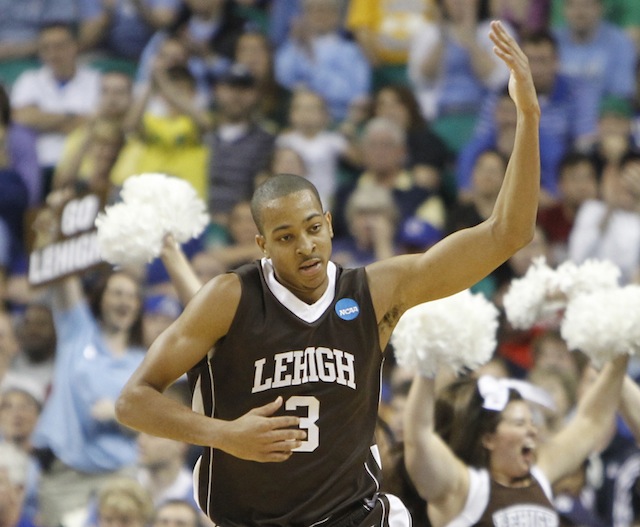 While conference tournaments are a first chance to see the feel-good stories of teams that come out of nowhere to get bids to the NCAA tournament, there is also an underside to the excitement.
Amid all the bubble action and marquee matchups of the day, there was one seemingly innocuous score: Lafayette 82, Lehigh 69.
And then it hit me: We'll never see C.J. McCollum in a Lehigh uniform again.
Last March, McCollum scored 30 points to help lead No. 15 seed Lehigh to a Round of 64 win over Duke, vaulting him into the nation's focus and the NBA's crosshairs.
Instead of taking his chances in last year's NBA draft, though, McCollum decided to return to the Mountain Hawks and make another run at the NCAA tournament. Everything was going as planned, too, as McCollum was leading the nation in scoring at 23.9 points and Lehigh was looking like the favorite to win the Patriot League. He had scored 36 points against Baylor, 35 against Fairfield, 34 against Bryant -- McCollum was rolling.
Then everything changed against VCU on Jan. 5, when McCollum broke his foot in a Lehigh loss. Originally expected to miss six-to-eight weeks, there was a feel around the country that McCollum might return before the end of the season -- if Lehigh could get to the conference championship game. Had the Mountain Hawks reached the title game, could McCollum have played? And what about the NCAA tournament? Did McCollum have some more March magic up his sleeve?
Unfortunately, we'll never find out.
Many mock drafts still have McCollum as a first-round pick in June's NBA draft, so we'll see the 6-foot-3 guard in a basketball uniform in just a few months.
McCollum has played his last college basketball game -- but it didn't take place in the right month.
It wasn't supposed to be in January. It should have been in March.
For more college basketball news, rumors and analysis, follow @EyeOnCBB on Twitter, subscribe to our RSS Feed and subscribe to our College Basketball Newsletter. You can follow Jeff Borzello on Twitter here: @jeffborzello
Show Comments
Hide Comments
Our Latest Stories
The freshman guard scored 30 second-half points Saturday to lift Wildcats past Florida

The Bears, ranked No. 1 after a 15-0 start, fell to 23-6 after a loss to Iowa State on Sat...

Without Grayson Allen, the Blue Devils fell to a dangerous Miami team
West Virginia survived an upset bid thanks to a phantom foul called on TCU

The often-discounted Hall of Famer has now won an ACC title eight times in the past 13 yea...

Monk poured in 30 second-half points to lead the Wildcats.