The Final Four will be Miller-less after Saturday's losses
Archie and Sean Miller could have both reached the Final Four on Saturday -- but both fell short.
• 2 min read
More NCAA hoops: Tournament bracket | Complete coverage of NCAAs | Latest news
At the beginning of Saturday's regional final action, there was the potential of getting two Miller brothers in the Final Four. Archie Miller was in his first Elite Eight as a head coach, leading Dayton to a shocking three-win run in the NCAA Tournament. Meanwhile, Sean Miller was one win away from the Final Four, a spot he's been in twice before -- losing both times. 
Five hours later, the Elite Eight had claimed both Miller brothers.
For Archie and Dayton, it didn't come as much of a surprise. The Flyers weren't expected to be in this position, and they entered the regional final against Florida as a double-digit underdog. They put forth a valiant effort, and a late run made the Gators sweat for a few minutes, but there was too much Scottie Wilbekin and Patric Young, and Florida pulled out the 62-52 win. 
Considering it was Archie's first NCAA Tournament as a head coach, it will be looked back with a positive outlook. Dayton pulled off three upsets in the big dance, and showed the future is bright for the Flyers. Archie might not be at Dayton for many more years, but his 2014 NCAA Tournament experience will be a huge plus.
It's hard to say the same for Sean Miller. For him, there won't be the same feeling.
Arizona was supposed to be here. The Wildcats were a No. 1 seed, they were favored to beat Wisconsin, and they had a legitimate chance of cutting down the nets in Dallas. Instead, they suffered a brutal overtime loss at the hands of Wisconsin, as Nick Johnson couldn't make a play in the final seconds to get Arizona over the hump.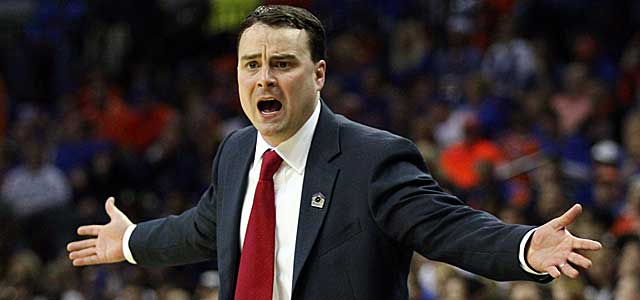 Moreover, it's another heartbreaking NCAA Tournament defeat for Miller. Miller has reached the second weekend of the NCAA Tournament in five of the past seven seasons -- yet he hasn't been able to break through and get to the Final Four. Back when he was at Xavier, Miller lost in the Elite Eight to UCLA in 2008 and then fell to Pittsburgh in the Sweet 16 in 2009.
During his second season at Arizona, the Wildcats won 30 games and reached the Elite Eight -- but Jamelle Horne's wide-open 3-pointer at the buzzer didn't fall and they lost to Connecticut. Last season, they lost by three to Ohio State in the Sweet 16.
And then there was this year, perhaps his best chance to get to the Final Four since he began his head coaching career -- and Arizona fell just short. Again. 
Both Archie and Sean will be back in this position again, and it will likely be sooner rather than later, especially for Sean. But Saturday was a tough day for the Miller brothers. 
Show Comments
Hide Comments
Shareef picked Arizona over UCLA, USC, LSU and others

Stephen Curry, Damian Lillard, C.J. McCollum and Ian Clark didn't come from college powerhouses,...

The four-year player at VCU will try and make the Colts as a tight end
Letting teams open on a Friday in football season has never made sense

College basketball's season could start earlier

Allen will enter his senior season as the most famous college basketball player in years