The Final Stretch: Title race reset
With only a couple of weeks left before the conference tournaments, where does each league's regular-season race stand?
• 6 min read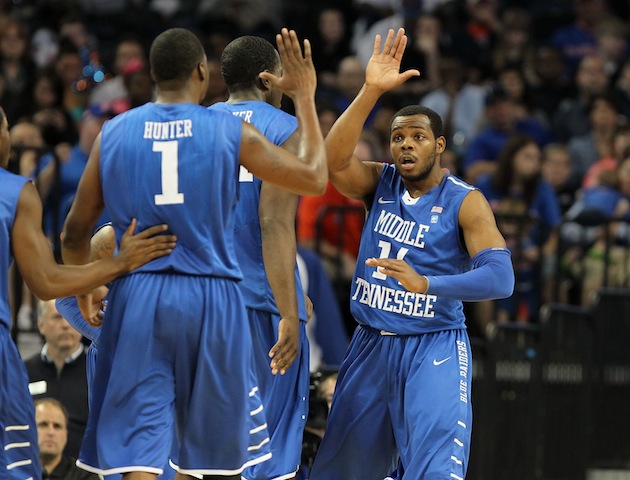 Middle Tennessee could be the first team to clinch an outright title if it wins on Thursday night. (USATSI)
On Wednesday, we finally got our first conference champions, as Northeastern Huskies (CAA), Davidson Wildcats (Southern) and Long Beach State 49ers (Big West) each clinched at least a share of the regular-season title. Northeastern and Davidson each have two-game leads in the loss column with only two games left, and Long Beach State is up three in the loss column with three games left.
No team has clinched an outright championship yet, but where does each league stand?
America East: Stony Brook Seawolves has a 1.5-game lead on both Vermont Catamounts and Boston University Terriers . The Seawolves still have three games left in the regular season, while Vermont and Boston only have two. Stony Brook's visit to Boston next Thursday could be a key game.
ACC: At 13-0, it's not surprising that Miami (Fla.) Hurricanes is the heavy favorite down the stretch. The Hurricanes own a three-game lead in the loss column with five games left. Duke Blue Devils is second.
Atlantic Sun: This one will likely come down to next week's matchup between Florida Gulf Coast Eagles and Mercer Bears . Mercer is up by a half-game right now, but the Bears still have to visit FGCU.
Atlantic 10: This one is tough to figure out. Five teams are within 1.5 games of each other at the top of the standings. Saint Louis Billikens has a half-game lead on VCU Rams and Butler Bulldogs , but the Billikens have to visit Butler on Friday.
Big East: There is a three-way tie for first place between Syracuse Orange , Georgetown Hoyas and Marquette Golden Eagles , with Louisville Cardinals only one game back. There is still plenty left in this race, with each of those teams having five games remaining.
Big Sky: Montana Grizzlies 's blowout loss to Weber State Wildcats last week opened the door a bit at the top of the standings. The Grizzlies are still in first place, but Weber is only one game back with four league games left.
Big South: UNC-Asheville's three-game losing streak has rendered this race a two-team battle between Charleston Southern Buccaneers and High Point Panthers . They are tied in the loss column, although High Point has a half-game lead. Charleston Southern owns the tiebreaker, beating High Point back in January.
Big Ten: Indiana Hoosiers 's win at Michigan State Spartans State" data-canon="Michigan Wolverines" data-type="SPORTS_OBJECT_TEAM" id="shortcode0">  was a major victory, as it puts the Hoosiers up one game on the Spartans, with Wisconsin Badgers and Michigan Wolverines chasing. The Hoosiers also have the easiest remaining schedule.
Big 12: Kansas Jayhawks 's win at Oklahoma State Cowboys put the Jayhawks in a tie with Kansas State Wildcats at the top of the standings. Kansas swept the Wildcats this season, meaning the Jayhawks have the edge here.
Big West: Long Beach State 49ers owns a three-game lead in the loss column over Pacific Tigers with three games left. The two face off in the season finale.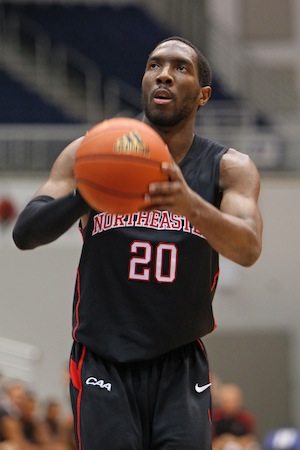 Northeastern is on verge of first title. (USATSI)
CAA: As we mentioned, Northeastern has clinched at least a share of the regular-season title. The Huskies are up two games in the loss column on Delaware Fightin' Blue Hens and Towson Tigers with two games left in the regular season. The Blue Hens (four games remaining) can forge a tie as they split the two regular-season meetings, while Northeastern owns the tiebreaker against Towson (three games remaining). 
Conference USA: Memphis Tigers hasn't lost since mid-December, but the Tigers haven't clinched the title yet. They are up two games on Southern Miss Golden Eagles with four left. A win over the Golden Eagles on Saturday would clinch at least a share.
Great West: New Jersey Tech Highlanders is up two games in the loss column with two regular-season games left.
Horizon: Valparaiso Crusaders loss to Detroit Titans last weekend gave the Titans an opening in the league race. Valpo is still up one game with two left. The teams split the two regular-season meetings. An interesting note: Detroit still plays at Wichita State and Temple.
Ivy: Harvard Crimson has the edge after beating Princeton Tigers last week. There is still plenty of time left in this one, as the Crimson have six games remaining and Princeton has seven. Harvard is up 1.5 games.
MAAC: This is going to be a wide-open conference tournament, but Niagara Purple Eagles is up one game in the standings with two left. Loyola Marymount Lions is chasing, sitting one game back.
MAC: Akron Zips is rolling through the MAC at 12-0, but the Zips are only one game ahead of Ohio Bobcats in the standings. The two play next Wednesday; Akron won the first meeting. Each has four MAC games remaining. 
MEAC: North Carolina Central Eagles lost its first game over the weekend, meaning Norfolk State Spartans is the lone unbeaten in the MEAC. Norfolk has a one-game lead with four games left. The two main contenders don't play each other this season.
Missouri Valley: Wichita State Shockers is up one game on Creighton Bluejays with two games remaining. This one could come down to the season finale, when the Shockers visit Creighton.
Mountain West: Colorado State Rams missed a chance to forge a tie with New Mexico Lobos with its loss to UNLV Rebels on Wednesday night, but the Rams do host the Lobos this weekend. New Mexico won the first meeting. Each team still has five regular-season games left.
Northeast: Bryant University Bulldogs two-game losing streak has given Robert Morris Colonials and LIU-Brooklyn Blackbirds a half-game lead in the standings. This one isn't decided yet, as RMU and LIU (and 9-5 Wagner Seahawks ) each have four games left, while Bryant has five.
Ohio Valley: Although Belmont Bruins has been the heavy favorite for much of conference play, the Bruins are only up one game on Eastern Kentucky Colonels . There are two games left in the OVC; Belmont has both at home, while EKU heads on the road. Belmont swept the two head-to-head meetings.
Pac-12: Lots of time left in this one. Oregon Ducks is up one game in the loss column on Arizona Wildcats and UCLA Bruins , and Arizona State Sun Devils is within striking distance as well. The Ducks still have five league games left.
Patriot: Bucknell Bison road win at Lehigh Mountain Hawks this week put the Bison one game up on the Mountain Hawks with three games left. The Bison have the easier remaining schedule.
SEC: Florida Gators has 11 league wins by at least 14 points, but the Gators are only up one game on Alabama Crimson Tide . Each team still has five games left, but Florida does host Alabama on March 2.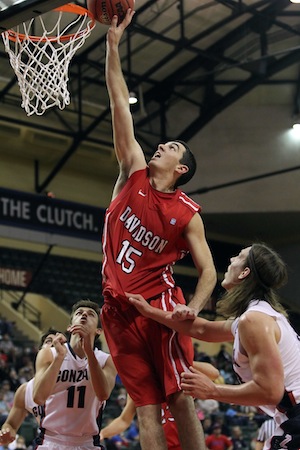 Davidson is primed to wrap up the Southern. (USATSI)
Southern: Davidson Wildcats only has two games left in the regular season, and the Wildcats own a two-game lead in the loss column over Elon Phoenix , which has four games left on the schedule. This one could be clinched next Wednesday, when Davidson visits Elon.
Southland: This one is going to be fun. Stephen F. Austin Lumberjacks and Northwestern State Demons are tied at 13-2, while Oral Roberts is one game back -- with three left. SFA faces Northwestern State next Saturday, which could decide the title. NSU won the first meeting.
SWAC: Another tight race at the top. Southern Jaguars is 13-2; Texas Southern Tigers is 12-2; and Arkansas-Pine Bluff Golden Lions is 12-3. Southern and UAPB have three games left, and TSU has four. Southern does visit Texas Southern next week.
Summit: South Dakota State Jackrabbits has won 10 of 11 in the Summit since starting 2-2, putting the 12-3 Jackrabbits ahead of 11-3 Western Illinois Leathernecks and 11-4 North Dakota State Bison . San Diego State Aztecs only has one league game remaining, while Western Illinois has two. If it comes down to it, the Jackrabbits swept the season series.
Sun Belt: Middle Tennessee Blue Raiders could clinch an outright title on Thursday night, when South Alabama Jaguars visits. MTSU is up three games on USA with four games left; a win gives the Blue Raiders the title.
WCC: Gonzaga Bulldogs is running roughshod over the league, and the Bulldogs have a two-game lead on St. Mary's Gaels with three left.
WAC: Louisiana Tech Bulldogs is 14-0 in the WAC, with a two-game lead in the loss column on Denver. Tech still has to go to New Mexico State Aggies and Denver, so this one isn't over with four games left in the season.
For more college basketball news, rumors and analysis, follow @EyeOnCBB on Twitter, subscribe to our RSS Feed and subscribe to our College Basketball Newsletter. You can follow Jeff Borzello on Twitter here: @jeffborzello
Show Comments
Hide Comments
It's time for random observers to stop being outraged by players' decisions

Plenty of decisions are still hanging in the air, calls that will help shape the 2017-18 s...

Once again coaches are participating in Oakland coach Greg Kampe's charity event
The Tar Heels point guard was the Most Outstanding Player of the 2017 Final Four

A list of every player who is testing the waters for the 2017 NBA Draft, a record 182 guys

The MVC is looking for a school to replace Wichita State, which left for the American Athl...