The unlikely turnaround success story of Florida's Erik Murphy
Erik Murphy was all but gone. His father -- and just about everyone else close to him -- wanted him to leave Gainesville and he was on the verge of telling Billy Donovan that it was best he play elsewhere. That's just where the story begins.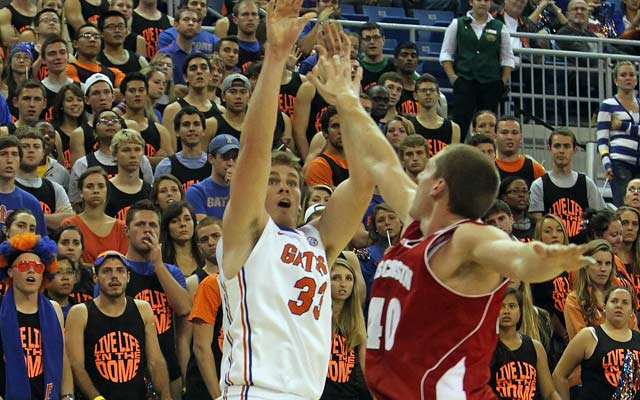 Erik Murphy came so close to leaving Florida a year and a half ago. And then came a bigger disaster.

(US Presswire)
GAINESVILLE, Fla. -- Erik Murphy was all but gone. His father -- and just about everyone else close to him -- wanted him to leave Gainesville and he was on the verge of telling Billy Donovan that it was best he play elsewhere. There was even a list for the Rhode Island native: the local school, URI, along with Boston College, Providence, Notre Dame and Harvard. However, Murphy walked into Donovan's office in a haze, broke down in tears and departed still a member of the Gators team. 
Then just hours later, on April 10, 2011, Murphy's life forever changed. It's when he, ex-Gators manager Josh Adel and former teammate Cody Larson were arrested in nearby St. Augustine for, well, making a poor decision. He found himself in a white jumpsuit with shackles, locked up in jail in the middle of the night, after the police arrested the trio for allegedly breaking into a vehicle. 
"It was scary," Murphy said. "I had cuffs on from my hands to my feet. It was really scary." 
Murphy isn't a knucklehead. In the effort of full disclosure, I've known him since he was a freshman at St. Mark's (Mass.). He's one of the few college athletes I'd trust to babysit my 9-year-old daughter and wouldn't worry for a second. He made a bonehead move, but we've all made them somewhere along the way. Murphy's blunder, though, drew public scrutiny because he's a college athlete. 
Murphy hadn't even told his father, former Boston College star Jay Murphy, that he was staying in Gainesville. Shortly after informing Donovan he wasn't going anywhere, the trio drove down to St. Augustine, where Adel's parents had a beach house. After having a few beers, they were bored and decided to go to a local bar. Adel was 21, while both Murphy and Larson were underage. 
"We had a few," Murphy said. "More than a few." 
The bar closed and Adel called a cab to get back to the house. After a half-hour or so, Murphy walked to the one car in the parking lot, flipped the handle and wound up reclining in the driver's seat. Larson was sprawled out on the hood. Adel sat about 50 feet away on the phone with the cab company in an effort to find out what was taking so long. 
That's when one of the bouncers in the bar spotted the two 6-foot-10 basketball players and yelled they were stealing the car and to call the police. Larson was already on probation and ran, with bouncers in tow. Murphy also took off, running more than a mile with more bouncers close behind. 
"I took off," Murphy said. "I was drunk and wasn't about to fight six guys." 
Adel called Murphy, who returned. Larson also came back. Murphy eventually accepted a deferred prosecution agreement in which he agreed to pay restitution, perform community service and complete a substance abuse evaluation program. 
"It made me grow up overall in my life," Murphy said of the incident. "I realized I wasn't really that focused on anything." 
Murphy was suspended for much of the offseason. He searched out Florida athletic director Jeremy Foley to apologize. He didn't drink for more than a year. His youngest brother, Thomas, was teased in elementary school. People would drive by Erik on Florida's campus and yell things at him. 
"That hurt," he said. "I didn't like that perception." 
"It was tough on all of us," Jay Murphy said. "People killed him, but he's a good kid who made a bad choice." 
So he changed. He became more competitive -- both on and off the court. The 2.5 GPA rose to over a 3.0 and he's gone from a guy who had questionable work ethic and desire to a player who Donovan now considers one of his hardest workers. 
"Erik wasn't really focused on school, basketball or anything his first two years," Donovan said. "But he's changed a lot. He sees the urgency. … I think the whole incident really changed him for the better." 
There he was on Wednesday night, draining all 10 of his field goals attempts en route to tying a career-high 24 points, as the 10th-ranked Gators pounded a ranked Wisconsin team, 74-56. Kenny Boynton and Patric Young combined for just six field goals, and it was the kid who nearly left who stepped into the starring role, doing his best Dirk Nowitzki impression. Murphy drilled 3-pointers, buried mid-range jumpers and utilized both hands in the post. 
"There's no doubt in my mind he can play in the NBA," said one NBA scout in attendance. "If Matt Bonner can play 10-plus years in the league, so can he."
Murphy still recalls those days as a freshman when he was little more than a role player backing up the likes of Vernon Macklin, Alex Tyus, Dan Werner and Chandler Parsons. It wasn't much different his sophomore season, when he averaged 4.3 points per game as a reserve. Jay Murphy was frustrated with his eldest son's role, but Erik loved it in Florida. He was in a relationship with tennis star Lauren Embree and was ecstatic with everything in Gainesville -- except for his playing time. 
"I came in with the expectation that he was going to play as a freshman," Jay said. "But what parents don't realize is that there are other kids who are juniors and seniors, who have waited their time." 
"Honestly, he wasn't putting in the time and the effort the first two years," he added. "He didn't have the right work ethic and mentality he needed, but when the incident happened it shook him to his core and he was worried he was going to lose basketball. It's what he needed." 
It's also what Donovan needed, because now he's got one of the best power forwards in the country. Last season, as a junior, he was deadly from long distance, shooting 42 percent from 3-point range. In the offseason, Donovan challenged him to be more versatile. Murphy has added 10 pounds, is now up to 245, and was able to utilize his strength, versatility and assertiveness against the Badgers. 
Jay Murphy sat up in the stands with four of his buddies at the O'Connell Center, having made the five-hour trek from Atlanta where his middle son, a redshirt freshman at Duke, played the night before. 
"I'm so proud of him," Jay Murphy said. "Not just as a player, but really of who he is. Everyone makes mistakes. And everyone deserves a second chance."
Show Comments
Hide Comments
Motley, who averaged 17.3 points and 9.9 boards, is projected as a borderline first-rounde...

Sharpshooter's return figures to send the program to a place it has been only once before
Gary Parrish and Matt Norlander also discuss UNLV's recruiting class

The five-star big man is part of a surprise late-period recruiting coup by Marvin Menzies

It's time for random observers to stop being outraged by players' decisions