Three things learned at the NCAA mock selection exercise
The mock selection committee exercise that the NCAA put on this week in Indianapolis opened up plenty of eyes to how teams are chosen for the Big Dance.
• 4 min read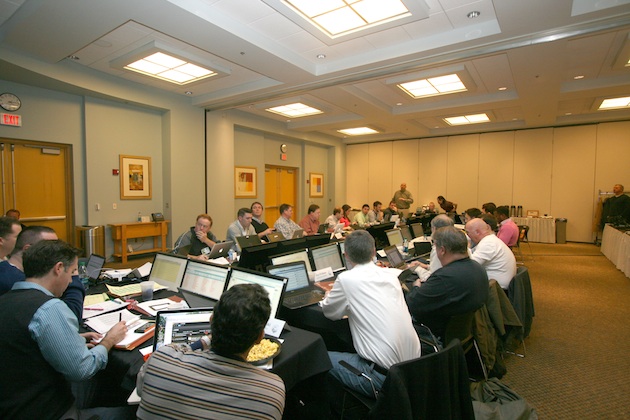 Twenty-plus media members gathered for two days to go through the entire selection process. (NCAA)
INDIANAPOLIS -- Heading to the NCAA mock selection committee in Indianapolis this week, I wasn't sure what to expect. It has been going on for several years, so I assumed I had read pretty much everything that I could possibly learn. Moreover, I've been making my own brackets for more than a decade, so I was familiar with the entire process.
After being sequestered in a conference room for 15 hours over two days, though, my eyes were certainly opened. Whether it was looking at specific teams or specific criteria, it's clear the committee does its due diligence. Even if you go into the room without an ounce of preparation (and no one is allowed to do that), you will be reciting top-50 records and non-conference strengths of schedule with ease by the end of the week.
On Sunday, I'll go more in-depth on a few of the more interesting profiles that we examined. For now, let's look at the three biggest things that I learned on Thursday and Friday.
1. The selection committee isn't homogeneous.
We always hear, "The committee looks for this," or "Well, that number should impress the committee." However, the committee is made up of 10 individual human beings -- they're not all the same person. That was clear at the mock exercise. Different people look at different things. Some people looked at margin of victory while that number was irrelevant for most participants. Head-to-head and road wins were a major factor for some while others relied more heavily on top-50 wins and avoidance of bad losses. Some committee members bring the eye test or advanced metrics into the equation; some feel as those shouldn't be part of the process. Though we're relying primarily on facts, it's still a very subjective process.
My partner was Indianapolis TV anchor Amanda Maynard, and we would come to different conclusions even by looking at the same facts. And when the committee brings up a profile, there could be 10 people looking at 10 different things on a team's resume. There's not always a correct answer.
2. Conference affiliation is not a factor
The committee has always maintained that members don't look at conference affiliation when analyzing a team's resume. That seems impossible, I thought, since we all know what conferences teams are in. I was wrong. Not once did we think about how many teams a certain conference has in the tournament, nor did we spend too much time looking at a team's conference record. Unbalanced schedules and bloated leagues make pure conference record nearly irrelevant to the process. When comparing, say, Illinois and Ohio State, the fact the Buckeyes are three games ahead of the Fighting Illini in the Big Ten standings was never mentioned.
A couple of things I've heard recently include, "The committee wouldn't leave out a third-place ACC team like Virginia" and "If Alabama goes 14-4 or 15-3 in the SEC, they have to get a bid." That doesn't even come up in the selection room. You're comparing dozens of resumes -- and that means it's impossible to compare league records. As a result, things like "The SEC deserves three bids" don't hold weight.
3. Numbers and records are not the entire story.
The RPI hovers over the entire process, as it's the primary way to break things into top-50 wins and sub-100 losses. But the fact that Team A has a better RPI than Team B was never brought up when it came time to decide teams. Moreover, the idea that a team with six top-50 wins is automatically better than a team with three top-50 wins also wasn't true. We looked deeper into the process. Where did those top-50 wins come? Did one team beat four teams ranked 40 through 50 and therefore had a bloated top-50 record? Did one team beat three teams in the top 15 and therefore prove its worth better than a team with five wins from 25 to 50? In the same ilk, sub-100 losses aren't all created equal. Losing to George Washington on the road isn't the same as getting steamrolled by Columbia at home.  
One interesting thing that I found was the idea of SOS. Committee chair Mike Bobinski said the committee looks past just the pure number when assessing whom a team played. A team like Notre Dame, which has a non-conference SOS of 300, did schedule teams like Purdue and Kentucky, who are usually good. The Irish made an attempt to test themselves, and that's more important to the committee than simply a number.
For more college basketball news, rumors and analysis, follow @EyeOnCBB on Twitter, subscribe to our RSS Feed and subscribe to our College Basketball Newsletter. You can follow Jeff Borzello on Twitter here: @jeffborzello
Show Comments
Hide Comments
Shareef picked Arizona over UCLA, USC, LSU and others

Stephen Curry, Damian Lillard, C.J. McCollum and Ian Clark didn't come from college powerhouses,...

The four-year player at VCU will try and make the Colts as a tight end
Letting teams open on a Friday in football season has never made sense

College basketball's season could start earlier

Allen will enter his senior season as the most famous college basketball player in years