Tiny Dancers: North Carolina Central rolls into the NCAA Tournament
North Carolina Central could be a potential upset pick in the NCAA Tournament.
• 1 min read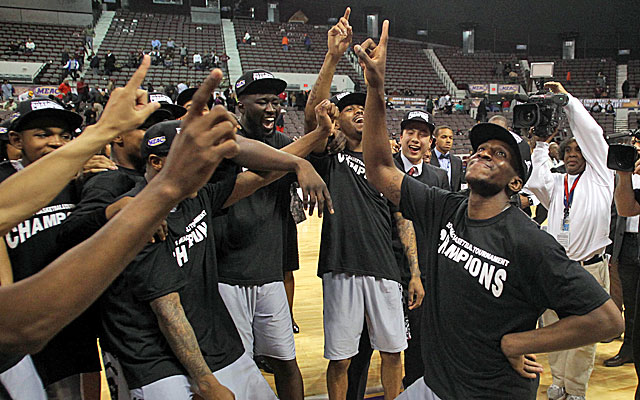 More: Updated bracket projection | Bubble Watch | Live Blog Updates
The MEAC was North Carolina Central's to lose. The Eagles entered the conference tournament on a 17-game winning streak, rolling through nearly opponent on their way to a regular-season title. 
The tournament was no different, as NCCU won the first two games by a combined 69 points -- and then took care of Morgan State in the championship, 71-62.
Jeremy Ingram led the way with 29 points and four 3-pointers, and the Eagles' stout defense their usual job on Morgan State, holding the Bears to 37.9 percent shooting from the field and 23.8 percent shooting from 3-point range.
This completes a tremendous turnaround North Carolina Central has undergone since head coach LeVelle Moton came aboard. The Eagles went 8-55 before Moton arrived, but have increased their win total in each of Moton's five seasons at the helm.
Player to know: Jeremy Ingram. North Carolina Central doesn't light up the scoreboard, but Ingram can flat-out get buckets. He had 29 points in the title game against Morgan State, his 18th game with at least 20 points. Ingram also hit the 30-point plateau five times this season, finishing the season averaging 20.3 points. He scored 37 points against Wichita State, 29 points against NC State and 27 points against Cincinnati.
The Vitals:
Record: 28-5 overall, 15-1 in the MEAC
Most recent tournament appearance: This will be the Eagles' first NCAA Tournament appearance.
Jerry Palm predicts: 14 seed
RPI: 104
KenPom ranking: 78
Sagarin ranking: 84
Best wins: at North Carolina St., vs. Winthrop
Worst losses: at Florida A&M, at IUPUI
Notable stat: 20. That's the number of consecutive wins for the Eagles, who haven't lost since Jan. 11 at Florida A&M. It's the fifth-longest current winning streak in the country.
Closing quip: With the number of lower-seeded teams winning conference tournaments, North Carolina Central moved up from a team at the back-end of the 15 seeds to a team that can sneak into the 14 range and create problems for a higher seeded team. The Eagles are a terrific defensive team, forcing turnovers and defending inside the arc effectively. They have a ton of momentum, and do own a win at North Carolina State. 
Show Comments
Hide Comments
Eight of the top nine scorers from this season's team are not returning, but UK will be fi...

A likely All-American, a big-time NBA prospect and an important X-factor to test draft wat...

Kentucky is losing 95 percent of its offense with all of its NBA talent and outgoing senio...
The former five-star recruit has not yet hired an agent

Shareef picked Arizona over UCLA, USC, LSU and others

Stephen Curry, Damian Lillard, C.J. McCollum and Ian Clark didn't come from college powerhouses,...