Tip of the hat to Tom Izzo and Bill Self for scheduling aggressively
Tom Izzo and Bill Self are confident and secure in their jobs, which allows them to schedule aggressively. The sport needs more men like them, I think.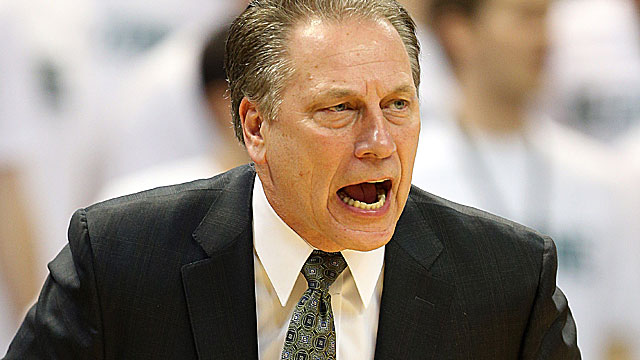 There are several, but still not enough, college basketball coaches who schedule aggressively, and Tom Izzo is undeniably one of them. The latest evidence came when Michigan State athletic director Mark Hollis told the Detroit Free Press that the Spartans are trying to make a game in Spokane against Gonzaga designed to honor the life of former MSU coach Jud Heathcote, who now lives in Spokane.
From the article:
MSU is trying to put together a doubleheader to be played Dec. 7 at Spokane Arena in Spokane, Wash., featuring the four programs that are tied to Jud Heathcote, Hollis said today. MSU would play Gonzaga in one of the games, and Montana and Washington State would play in the other. Heathcote, an 85-year-old Spokane resident, hired Izzo as an assistant and Hollis as a student manager when he was MSU's head coach. He was formerly Montana's head coach and an assistant at Washington State, and he has become close with Gonzaga and its coach, Mark Few, over the past several years.

"Like the events we've had before, this is something that's being put together for the good of the game of basketball," Hollis said, "and to recognize a true legend of the game."
Count me in.
Sounds like a great idea provided the proposed schools can make it work from a time-and-date perspective, which remains unclear. Either way, it does raise a simple question: Why don't more coaches approach scheduling this way given that 68 schools make the NCAA tournament? Point being: You can make college basketball's premier postseason event with lots and lots of losses.
Answer: Fears and insecurities.
I found it interesting that details surrounding Michigan State's and Kansas' schedules were released this week, and that both revolved around established coaches from power conferences scheduling agressively despite the fact that most commitments were made before the Spartans and Jayhawks knew which players would actually comprise their rosters. Simply put, it didn't matter.
Izzo would've challenged his team early with or without Gary Harris and Adreian Payne, though he'll clearly be better equipped to do it with those two prospects who considered entering the NBA Draft returning.
And Bill Self? Man, he just doesn't care. The KU coach will be without the top five scorers from this season's team, including likely lottery pick Ben McLemore. But he still scheduled awesomely, proof being that his Jayhawks will play Duke, Florida, Colorado, New Mexico, Georgetown and San Diego State in the nonleague portion of their schedule in addition to competing in the Battle 4 Atlantis with Tennessee, Villanova, Iowa, Xavier, USC, Wake Forest and UTEP.
So what do Izzo and Self have in common (besides being great in general)?
They're secure and established winners in no danger of being fired.
I think that's important.
The so-called hot seat is so prevalent these days that men can be on it even if they're merely weeks away from actually getting a contract extension, Ole Miss coach Andy Kennedy being a great example. Consequently, most coaches are uninterested in putting themselves at risk of losing too much in November and December because they know that could light the message boards up and make January and February really, really stressful.
Never mind that there's a tremendous upside to scheduling agressively, that it could secure a national ranking that brings attention to the program, could position you for a high seed in the Field of 68, could, if nothing else, give your fans games worth anticipating. Most coaches would rather err on the side of caution, load-up on buy games and try to start with a 14-1 record even if it's a mostly meaningless 14-1 record.
Fans rarely complain about pointless wins.
But fans can get loud about quality losses, if they stack.
So too many coaches do everything they can to avoid losses for as long as possible.
But not Izzo and Self.
Those two have proved over the years -- and again this week -- that they're willing to challenge themselves and their teams early, almost regardless of the circumstances. So good on them. And I hope someday their approach will be closer to the majority than what it is now, which is in the extreme minority among men running this sport.
Show Comments
Hide Comments
Gary Parrish and Matt Norlander also discuss UNLV's recruiting class

The five-star big man is part of a surprise late-period recruiting coup by Marvin Menzies

It's time for random observers to stop being outraged by players' decisions
Plenty of decisions are still hanging in the air, calls that will help shape the 2017-18 s...

Once again coaches are participating in Oakland coach Greg Kampe's charity event

The Tar Heels point guard was the Most Outstanding Player of the 2017 Final Four