Top-10 junior Diamond Stone shows off his passing ability
Diamond Stone had plenty of head coaches watching him over the weekend -- and his most impressive attribute might have been his passing.
• 2 min read
MEQUON, Wisc. -- Diamond Stone is extremely talented and skilled. He has good post moves, moves well up and down the court and is a very solid rebounder.
And he is only 16 years old.
But none of that stood out from Stone's weekend performance at the Under Armour/NY2LA Summer Jam.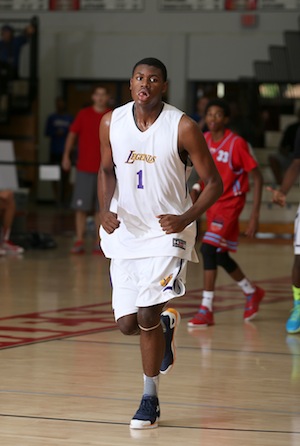 Diamond Stone has lost 23 pounds. (Kelly Kline/Under Armour)
It was his passing. The 6-foot-10 Stone was excellent in the high post, finding openings in zone defenses for easy baskets. He also jump-started fast breaks with quick and accurate outlet passes.
Where did it come from?
"To be honest, soccer," Stone said. "I played soccer, and I liked to pass the ball as a goalie, leading my man to the open lanes."
Since there is a not a promising future for 6-foot-10 goalies, Stone made the full-time move to basketball -- and it's paid off in a major way. Ranked No. 7 in the 247Sports Composite for the class of 2015, Stone is one of the most sought-after big prospects in the country.
After losing 23 pounds, Stone is also now more effective in the post. He's in far better shape than he was when we watched him last summer.
"I decided to take into my own hands and lose the weight," Stone said. "I'm jumping higher, getting rebounds. I'm containing bigs, boxing out and doing everything quicker than I used to."
Stone got off to a terrific start to the summer. He was selected for the U16 National Team that participated in the FIBA Americas Championship in June. He played the second-most minutes on the team, averaging 13.6 points and 7.2 rebounds, while also blocking 13 shots in five games. Perhaps most impressively, he only committed nine fouls in 100 minutes.
"It was a good feeling," Stone said. "South America is really different from the U.S.; lots of things to adapt to. Everything was good about it."
Over the weekend, Stone attracted a crowd wherever he played. Roy Williams, Mark Turgeon and Tom Izzo each showed up with an assistant, while Bo Ryan and Buzz Williams also made their presence felt. Steve Alford and John Beilein were in attendance. Kentucky and Georgetown were represented. Arizona, Connecticut, DePaul, Indiana and Texas A&M have all offered.
Stone has visited some of the schools in his region, including Wisconsin, Marquette, DePaul and Illinois. He's not ready to make any moves in his recruitment, though.
"I want a school that gives the big men the ball and wins," Stone said.
Show Comments
Hide Comments
Shareef picked Arizona over UCLA, USC, LSU and others

Stephen Curry, Damian Lillard, C.J. McCollum and Ian Clark didn't come from college powerhouses,...

The four-year player at VCU will try and make the Colts as a tight end
Letting teams open on a Friday in football season has never made sense

College basketball's season could start earlier

Allen will enter his senior season as the most famous college basketball player in years