Top-10 senior Henry Ellenson down to three schools
Henry Ellenson is focusing on three finalists: Kentucky, Marquette and Michigan State.
• 1 min read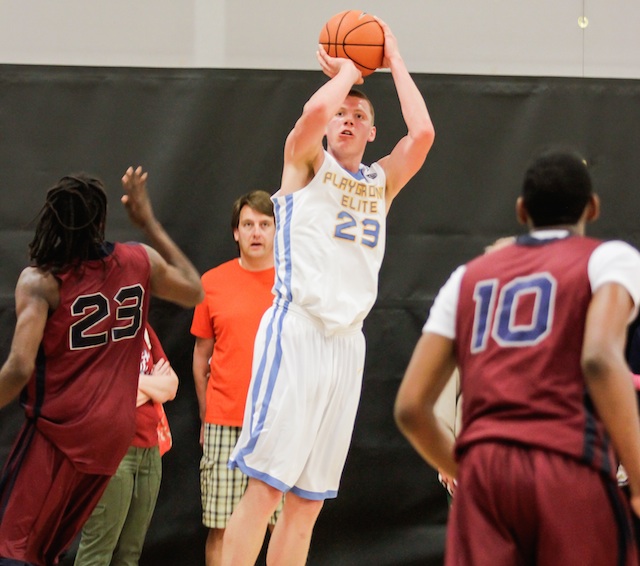 It's hard to get a read on several of the top 10 prospects in the class of 2015, with many of them still considering many schools.
Henry Ellenson, one of the biggest risers of the spring and summer, took the next step on Wednesday night: he's down to three schools.
Kentucky, Marquette and Michigan State made the final list for the 6-foot-10 power forward from Rice Lake (Wis.).
Among those that didn't make the cut: Duke, North Carolina, Wisconsin, UCLA, Georgetown, and others.
The Golden Eagles have been considered the leader since Ellenson's brother transferred from Minnesota to Marquette earlier this summer, and they are also tops in his Crystal Ball right now. Ellenson unofficially visited Marquette's campus in June, and new head coach Steve Wojciechowski made him an immediate priority once he took over the job from Buzz Williams in the spring.
Michigan State has also been involved for a long time with Ellenson, offering him last summer and continuing to pursue him through the school season.
As usual, Kentucky is the wild card in his final three. The Wildcats turned up the heat this past summer, offering him in July. They've clearly made a big enough impression to make his list.
Ranked No. 9 in the 247Sports Composite, Ellenson has an effective inside-outside game, possessing the ability to score with his back to the basket or from the perimeter. He averaged 18.0 points and 9.3 rebounds on the EYBL circuit with Playground Elite.
Show Comments
Hide Comments
A likely All-American, a big-time NBA prospect and an important X-factor to test draft wat...

Kentucky is losing 95 percent of its offense with all of its NBA talent and outgoing senio...

The former five-star recruit has not yet hired an agent
Shareef picked Arizona over UCLA, USC, LSU and others

Stephen Curry, Damian Lillard, C.J. McCollum and Ian Clark didn't come from college powerhouses,...

The four-year player at VCU will try and make the Colts as a tight end