Top-30 junior Braxton Blackwell shows out with coaches watching
Braxton Blackwell saw his stock rise a bit during July, as he showed off his versatile skillset.
• 1 min read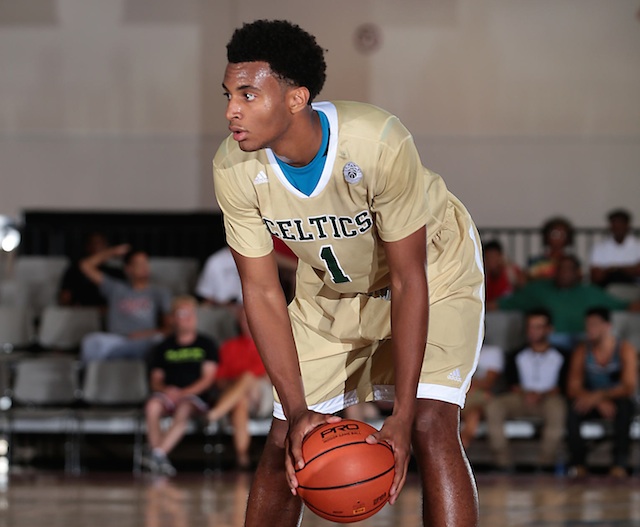 LAS VEGAS -- Plenty of professional athletes become television analysts when their playing days are over -- but Braxton Blackwell is starting that path early.
"I want to major in journalism," Blackwell said. "It seems like a pretty interesting job."
The media world might have to wait several years to welcome the talented CPA (Tenn.) product, though.
Blackwell was one of the most consistently impressive performers during the third evaluation period, helping lead the Atlanta Celtics to a quarterfinals appearance in the Adidas Super 64. He is a well-rounded prospect who can play multiple roles -- including ranking among the tournament leaders in assists.
"Just being versatile," Blackwell said. "I can get the rebound and go. Kind of a point-forward type position right now. I made some really nice passes and defend really well."
The 6-foot-8 Blackwell boosted his stock during July, recently adding an offer from Kansas. Providence, Florida, Indiana, Tennessee, Memphis and Vanderbilt were already in the mix for him.
Vanderbilt made an impression on him at the Adidas event in Las Vegas, showing up with its entire staff for one of his games, and consistently having a presence. Even when nearly every high-major head coach was in Colorado Springs for USA Basketball, there was Commodores' head coach Kevin Stallings, sitting alongside an assistant or two.
"It shows I'm one of the top priorities," Blackwell said. "It's pretty cool to see all four coaches there. It's a blessing."
"Be a hometown hero," he added when asked about Vandy's pitch to him. "I think they'll be good this year."
Last summer, Blackwell visited Indiana, Memphis, Vanderbilt and Auburn. In August, he hopes to add to that list of trips.
He is ranked No. 30 in the 247Sports Composite for the class of 2016.
The truths and myths about the push for 2018's No. 1 recruit to play college hoops a year...

Here are the under-the-radar players who will have breakout seasons in 2017-18

Duke coach says sometimes troubled guard played hurt last season, adding, 'I'm really proud...
Michigan, Marquette, California, LSU and VCU are also in the 34th annual field

The expected rise of Missouri figures to be a storyline once they start playing for real

The Hoosiers' new coach is funneling in recruits in a hurry, including one who can play in...