Top recruit Rashad Vaughn chooses UNLV over Iowa State
Rashad Vaughn, the best guard left in the class of 2014, ended his recruitment on Tuesday night.
• 2 min read
It's not often a recruiting list that includes three of the biggest powerhouses in college basketball has two other schools at the top of the pecking order. 
But that's how it was for Rashad Vaughn, who had Iowa State and UNLV ahead of Kentucky, North Carolina and Kansas. As the best uncommitted guard remaining in the class of 2014, much of the suspense in the recruiting world revolved around him. On Tuesday night, Vaughn ended his recruitment.
The 6-foot-5 guard from Findlay Prep (Nev.) announced on CBS Sports Network that he was heading to UNLV.
In the end, the Runnin' Rebels had the edge of proximity and familiarity. Moving from Minnesota to Nevada to attend Findlay meant Vaughn was able to see games and practices on a regular basis, building a relationship with head coach Dave Rice and his staff. Moreover, the Rebels also had a very good relationship with Vaughn's mentor/advisor, Pete Kaffey, who is now an assistant at Findlay. Keeping Vaughn in the desert is a huge coup for Rice and assistant coach Todd Simon, who landed talented players on a consistent basis when he was at Findlay.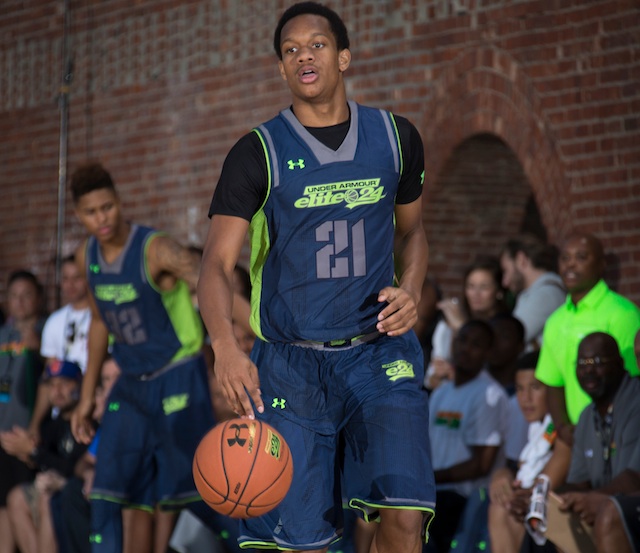 Ranked No. 12 in the class of 2014 by the 247Sports Composite, Vaughn is one of the premier pure scorers in the country. He can score at all three levels, with deep range on his outside jumper, the ability to pull-up in the mid-range, while also capable of going off the dribble and finishing at the rim through contact. He's constantly in attack mode, and has shown he can get hot in a hurry when his jumper is falling. Recently, Vaughn has demonstrated he has the talent to be a very tough on-ball defender when focused. 
At UNLV, Vaughn will make an immediate impact. Rice needed a perimeter scorer for next season, a player who can consistently knock down jumpers from the perimeter. Vaughn joins one of the top recruiting classes in the country (now ranked No. 5 at 247Sports), a group that also includes five-star forward Dwayne Morgan and top-25 prospect Goodluck Okonoboh. Morgan has NBA potential given his athleticism and ability at both ends of the floor, while Okonoboh is arguably the best shot-blocker in the country. Moreoever, the Runnin' Rebels will also return starters Roscoe Smith and Khem Birch on the inside, as well as point guard Deville Smith, talented pick-and-pop forward Christian Wood, and others. If all the pieces fit, UNLV will have as much talent as nearly anyone in the country -- especially up front. And now Vaughn gives them an elite-level scorer on the wing.
On the other side, this is an absolute gut-punch for Iowa State. The Cyclones were involved the longest with Vaughn, offering him early in his high school career, before most of the power-conference schools got involved. Head coach Fred Hoiberg and assistant coach Matt Abdelmassih invested three and a half years into their pursuit of Vaughn, and seemed like the likely landing spot for most of the fall. Vaughn would have been an excellent piece on the perimeter for the Cyclones, given their offensive freedom and how effective Vaughn is at getting his own shot. He would have been Iowa State's best recruit under Hoiberg.
With Vaughn now committed, the only two top-100 recruits left on the board are Myles Turner (No. 4) and JaQuan Lyle (No. 22). 
Show Comments
Hide Comments
Motley, who averaged 17.3 points and 9.9 boards, is projected as a borderline first-rounde...

Sharpshooter's return figures to send the program to a place it has been only once before
Gary Parrish and Matt Norlander also discuss UNLV's recruiting class

The five-star big man is part of a surprise late-period recruiting coup by Marvin Menzies

It's time for random observers to stop being outraged by players' decisions