Triple Threat: Iowa State's Kane makes name among Big 12 guards
Is DeAndre Kane the Big 12's next-best guard after Marcus Smart? Believe it. Also, why power conferences will get fewer NCAA bids and three dudes you don't want to mess with in this installment of Triple Threat.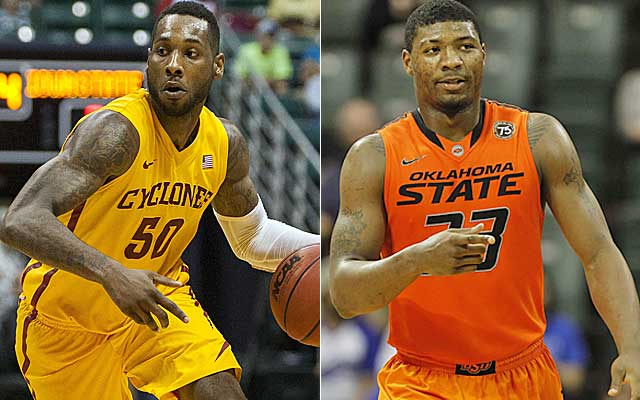 What are three "big picture" story lines to keep an eye for the rest of the season? And what three teams have endured disappointing starts? Those answers and more in this week's Triple Threat.
Three quick hits
1. Is DeAndre Kane the Big 12's second-best guard after Marcus Smart? It looks that way. The Marshall Thundering Herd transfer impacts the game several ways and has been a major catalyst for the Cyclones (10-0). Fred Hoiberg is using the 6-foot-4 Kane at four different positions and regularly puts the fifth-year senior on the opponent's top perimeter scorer defensively. Through ten games, Kane is averaging 14.1 points, 7.7 rebounds, and 5.9 assists.
2. What does Michigan Wolverines have that they didn't last season? A healthy Branden Dawson. The 6-6 forward suffered an ACL tear two years ago, and while he played last season, Tom Izzo says the biggest difference in Dawson this season vs. last is his overall skill level. "His knee was OK last season but he missed the skill work," Izzo said. "He got to do all those individual workouts in the off-season this summer. It's made a difference." Has it ever. Through 11 games, Dawson is shooting 59.5 percent and averaging career-highs in points (10.3) and rebounds (9.3).
3. Has UNLV Rebels weatherered the storm? It's starting to look that way. The Runnin Rebels had a rough November (four losses) but Dave Rice's team had their best performance Monday night in a win over Mississippi State Bulldogs . UNLV has nine new players this season and seems to be finally defining roles. If the Runnin Rebels get capable guard play from the Smiths -- Deville and Kendall -- to complement their baseline tandem of Roscoe Smith and Khem Birch, they're a legitimate contender to New Mexico Lobos and San Diego State in the Mountain West.
Three storylines to remember
1. It's tougher for middle of the pack teams in power leagues to make the NCAA Tournament: The creation of the American Athletic Conference means there are only 33 at-large bids. Though it's only one fewer than we've seen the past few seasons, adding an entire league means earning one of the last few spots in the field of 68 is more difficult. We've seen programs elevate nonconference schedules and this is the biggest reason why. Since the creation of the AAC, it raises the importance of every game, and the schools that have success in nonconference games have a greater chance of getting the benefit of the doubt from the selection committee. The AAC looks to have three locks for the NCAA Tournament ( Louisville Cardinals , Memphis Tigers , UConn) barring a total meltdown. Situations change, but it's going to be awfully tough for power leagues to land as many bids as they did before this season.
2. Big East teams will struggle to gain resume-lifting wins in league play: Other than Villanova Wildcats , no one in the Big East has set themselves apart in nonconference games. Creighton Bluejays has wins over California Golden Bears and Arizona Wildcats State and needs those teams to have quality years in the Pac-12 to help its NCAA chances. Xavier Musketeers has beaten Tennessee Volunteers , Cincinnati Bearcats and Alabama Crimson Tide but those teams are still far from proven commodities. Georgetown Hoyas has a win over VCU and gets a crack at Michigan State Spartans in February, but right now the Hoyas are just another team trying to build a resume. Everyone knew that the new Big East wasn't going to be the same, but there's a new problem: Schools in the new Big East without quality nonconference wins may only get legitimate resume-building chances in their two games vs. Villanova. The Wildcats beat Louisville and Syracuse Orange in the same week last season, helping them reach the NCAA Tournament. Within the new league, those chances won't exist anymore, nor will there be opportunities to play household names like Pitt or Notre Dame Fighting Irish . And aside from losing power teams, this still isn't the conference we thought it would be before the season. Providence Friars was supposed to be a borderline NCAA team but the Friars lost point guard Kris Dunn for the season (shoulder) and touted freshman Brandon Austin has been suspended for the rest of the season. Marquette Golden Eagles also has struggled early after being cast as one of the league's preseason favorites.
3. The ACC will take a few years to live up to its billing: People said before the season that this was going to be the best conference in the history of the sport. Right now, it doesn't even look like one of the top leagues in the country. Half of the ACC looks like it's going to struggle, and personnel issues may affect programs expected to compete for an NCAA bid. Maryland Terrapins hasn't been able to right the ship with Seth Allen (foot) on the shelf and Notre Dame is a major question because leading scorer Jerian Grant is finishted this season for academic reasons. The top of the ACC features two alpha dogs -- Duke Blue Devils and Syracuse -- and mercurial North Carolina Tar Heels , which has terrific wins against Louisville, Michigan State and Kentucky Wildcats , but head-scratching losses to Belmont Bruins and UAB Blazers . After that, Pitt, Florida State Seminoles State" data-canon="Florida Gators" data-type="SPORTS_OBJECT_TEAM" id="shortcode0">, Virginia Cavaliers and NC State will be trying to work their way into the conference's top tier and into position to reach the NCAA Tournament.
Three guys who epitomize the word 'enforcer'
1. Michael Ojo, Florida State: Be afraid. Be very afraid. The 7-1, 290-pound big man is straight Adonis. Ojo is easily among the strongest players in college basketball and looks like he could pick opponents up with one hand and toss them in the air. The native of Nigeria has vastly improved his skill level from a year ago and is averaging 4.1 points and 5.5 rebounds in oly 14.5 minutes a game.
2. Justin Jackson, Cincinnati: A relentless forward, Jackson is mobile and active. An underrated shot blocker with capable timing, the 6-8 senior is swatting 3.0 shots per contest to go along with averages of 11.0 points and 7.7 rebounds. No player epitomizes the Bearcats' program like Jackson, who looks like Cincinnati's second-best player behind Sean Kilpatrick.
3. Rico Gathers, Baylor Bears : Built like a mack truck at 6-8 and 275 pounds, the sophomore is the nation's best frontcourt reserve in the country. Gathers only logs about 18 minutes per game, but averages 7.5 points and 7.5 rebounds. This guy would be a star if he didn't play behind Cory Jefferson and Isaiah Austin.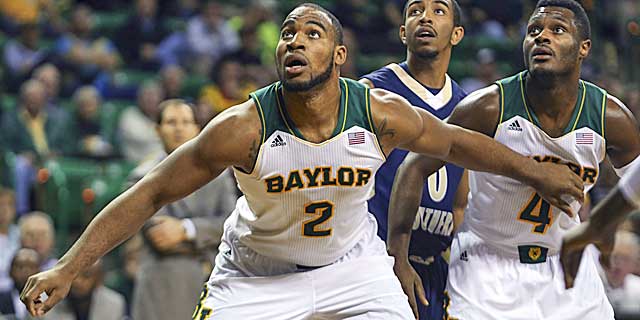 Three teams with disappointing starts
1. Marquette: This one is on us in the media, including myself. We expected Buzz Williams to do what Buzz Williams has always done: Get his team to reach places they never thought they could. I'm not saying he can't do that again with this Golden Eagles group, but it doesn't look as likely. Many will harp on the loss of Vander Blue, but the guy that Marquette really misses is Junior Cadougan. Williams once told me that Cadougan was one of the sport's least appreciated players, and it looks like Williams was right. Since his departure, the Golden Eagles' continuity and flow hasn't been the same. Marquette is 7-5, including some key nonconference losses.
2. Boston College Eagles : Just like USC last season, the Eagles were expected to have a breakthrough season and loaded the nonconference schedule to boost its RPI. The risk is suffering a slew of losses before reaching league play. It happened to USC last year with Kevin O'Neill and it's happening with Boston College (4-8) after Steve Donahue's team loaded the slate early and still faces games against VCU and Harvard Crimson before starting ACC play.
3. La Salle Explorers : There are two reasons why La Salle is 6-6. One: It's completely different than last season's Sweet 16 unit and not only because arguably its best player, Ramon Galloway, is gone. The Explorers also are playing an entirely different style than the past two seasons. Instead of using a four-guard alignment featuring skill and spacing, the Explorers have implemented a more power-minded attack with two traditional big men --- Jerrell Wright and Steve Zack. Two: La Salle has gone from being the hunter to the hunted. The Explorers weren't an afterthought the past few seasons, but opponents definitely see facing John Giannini's program differently than they did three or four years ago.
Three 'must' movies for your Christmas rotation
1. National Lampoon's Christmas Vacation: Nothing will make you laugh harder post-meal and pre-dessert than this classic. Chevy Chase had a plethora of standout roles during his acting career, but this one is by far his best. There's also a healthy dose of Randy Quaid, who gives the perfect portrayal of the relative we don't want around during the holidays, but always seems to linger and stay longer than he should.
2. Die Hard: Nothing screams late December like John McLane and Nakatomi Plaza. Bruce Willis provides great action from tip to buzzer in this 1988 action blockbuster. The underrated part about Die Hard? The performance by Alan Rickman as Hans Gruber was OFF THE CHARTS.
3. The Dark Knight Rises: How did this movie make the list? It's been running on digital cable for what feels like six months and quite frankly, it's the most captivating film I've seen in the theater in the past year or two. Batman and super heroes in general were always seen as invincible, but that wasn't the case in The Dark Knight Rises. There's twists, turns, and most of all, an epic conclusion to the latest edition of this legendary series.
Calipari's latest viral social media bit comes just three weeks after the Wildcats head coach...

Buddy Boeheim was so impressive at Peach Jam that Gonzaga offered; others showing interest

The truths and myths about the push for 2018's No. 1 recruit to play college hoops a year...
Here are the under-the-radar players who will have breakout seasons in 2017-18

Duke coach says sometimes troubled guard played hurt last season, adding, 'I'm really proud...

Michigan, Marquette, California, LSU and VCU are also in the 34th annual field