UConn guards make Florida's backcourt disappear from Final Four
Outclassed, outhustled and outplayed, Florida's guards -- notably Scottie Wilbekin -- are run off the floor by UConn's backcourt. led by Shabazz Napier and Ryan Boatright.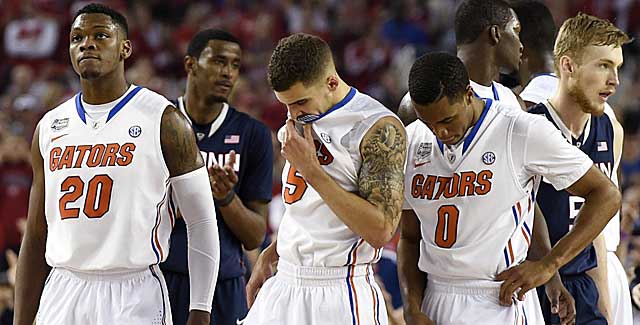 More Final Four: UConn 63, Florida 53 | Bracket | Complete tourney coverage
ARLINGTON, Texas -- Florida's backcourt was never going to outplay the guards from Connecticut. That simply wasn't going to happen, not against Shabazz Napier and Ryan Boatright, but that didn't need to happen for the Gators to win their national semifinal on Monday night.
But this couldn't happen, either.
SEC Player of the Year Scottie Wilbekin having his worst offensive game of the season. Shooting guard Michael Frazier II having one of his worst offensive games this season. And neither doing a damn thing on the defensive end to stop Napier or Boatright.
Add it up, and UConn was 10 points better than Florida on Saturday night, winning their Final Four matchup 63-53.
And really it was worse than that, seeing how Florida jumped to a 16-4 lead in the first 11 minutes. From that point, UConn was 22 points better than Florida. The game was a rout, and UConn deserves every bit of credit for that -- Wilbekin and Frazier were horrendous because Napier and Boatright made them horrendous -- and any writer who said UConn's victory against the shorthanded Gators earlier this season was a fluke deserves every bit of derision for that.
All you need to know about this game happened with about three minutes left and UConn leading 55-47. Behind a late surge from Patric Young the Gators were still in the game, if barely, when the play that broke Florida's spirit happened.
Wilbekin had the ball on the perimeter, about 35 feet from the basket. The play called for Frazier to curl off a screen for an open 3-pointer, but Napier fought through the screen so thoroughly that Frazier wasn't open to shoot it; he wasn't even open to catch a pass. Wilbekin saw Frazier emerge in the targeted shooting zone with Napier still glued to the front of his jersey, and Wilbekin's face sagged.
Really?
That's what Wilbekin's face said, so he looked for Plan B. On this night, though, there was no Plan B. The Gators missed a shot, and the next time down the court Wilbekin had the ball taken from him by Napier, one of Florida's 11 turnovers.
About that number: 11 turnovers. Sounds OK, right? UConn committed 13 turnovers, so in a way, Florida took better care of the basketball than UConn. Only, Florida didn't. UConn had more turnovers because UConn was attacking the basket more, and with risk comes error. Florida wasn't attacking the rim because Florida's guards, specifically Wilbekin but also Frazier and Kasey Hill off the bench, couldn't get enough separation from Napier and Boatright (and explosive UConn freshman Terrence Samuel off the bench).
Stat to know: Florida had only 11 turnovers -- but only three assists.
"That's crazy," Wilbekin said. "That's not usually what we do. All credit goes to them and their guards and the way they were denying and putting pressure on us."
UConn got a future All-American (or NBA draft pick) performance from 6-foot-9 forward DeAndre Daniels -- 20 points, 10 rebounds, 2 for 5 on 3-pointers -- but the Huskies won because their backcourt did more than defeat Florida's backcourt.
UConn demolished them.
Wilbekin apparently wasn't at full strength, getting his knees iced when he was out of the game, and also he was said to be suffering from cramps during the game. That's a double-whammy of ouch, though Wilbekin did play 34 minutes. On the one hand, what a tough guy. On the other, how badly could he be hurting if he played 34 minutes?
Whatever the case, whether he was too tough for his own good or simply taken completely out of his game by Napier and Boatright, Wilbekin hurt the Gators on the court. Averaging 13.4 ppg, he had four points on nine shots. He had more turnovers (three) than assists (one). He had one rebound. No 3-pointers in three attempts. No trips to the foul line. No positive impact, at least not for his team.
"That was our key," said UConn coach Kevin Ollie. "We call it 'the ace of spades.' [Wilbekin] was the ace of spades in this game, and we wanted to take him out."
Wilbekin was ineffective, but Frazier was nearly invisible. He started the scoring with a 3-pointer 11 seconds in, the first shot of a Florida fusillade that saw the Gators open leads of 7-0 and 16-4, but that was the last bucket -- that was the only bucket -- Frazier scored. Averaging 12.6 ppg with a season-high of 37, Frazier scored only those three points. He managed only two field-goal attempts in the final 39:49. Never got to the foul line, where he shoots 84.2 percent. No assists. No steals. One turnover.
"The difference in the game was Scottie couldn't live in the lane like he had been able to do all year long for us," Florida coach Billy Donovan said. "Our backcourt guys could not get into the lane at the rate that Boatright and Napier did."
Indeed, Napier and Boatright combined for 25 points on only 15 field-goal attempts. They nine assists, five steals and three turnovers.
This game was ugly, because this matchup of backcourts was ugly.
Show Comments
Hide Comments
The information on who harassed John Higgins will now be turned over to the FBI

Some of these future NBA picks might work out, but others won't sniff being drafted

This is a good development for Louisville, which may avoid having its coaches forced to testify...
The athletic guard withdrew from the NBA Draft late Wednesday night

Next step in the case, which began in 2011, is for UNC to face the NCAA's Committee on Inf...

We look at 40-plus teams affected by this year's NBA Draft