UL Lafayette guard Elfrid Payton is entering NBA Draft
Elfrid Payton could be the next mid-major star drafted in the first round.
• 1 min read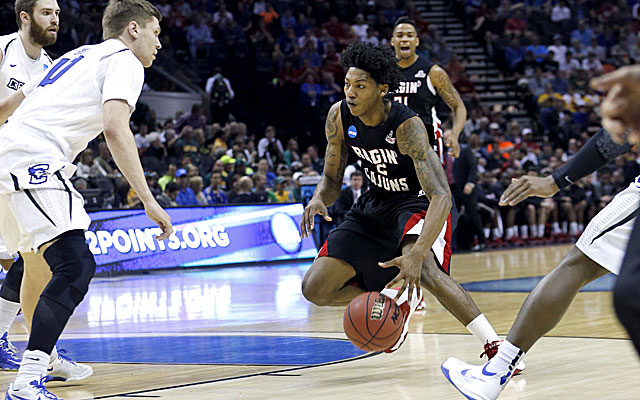 Latest in hoops: NBA Early Entries | Latest News | Coaching Changes
Everyone likes the story of Damian Lillard. Under-recruited out of high school, went to a mid-major school, blew up, and now is an NBA star.
Might UL-Lafayette guard Elfrid Payton be the next in that ilk? 
Payton announced his intention to enter the NBA draft on Monday afternoon.
"This has been a long and engaging process for both me and my family," Payton said in a statement. "First, I would like thank God for blessing me with the opportunity to make a decision like this. I would also like to thank my family, coaches and the people close to me that have helped me gather information during this process.
"With that said, I am excited to announce that I will forgo my final year of eligibility at the University of Louisiana at Lafayette and will be entering the 2014 NBA Draft. I sincerely want to say 'thank you' to my coaches, my teammates and most importantly the great Ragin' Cajun fans that have supported me during the last three seasons. This has been a great three years where I've grown up, both on and off the court. I will be Cajun forever. Thank you for everything."
Payton is a 6-foot-3 point guard getting first-round hype in most mock drafts, and many have him among the top five point guards in June's draft. He averaged 19.2 points, 6.0 rebounds and 5.9 assists this past season, going for 24 points and eight rebounds in a Round of 64 loss to Creighton in the NCAA Tournament. 
Show Comments
Hide Comments
Once again coaches are participating in Oakland coach Greg Kampe's charity event

The Tar Heels point guard was the Most Outstanding Player of the 2017 Final Four

A list of every player who is testing the waters for the 2017 NBA Draft, a record 182 guys
The MVC is looking for a school to replace Wichita State, which left for the American Athl...

Self's one of the very best, but he's changing his attack strategy to help his chances nat...

Collins is set up to be Northwestern's coach for a very long time -- if no one bigger lures...